Anoush Abour means "sweet soup" in Armenian. This dish has graced New Year's and Christmas tables in Armenia for centuries and most likely predates Christmas itself.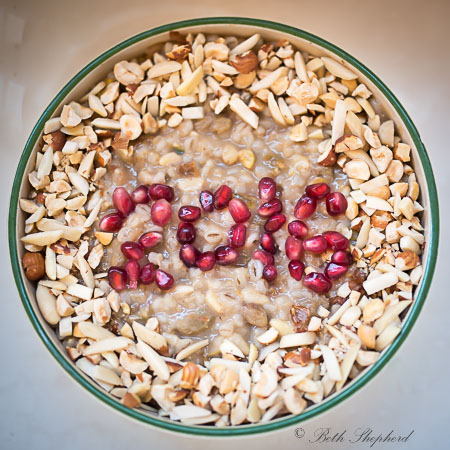 But wait, you say. Christmas was last week, December 25. Not so if you are Armenian. December 31 kicks off the holiday festivities with Father Christmas visiting on New Year's Eve and Christmas itself taking place on January 6.
While most Armenians are in agreement on the date when Christmas is celebrated, if you ask ten people how to make Anoush Abour, you'll get ten different answers. Usually, when I make a new dish, I do a bit of online research to compare recipes–which, I confess, can take up hours of time! I am always amazed at the myriad ways people make "the same thing."
Almost all the recipes I saw for Anoush Abour use apricots and golden raisins and almonds were the most frequently mentioned nuts. Sometimes honey was used and other times sugar…or no sweetener at all. Pistachios, pine nuts, walnuts, hazelnuts (filberts) and pecans were all game. Almonds might be slivered or whole and blanched. Pomegranate seeds? Some say yes; others say no. The same goes for rosewater, orange flower water and cinnamon.
Many of the Anoush Abour recipes call for "skinless whole wheat" or gorgos or korkot. I've been told you can find it in Middle Eastern grocery stores, but I have not looked for it. I have also seen this grain referred to as "pelted wheat or pearled wheat." From what I've gathered, the most likely grains to use for this recipe–broadly available in the U.S.–are  white wheat berries or pearled barley.
Instructions for how to make Anoush Abour also vary from how to cook the dried fruit to whether the top of the dish should be decorated with nuts in a recognizable pattern. One recipe mentioned setting whole blanched almonds on top, in the shape of a star. Another said that, traditionally, women would use almonds to write the number of the new year.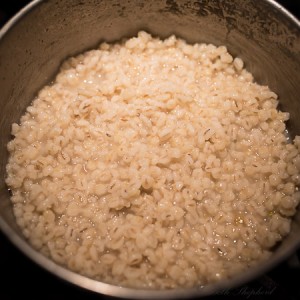 However you make it, Anoush Abour is a delicious way to ring in the New Year. Here's my take on the recipe:
Anoush Abour

Ingredients
1 cup white wheat berries or pearled barley (I chose barley because my husband can't eat wheat. Barley does have gluten, which isn't an issue for him, but wheat is a no-no.)
8 cups water
2/3 cup honey or 1 cup sugar (I like honey myself)
1 cup apricots, finely chopped, or other dried fruit such as peaches
1 cup golden raisins
1 cup water
1/2 cup pistachios, chopped
1/3 cup pine nuts
Garnish
1/2 cup finely chopped hazelnuts (filberts)
3/4 cup slivered almonds
Pomegranate seeds
Note: You can use any combination of nuts you prefer.
Optional
Ground cinnamon to taste
A few tablespoons of rosewater or orange flower water
In a large pot, combine wheat (or barley) and water. Bring to a boil for five minutes, and then cover and simmer on very low heat for an hour. When the hour is up, set the pot aside for 5-6 hours, or overnight for the grains to soften and the "soup" to thicken. Note: Anoush Abour is more like a pudding or porridge than a soup in terms of its consistency.
On low heat, in a small saucepan, add dried fruit, honey (or sugar) and one cup water. Stir occasionally until nearly all the water is absorbed. Add pistachios and pine nuts. Simmer for another 10 minutes. Thoroughly drain and cool.
The next morning (or six hours later), mix the sweetened fruit and nuts into the (now room temperature) barley.
Add two tablespoons rosewater.
Cook the combined ingredients over low heat for 10 minutes. Your Anoush Abour should be thick but not dry.
Pour into a serving dish or bowl.
Garnish with hazelnuts, slivered almonds and pomegranate seeds (You want to garnish when the dish is warm and a bit sticky).
Serve slightly warm or cooled to room temperature (and you can store it in the refrigerator for up to one week).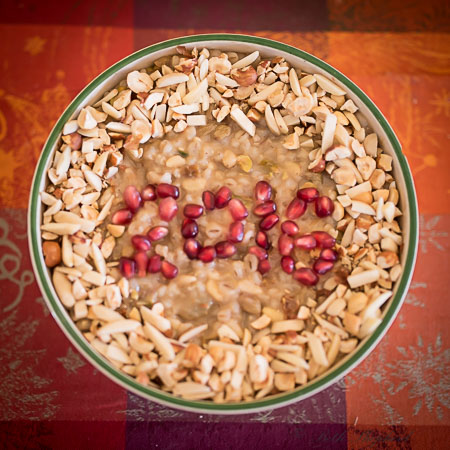 My 2016 be filled with sweetness.
Shnorhavor Nor Tari—Happy New Year from Pampers and Pakhlava
Take the road less traveled, Beth