Eight strikes on the clock as mysterious Drosselmeier presents young Clara with her Nutcracker, and the time-honored, much-beloved holiday story begins. And lucky us, because last week we got a peek behind the scenes of the new PNB Nutcracker with sets designed by Ian Falconer of Olivia the Pig fame and classic choreography by George Balanchine.
This is a big change at the Pacific Northwest Ballet, the first new Nutcracker in 31 years, replacing the hugely popular set designed by Maurice Sendak and choreography by Kent Stowell. Balanchine's choreography was originally created for New York City Ballet in 1954 and it is still performed there every holiday season.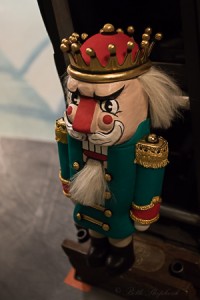 Falconer's sets are distinctly different, brightly colored and graphic whereas Sendak's sets were muted pastels. Clara is decked out in red and white stripes which harken back to Miss Olivia, the pig, herself. Drosselmeier is kinder and less scary, his own cape lined with red and white stripes. The spirited stripes are repeated throughout the performance in both costumes and sets.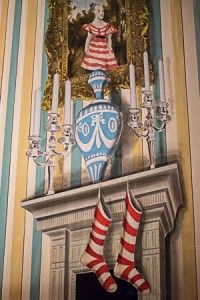 This Nutcracker is at once magical and whimsical. There is even a magnificent Dale Chihuly glass star hanging over the birch trees in the spectacular snow scene. As the ballet begins, the audience is shown a video (from local Straightface Studios) and you feel as though you are flying over a snowy New England forest, to a mid-19th century town and then ushered inside a grand country home where a party is about to start.
Some of my favorite costumes were the villainous Mouse King, re-imagined with multiple heads. I also loved the angels who seemed to float above the stage, their golden wings and skirts aglow.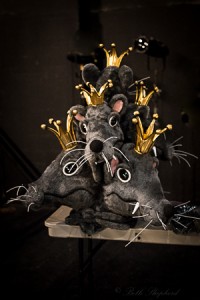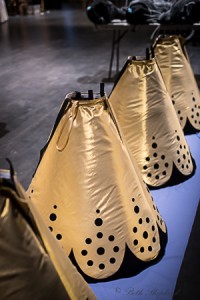 There were even a few new characters like Mother Ginger, enthusiastically played by a man on stilts, who wears a 10-foot wide, 60-pound skirt that hides eight child dancers and a bunny army!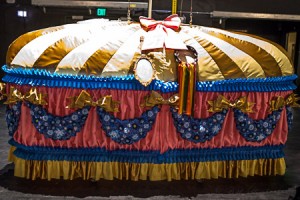 The entire audience let out an audible "Ahh…" when, at the end, Clara and Drosselmeier's nephew (Clara's hero and crush) are flown home–airborne–in a red sleigh drawn by reindeer.
See PNBs latest vision of the Nutcracker and start a new tradition! By your tickets here. 2015 Nutcracker performances continue through December 28.
Take the road less traveled, Beth