By Megan Maxwell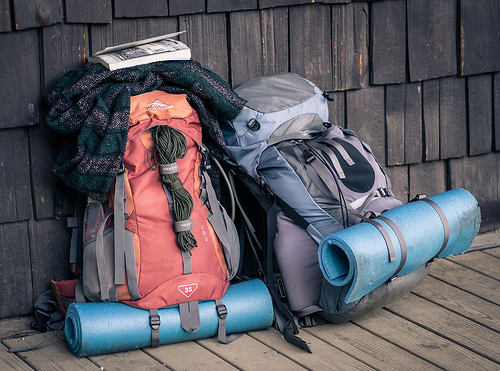 You decided that you want to go hiking in the wilderness for an extended period of time. Great! Now your big question is probably, "What do I bring?"
When packing for a wilderness backpacking trip, minimalism is important. Try to bring only twenty pounds of gear or less. You will have to carry everything you pack on your back for miles over rough terrain.
The first items you should select are known as "the big three."
Also check out: Top 10 Hikes in California | Adventure Travel Tips for Women | Girlfriend Getaways for Adventurous Women
1.  A pack. Choose a backpack with a frame (internal or external). It should fall between fifty and sixty-five liters of capacity. The pack should have a hip belt and be adjustable, so you can get the perfect fit.
2.  Shelter. There are several options for shelter. A tent is the most traditional and easiest to set up. Hammocks are a comfortable option if you are hiking in a region with lots of trees. Tarps are the lightest-weight option, if you don't mind sleeping on the ground. Try to choose a form of shelter that does not exceed three pounds.
3.  A sleeping bag. Choose a backpacking-specific sleeping bag that compresses well. Down-stuffed sleeping bags are the lightest weight. Synthetic sleeping bags are the least expensive. If you're hiking in the spring or fall, choose a sleeping bag rated to twenty degrees or less. If you're hiking in the summer, choose a forty-degree sleeping bag.
Now that you have picked out "the big three" gear items, add on from there.
4.  Clothes and a dry bag. When selecting clothes for your hiking trip, choose items that can be layered for warmth. Don't bring cotton or denim; they dry slowly and are heavy when wet. Choose synthetic clothing, and store them in a waterproof "dry bag" when you're not wearing them. Use the dry bag as a pillow at night. Here's what you need:
A synthetic t-shirt.
A synthetic long-sleeved shirt.
A pair of shorts or a hiking skirt.
A pair of yoga pants or long johns.
2-3 pairs of wool socks.
A light-weight rain jacket.
A fleece or down-filled jacket (for cold weather hiking only).
5.  Hiking boots and camp shoes. Choose a comfortable pair of hiking boots, hiking shoes, or trail-running shoes. Have a pair of camp shoes to wear in the evenings–flip-flops or Crocs will work just fine.
6.  Personal hygiene and first-aid items. Use a small bag or a gallon-sized Ziploc to store your personal hygiene and first-aid items. Don't over pack. Only bring the basics. Suggested items:
Toothbrush and travel-sized toothpaste.
Tampons or pads, if needed.
Ibuprofen or other painkiller, 5-10 tablets stored in a Ziploc. Don't bring the whole bottle.
Benadryl, several tablets, just in case you have an allergic reaction to something.
Toilet paper.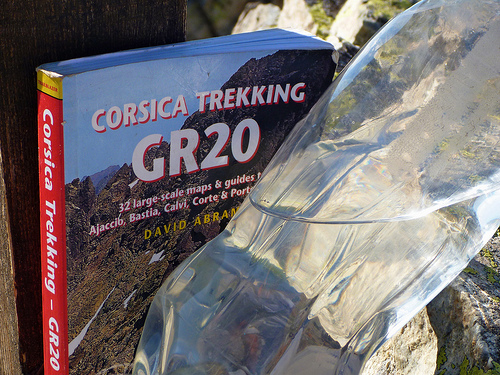 7.  Pepper spray or pocket knife. Store in hip belt pocket, for safety purposes.
8.  A guide book or map. It's useful to have information about where you're hiking.
9.  A headlamp. You'll want to be able to see at night.
10. A camp stove and cooking pot. You can choose a camp stove that attaches to a disposable fuel canister. You can also make your own stove out of a tuna can, and use it with denatured alcohol. Another option is to rely on camp fires for cooking. Don't forget to bring a lighter!
11. A thin, thirty-foot-long cord. Use this to hang your food bag at night if you're hiking in a region where bears live.
12. Water bottles or water reservoir. You should have enough water storage space to carry two liters of water. Have enough space for three liters if you're going to be hiking in temperatures of ninety degrees or higher. If you're hiking in a particularly dry region, you may need to carry even more water.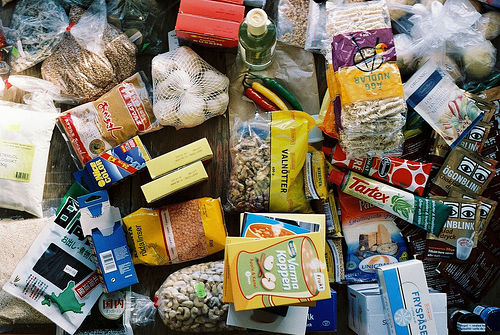 13. A food bag. You will need a bag to store your food, separate from the rest of your gear. The bag should be able to close because you may need to hang it up at night.
Are all of those items combined twenty pounds or less (excluding your hiking shoes)? Awesome! Now you should start thinking about what food to bring. Here are some general rules to follow:
For each day of your hike, you should have about two pounds of food.
Only bring food that will stay good without refrigeration.
Don't bring anything in cans.
Dehydrated food is a great option.
You won't want to cook for every meal, so bring plenty of ready-to-eat snacks.
Follow these guidelines to keep your gear minimal, and you'll be sure to have a successful wilderness backpacking adventure.
*****
Megan Maxwell is the creator of appalachiantrailgirl.com, a how-to hiking and backpacking blog for women interested in the Appalachian Trail.
After graduating from the Ohio State University and completing her Appalachian Trail thru-hike, she moved to Colorado to be a ski bum.  Megan now resides in Denver, and is trying to be a freelance writer and editor.
For her next great adventure, she plans to bike El Camino de Santiago and go hiking in the Alps.
*****
Photo credits:
Backpacks: stillwellmike
Packing for Camping: Adam Baker
Hiking Guidebook: Rick McCharles
Hiking Food: oskar karlin