With an abundance of natural beauty and plethora of hiking trails, sunny California is mecca for hiking and nature lovers. California is home to many different ecosystems, so you can go from hiking a coastal trail with sand between your toes to losing yourself among lush giant redwoods when craning your neck upwards. Be refreshed while hiking alongside a waterfall in Yosemite National Park or earn bragging rights after hiking the famous Dipsea trail from Mill Valley to Stinson Beach. With wonderful names like Skyline to the Sea and Berry Creek Falls Loop, it is impossible to stay indoors on a warm sunny day when there are so many hiking spots in California, waiting to be explored. The trails beckon and here we come!
Top 10 hiking spots in California
1) Half Dome, Yosemite National Park
View of Half Dome, Photo credit: Wikipedia Commons
The day hike to top of Half Dome in Yosemite National Park is one of California's most popular hiking trails but it is not for the faint of heart. The trail runs 14-16 miles round trip with an elevation gain of 4,800 feet. The last 400 feet of the hike is not horizontal, but almost vertical! This hike involves literally hanging onto metal cables installed on the sheer slope of Half Dome to make it to the top. Did I forget to mention adrenalin rush? Notwithstanding the strenuous nature of this hike, it is a thrilling experience and the adventure of a lifetime. Everybody who does this hike comes back with a big smile and a huge sense of accomplishment. This hike is also the only one on this list which absolutely requires a permit. Read about getting permits, preparing for this day hike, and the legendary Half Dome cables here.
2) Mist Trail, Vernal Falls & Nevada Falls, Yosemite National Park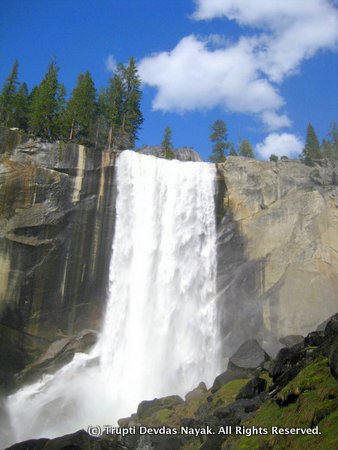 View of Vernal Falls from Mist Trail, Yosemite National Park
Unless you have your heart set on doing the Half Dome hike at Yosemite National Park, there are plenty of other equally picturesque but moderately strenuous hikes that you can do while enjoying refreshing waterfalls and glorious views of granite mountains which Yosemite is justly famous for. Vernal Falls via the Mist trails is 3 miles round trip and you will get magnificent views of the roaring waterfall all along the trail. Just make sure to watch your footing on the uneven stone stairways, especially when it's wet and slippery from the waterfall spray. Continuing on the Mist trail for another 1.2 miles (2.4 miles round trip) will bring you to the top of Nevada falls. Both Vernal and Nevada falls make for an especially refreshing hike during the hot summers in Yosemite Valley. Explore more valley hikes in Yosemite National Park.
3) Lower & Upper Yosemite Falls, Yosemite National Park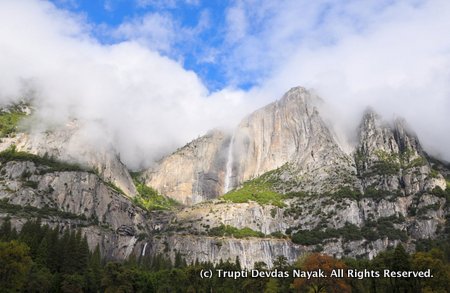 Upper Yosemite Falls as seen from Cook's Meadow in Yosemite National Park
Lower Yosemite Falls is one of the most accessible hiking trails in the park. An easy 1-mile loop, this trail is often crowded with park visitors who stand still with mouth agape, their necks craning up to catch a view of the Upper Yosemite Falls while Lower Yosemite Falls thunders down the granite mountain with a deafening roar. In contrast to Lower Yosemite Falls, the trail to Upper Yosemite Falls is quite strenuous, being 7.2 miles roundtrip with an elevation gain of 2,700 feet. This trail is less crowded than the popular Mist Trail though, so it's a great alternative for a day hike from Yosemite Valley. Explore more valley hikes in Yosemite National Park.
4) Dipsea Trail from Mill Valley to Stinson Beach in Marin County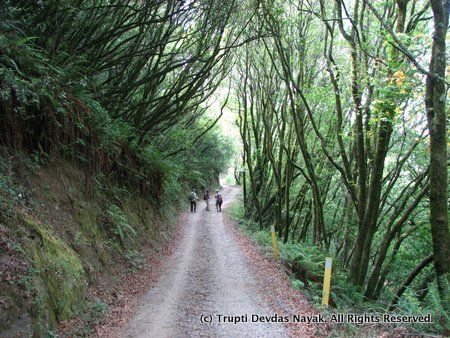 Hiking through lush wilderness on the Dipsea trail
The Dipsea trail is a legendary hike in Marin county, which is also home to the world's oldest cross-country running event on this very trail. But have you heard of the "Double" Dipsea? That is what you get when you do the Dipsea trail round-trip! Forming a 14 mile roundtrip, the trail starts in Mill Valley where one gets a taste of the strenuous hike starting with stairways that climb 700 steps uphill. It does not get any easier after this, since the trail continues through imaginative uphill ascents named "Suicide Hill" and "Cardiac Hill".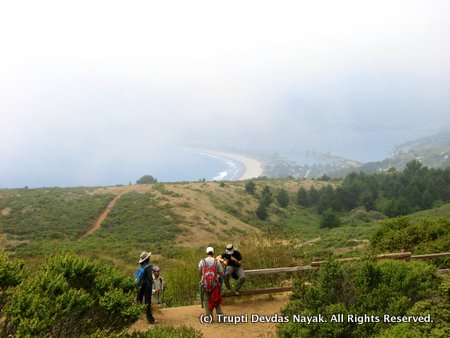 View of Stinson Beach from Dipsea trail. One more mile to go!
But what makes you keep going on the trail is the complete wilderness, which includes hiking among magnificent mountains of Mill Valley and walking underneath lush green redwood forests in Muir Woods. The thrill of first seeing Stinson Beach from afar is second only to reaching the sandy beach and getting to taste the cool sea-kissed breeze. Read a mile by mile description of the Dipsea trail here.
5) Skyline-to-the-Sea Trail, Big Basin Redwoods State Park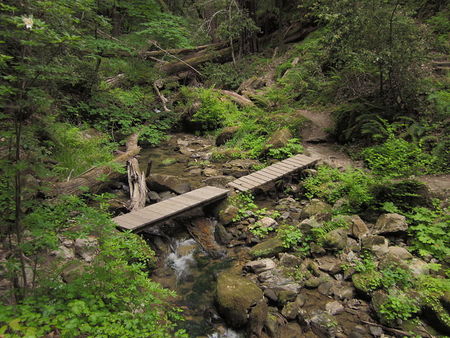 The bridge at Waddell Creek along the Skyline To The Sea trail, Photo credit: Wikipedia Commons
As the name suggests, this popular backpackers hike covers 30 miles of trail through the crest of Santa Cruz mountains to the Pacific Ocean. Being the only multi-day hike on this list, the scenic trail takes 3 days to hike! The trail goes through picturesque Castle Rock State Park and lovely Big Basin State Park – two of California's most popular parks, giving a grand overview of all that the sunny state has to offer in terms of nature and hiking. If you are planning on doing this hike, see here for the latest information.
6) Berry Creek Falls Loop, Big Basin Redwoods State Park
This gorgeous sight awaits you on the Berry Creek Waterfalls Loop hike in Big Basin Redwoods State Park
This 11-mile roundtrip hike in Big Basin Redwoods State Park is an all-day extravaganza but totally worth your time and effort. Hiking the Berry Creek Waterfalls Loop is on many people's bucket list. When you catch sight of fragile-looking but extremely picturesque Berry Creek Falls, it is easy to see why. This is one of my favorite hikes in the Bay Area and it's a great place to take visitors to introduce them to the gorgeous redwoods of California! An excellent introduction to hiking the Berry Creek Loop can be found here.
7) Hike to the lighthouse, Point Reyes National Seashore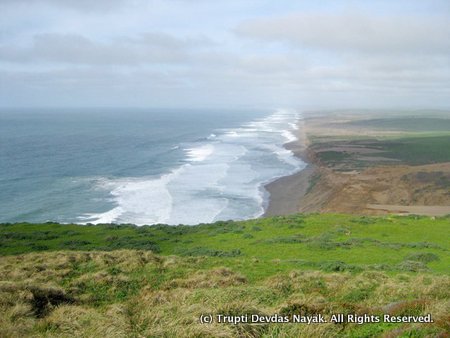 The first and forever memorable view of Point Reyes National Seashore
There is something mysterious, eerie and a tad romantic about a lighthouse. Perhaps it's the isolation, perhaps it's the endless view of the ocean, perhaps it's the proximity to the rocky coastline that has the power to sink ships. Point Reyes Seashore evokes all these emotions and more. The namesake lighthouse is perched atop the edge of a rocky mountain cliff. You have to be prepared to climb down 310 steps to get to the lighthouse. Once there, you can indulge in a fascinating history lesson inside the interesting lens room, walk outside exploring the rocky cliffs (but stay on the marked trails!), and admire wildflowers and cacti flowers which are in full bloom during spring. If you are lucky, you might also get to see deer, tule elk and elephant seals! Here are a number of options that range from spending a few hours to all day at Point Reyes National Seashore.
8) Walking among giants at Redwoods National & State Parks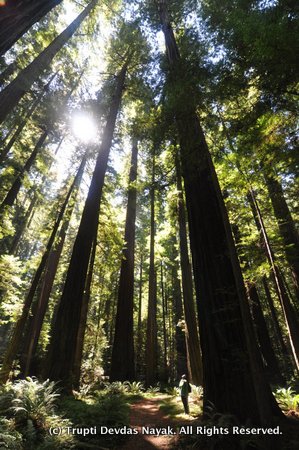 Standing in a Redwood grove
I must admit that Redwoods are my favorite tree. I think I've spent more time hiking among redwoods than any other type of tree in California, which is natural given that we're spoiled for choice when it comes to state parks and national parks that are home to some of the world's biggest redwood giants. From Redwood National Park in Northern California to Big Basin Redwoods State Park, Humboldt Redwoods State Park and Henry Cowell Redwoods State Park – just to name a few – the California coast is peppered with redwood state parks – see this map! Redwood trails are great for every season although I love hiking among the tall trees during the heat of summer, since the cool shade provided by these trees brings much relief when on the trail. If in California, don't miss this opportunity to explore your local redwood park! Read more about hiking and camping among redwoods here.
9) Badwater Basin & Racetrack Playa, Death Valley National Park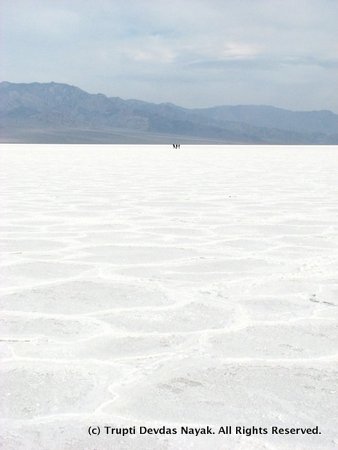 Walking on the salt flats at Badwater Basin in Death Valley National Park
Death Valley National Park is a land of superlatives. It can be accurately described as one of the driest, lowest, hottest place where life thrives. Did I forget to mention desolate? Despite all this, the park is a spectacular destination and great for winter hiking and exploring. Badwater Basin is a popular stop even though there are no marked trails to hike. But you can explore the salt flats to your heart's content! Read more about exploring Death Valley National Park here.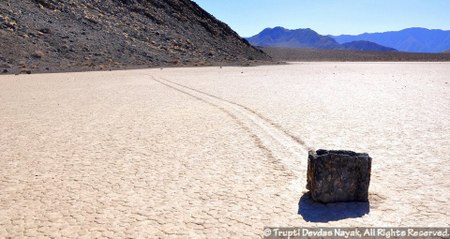 Mysterious sailing stones demand our attention on the dry ancient lakebed of Racetrack Playa in Death Valley National Park
Getting to Racetrack Playa needs more planning and preparation, the least of which will involve at least a spare tire and/or a repair kit. There is technically no road to the playa, instead you will have to drive on a very rough and bumpy washboard trail (best done in a 4WD) which will require you to go slow at 5mph. Once you get to the playa, there is an entire prehistoric lakebed waiting to be explored, from the Grandstand to the sailing rocks. This is definitely a destination worth exploring and is on many people's bucket list. The mysterious "sailing stones" add to the magic of Racetrack Playa. Nobody has actually seen these stones move, but there are many theories and scores of scientists and research teams working hard to figure out exactly how these heavy boulders move and why. It is best to go see this for yourself – read more about getting to Racetrack Playa here.
10) Pinnacles National Park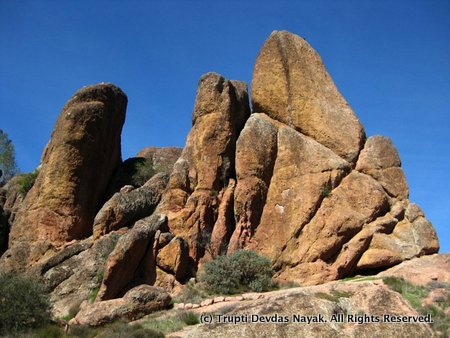 Feeling insignificant among huge boulders in Pinnacles National Park
Known as Pinnacles National Monument until recently, this popular Central California hiking and rock-climbing destination was converted to Pinnacles National Park in Jan 2013. Apart from popular hiking trails and rock-climbing surfaces, Pinnacles is known for it's unique "cave" trails. Bear Gulch Cave and Balconies Cave provide an exciting hike through utter darkness punctuated only by a flashlight. Read more about hiking in the caves here. What makes these caves even more fascinating is that they are home to hibernating colonies of bats! But don't go expecting to be able to get close to the bats, they are a protected species and the park strives to keep them undisturbed. Here is more information about hiking, camping and exploring Pinnacles National Park.
There is no doubt I'm missing scores of many more wonderful hiking spots in California. Which are your favorites? Let me know in the comments.
Happy Hiking!
~ Trupti