By Rachel Diebel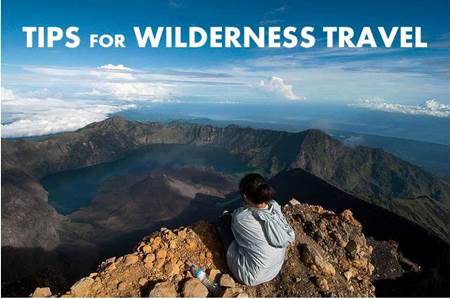 Wilderness travel is solitary, demanding yet it can bring you some of the most spectacular natural views you will ever see. This can make it seem ideal for many seasoned travelers looking for a new way to experience the world. However, before you head off on a wilderness adventure, be sure to keep a few things in mind. Wilderness travel presents obstacles that you may never have faced, so be sure you know what you're getting yourself into before you head off on the trek of a lifetime!
Check out: Epic Treks around the World | Packing for Wilderness Travel
Know Your Technology
For the most part, your cell phone and tablet won't work if you get too far out from civilization. However, if you're going to be out of the usual range of communication, look into personal locator beacons (PLBs) and satellite messengers. PLBs send an emergency distress signal if you need help, where satellite messengers allow you to send very basic messages from backcounty areas without any cell coverage. Depending how far from civilization you plan to be, both of these kinds of devices may prove to be life savers. Additionally, you may want to bring along a GPS to keep track of your location.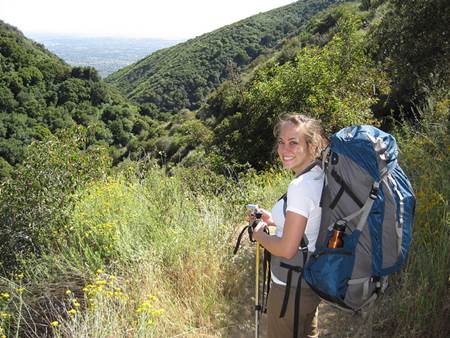 Prepare and Prepare Again
The most important thing to do if you are planning a wilderness trip is to make sure that you prepare. Make sure that you know the area you are planning to travel as well as you possibly can. This means knowing how long it will take you to get from point A to point B, and how much food and water you will need to carry, as well as being aware of any potential hazards. Too many travelers have been stuck in the middle of their day's planned hiking trek without food or water. A little extra planning will keep you on track and having a good time.
Educate Yourself
There are some basic wilderness survival tips and tricks that you should know before setting off on your trip. Learning how to make a fire, for example, and how to do basic first aid will make you feel more secure and safe. Even knowing the best place to sleep or take cover during a storm could save your life. Additionally, try to learn how to identify a few edible (and a few poisonous) plants that grow where you are traveling. You never know when it could come in handy!
Be Safe
Always, always let someone know exactly where you are going and how long you plan on being gone. This could be essential information if something happens while you are traveling. Flares and cell phones are excellent ways to let someone know where you are if you get into trouble, but you can't always count on having reception or someone seeing your flare. Always remember to carry maps, a compass, extra water, a first aid kit and anything else you think you might need with you. Use your common sense and trust your instincts when it comes to safety and you will be perfectly fine.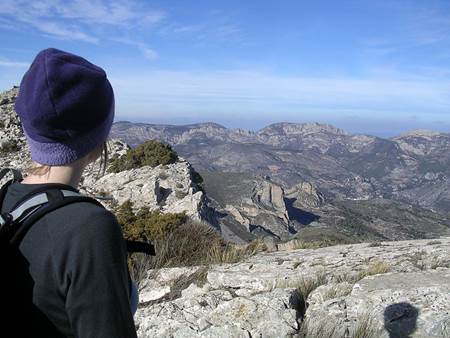 Leave No Trace
Most wilderness areas operate under the "leave no trace" principle. Essentially, this means that whatever you pack in, you pack out. Leaving garbage and waste behind is dangerous and disrespectful to the wildlife and the people who work hard to keep the wilderness areas clean. This also means that wilderness travelers shouldn't bring natural souvenirs, such as rocks and plants, home with them. Respect the wildlife, both flora and fauna, and you can expect to have one of the most amazing trips of your life.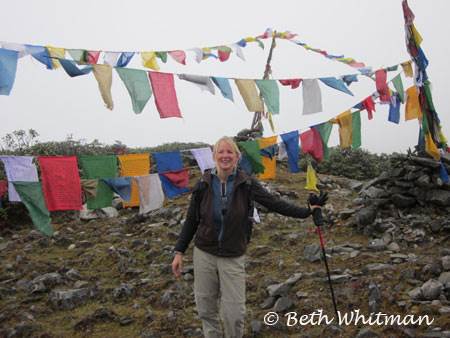 Signs Can Be Important
When traveling through the wilderness, always stop and read any sign you come across. More often than not they are trail markers, telling you how far you are from significant locations. These can help to guide you and ensure that you don't get lost. These signs can also have important information such as avalanche warnings or rules and restrictions on the use of campfires. Any sign you see while traveling could carry potentially life saving information, so always pause in your trek to read what they have to say.
*****
Photo credits:
Woman on Top of Mountain: Trekking Rinjani via Flickr
GPS: daveynin via Flickr
Woman Trekker with Pack: Pretty Poo Eater via Flickr
Survival Tips: US Army Africa via Flickr
Woman Trekker at Camp: John Verive via Flickr
Woman Trekker: Erik Brockdorff via Flickr
Beth on Bhutan Trek: WanderTours