by Lisa McCallum
Thinking about taking a RTW trip? That's round-the-world, of course! Maybe you've read about women who've literally traveled around the world for months or years at a time. In my case, I knew two who had actually done it, so that helped get me motivated to plan my own RTW trip. I traveled through fourteen countries in ten months and met many more solo female travelers who were on similar journeys. If you're inspired to take a RTW trip, here are some starting points to get you going!
More Adventure: How to Pack for a Wilderness Trip | Adventure Travel Tips for Women
1. Despite its intangible rewards, a RTW trip is a big time and financial commitment. Think about where you are in your life. Can you quit your job, use your savings and travel to the places you've always wanted to go? Don't use a RTW trip as an excuse to escape your life at home. People and situations will be the same when you return, so be sure you're ready to leave for the right reasons (learning about other cultures, seeing famous destinations you've only seen in pictures, meeting fascinating locals and travelers along the way). Make sure you are ready to commit to several months away from your family and friends, from the life you know and from everything that is familiar.
2. If you're truly committed to leaving home for several months (which some people stretch to years if they can afford it or work along the way), do some soul searching and make a list of all the places you've wanted to go to. I recommend laying a world map out on the floor. Take small Post-it notes and write the names of countries, cities, and activities on them before sticking them near their locations on the map. Don't let the world intimidate you! I put about a hundred Post-its on every region of the world before starting to scale back as my plans got more concrete.
3. Figure out where you really want to go by checking out guidebooks at the library or bookstore. Read travel magazines, ask friends where they have gone and enjoyed as well as where they would go if they could go anywhere in the world. Think about the activities you enjoy. I've been to several islands and now I know I'm not an island person. Instead, I focused my trip on countries where I could see nature, go hiking, take small group tours along the way if I felt like some company, and see ancient ruins and cultural relics. Everyone expects something different from travel, so it's best to figure out first what you want to do with your time and which places coincide with your wishes.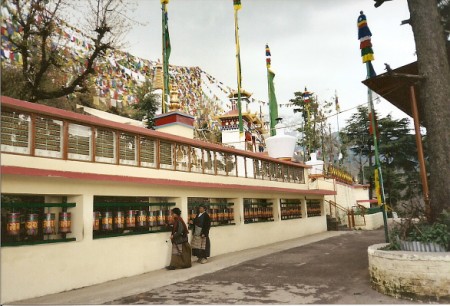 4. Find the right mode of travel for your trip. From the U.S., I needed to fly to several places (to Fiji, New Zealand, Australia, Singapore, India, Egypt, and Morocco) before heading back to the U.S. I first wondered if I could just fly to Fiji or New Zealand, travel around those countries, and hop on a plane to the next country whenever I wanted to. That sounded fun and laid-back, but I found out I couldn't. Several countries require you to show a roundtrip ticket (return ticket, in British English) or an onward ticket when you enter their country.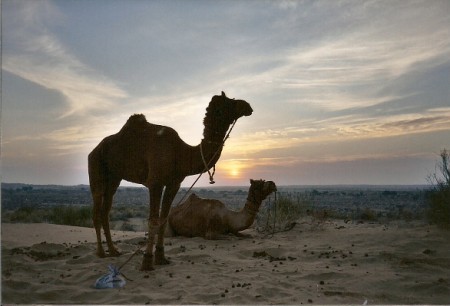 Perhaps there is a fear that people who fly into these countries with only a one-way ticket might never leave and try to mooch off the government! One way to get around these rules comes from travel writer Rolf Potts, author of Vagabonding, a book that encourages people to travel for long periods of time. When I asked for his advice, he suggested that I buy a roundtrip ticket from the U.S. to Bangkok (because good deals to Bangkok are usually quite easy to find), travel around Southeast Asia, and then make my way back up to Bangkok. From there, I could buy another ticket to the next continent on my journey. Another option for traveling from country to country without having to backtrack is the round-the-world (RTW) ticket. This was the better option for me, as I wanted to travel in a straightforward fashion, heading west from the U.S. and coming back eventually to the U.S.
5. Once you have decided which type of air ticket is best for you, spend at least a few days (or months, if you can) comparing air fares online. You can buy a roundtrip ticket to Australia, for example, and chuck the return part when you are ready to move on to Asia or India. You just have to figure out if the price is worth it to leave half your ticket unused. You can opt to purchase a round-the-world ticket through a specific airline and its affiliates, allowing you to accrue miles as you travel. Star Alliance, Discovery Plus, OneWorld, and The Great Escapade are some companies that issue RTW tickets based on mileage used. I opted for the third option in this array of tickets: Airtreks. Based out of San Francisco, Airtreks allows you to choose the major cities you would like to travel to and provides customer service support before and during your trip.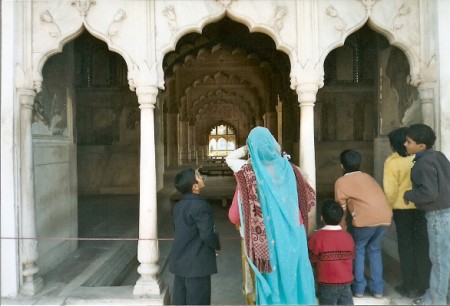 6. Where to go? This is the fun part. Once I knew I wanted to use a RTW tickets from Airtreks for my trip, I picked the cities around the world that I wanted to fly in and out of. Airtreks was going to sell me a series of paper, one-way tickets that I would have to be careful not to lose en route. I wouldn't be allowed to backtrack, so I had to visually plan my route on the website's online map. For some cities, I knew I wanted to fly in, travel around the country, and fly out of the same city. In other regions, I included an overland section in my trip so I could go overland from Singapore to Hanoi and not have to travel back to Singapore. If you choose a site like Airtreks, take some time to plug in several different cities and routes and check their fares until you find the route you feel comfortable with.
7. How much time do you want to spend in each country? That's the hard part, because each person varies widely in when they want to leave a place. It's important to talk with people you know to get a good idea of how many weeks or months you should allow for each place. I talked with friends, friends of friends, coworkers of friends, and other Returned Peace Corps Volunteers like myself. They all had great advice for things to see and do, which helped me determine how much time would be right for me. And remember: solo travelers are often ready to leave a place earlier than people traveling with others, so if you're going solo, you might want to shave off a few days from the two weeks your friend spent with her boyfriend in Fiji. Once I had an idea of how many weeks I wanted to spend in each place, a travel agent from Airtreks called me and we decided on my itinerary. Then she went to work. She plugged my cities and dates into some fantastic computer program and was able to summon up seven one-way tickets that would take me around the world. Now I would have an onward ticket to show customs officers if they asked how long I would be staying in their country.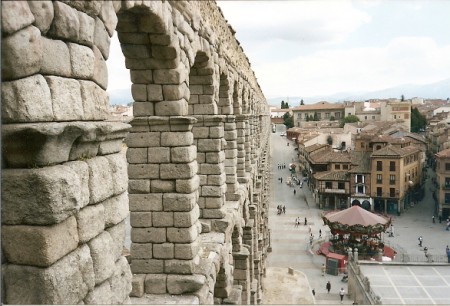 8. Along with buying some type of ticket that will take you where you want to go, you should be researching which visas you will need for your trip. For U.S. citizens, visit the State Department's website and click on the countries to find out if you will need to buy a visa for that country. Each country is different. For Laos, I bought the visa when I entered the country. For Vietnam and India, I had to buy the visas ahead of time in the country I was currently in (Cambodia and Vietnam, respectively).
9. Get vaccinated! The usual includes a tetanus shot every ten years, regardless of whether you plan on stepping on rusty nails, and MMR (measles, mumps, and rubella). Travel shots can include Hepatitis A and B, Japanese encephalitis, typhoid, rabies, and yellow fever, along with malaria pills, depending on where you're going. You can read about each of the countries' recommendations when you visit the CDC's website and click on "list of destinations". After you get vaccinated, keep your yellow "International Certificate of Vaccination" in your money belt so you can show customs officials if they ask about your shots.
10. Finally, packing tips. The easy ones: only bring what you can carry (preferably on your back, not in a suitcase), roll your clothes, and bring semi-old t-shirts, underwear, and socks that you can discard as you travel and buy new, affordable clothes along the way. Other tips: It may seem odd, but I find that wearing dark clothes (black, brown, navy) in hot climates helps to look more put-together because dark colors hide sweat marks. Bring travel-sized toiletry bottles even if you'll be gone for several months. Who wants to drag around a huge shampoo bottle that's half empty? Leave the hair dryer, stilettos, and miniskirts at home. I also stick a piece of paper in my journal with a few poems and quotes that help me to keep a positive attitude if I'm down. Finally, wear your money belt under your t-shirt even where it feels unnecessary. By being careful with your money, credit cards, and airline tickets, you will be able to concentrate on what you're seeing and doing each moment you're away. Now get out there and see the world!
*****
Lisa McCallum is a writer, traveler, and teacher of English as a Second Language to adult immigrants and refugees in the Twin Cities.
Photo Credits:
Spinning Globe: GabrielaP93
All other images: Lisa McCallum