By Judith Campbell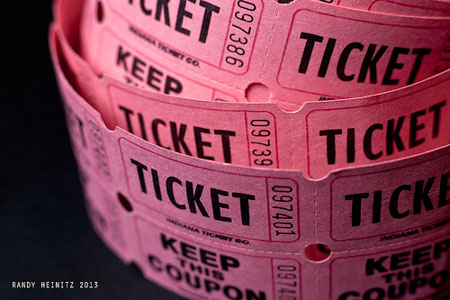 I contemplated the four tickets fanned out on the counter – brown, yellow, pink, green.  The idea of a sail round the harbor was to escape the oppressive heat of Guangzhou, but which boat was it? The girl spoke no English. Â
I looked over my shoulder at Susan. She sat on a bench, dripping with sweat, hair curling in the heat. Her eyes were closed, the mouth set tight, the arms folded. It was only our third day in China and already she wanted to leave. The noise assaulted her peace of mind. The stench of rotting watermelon offended her nostrils. The confusion affronted her sense of order. I had to get this right; redeem myself for reducing her to this misery. She hadn't wanted to come to China in the first place. I took a deep breath and tapped the pink ticket. It would match my t-shirt. Â
"Is it the right one?" Susan asked.
"I think so."
She gave me a look.
A chaotic crowd of Chinese had begun funneling up the gangway. We had learned quickly that in China push always came to shove, so, elbows working overtime, we battled our way on board, falling over large striped nylon bags, tripping on bikes, stumbling on the fallen, before finally flinging ourselves at two window seats that we held resolutely against all comers until departure. At one p.m. sharp, fanfared by a raucous blast of its hooter, Boat 78 hoisted anchor. We were off.
Steaming a stately path among craft large and small, the boat eventually turned into a narrow channel, peaceful after the noise and bustle of the harbor. On either side stretched fertile banks. Signs of habitation were rare, but even so, there were frequent stops to board passengers who materialised seemingly out of nowhere, almost invisible behind the huge hessian sacks, lumpy with produce, they all seemed to carry.
For an hour we sat cooled by the breeze, absorbing the sights and smells of rural China and watching the sacks with legs negotiate the long boarding plank. "Great idea!" Susan yelled over the throb of the engine. I smiled back. My choice had been a good one. Â
Another hour passed in contemplation of peaceful riverine scenery. "What value for money!" I shouted. The pink ticket had been absurdly cheap. Susan nodded enthusiastically.
Three hours later, we were still sailing – in the opposite direction from Guangzhou.  Susan's smile was fading exponentially. Â
"What d'you reckon?"
"Let's ask."
We turned to my neighbor, a bright-eyed woman who had been feeding us sugar cane. With a dramatic pointing at watches, fingers circling to represent the passing of hours and eyebrows raised high in enquiry, we begged of her the unspoken question, how long? She nodded her understanding and carefully counted out one-two-three-four-five-six fingers. I tapped the seven on my watch. "Guangzhou?" She shook her head. "No Guangzhou."
Susan looked as though she might cry. I hurried off, muttering, "I'll see what I can find out." But once out of sight, I leaned over the rail and laughed into the river, overjoyed by this turn of events. It was everything I had hoped for from travel.
Hearing a shout, I looked up. It came from the bridge. A weather-beaten face peered over and a flapping hand seemed to be an invitation to mount. I climbed the rungs and was greeted by a slender man grinning gold teeth at me. He shouted into the cabin and a short man with startlingly blue eyes under a shock of spiky grey hair emerged. A lengthy spell of nodding and smiling followed and I realised that here were the captain and his mate, although neither bore any trappings of authority — the gold-toothed captain was in a girl's flowered blouse, while the mate wore a hole-infested undershirt and the pink patches of a skin disease. Â
They nodded me to a seat on the bridge platform, from which I had a widescreen cinematic view of our progress up the Pearl River and a sudden glimpse of Susan wandering on the deck below. "Hey! Up here!" I yelled.
She joined me just as a tropical storm gusted across. The sky turned ink-black; the sudden wind churning the river to a muddy shade of yellow. The banks flashed acid green in the glare of lightning. Â
"What are we going to do?" Susan asked nervously. Â
I reflected. Â
"We're on a river. Let's go with the flow."      Â
Â
An hour or so later, with starvation looming, I felt a tap on my shoulder. Turning, I saw the mate rubbing his stomach and making loud smacking noises. "Food!" I exclaimed.
"Don't go!" Susan shouted in alarm. "You'll be ill!"
I followed the mate below and discovered a private sitting had been organised in the galley. An upturned crate was placed before me, on which the cook placed an industrial-sized pot. I ventured a look inside. Whatever it was, was brown. The cook carefully wiped a ladle on his filthy apron and handed it to me. His staff lined up to watch, whispering among themselves. I dipped the ladle in the brown murk and took a tentative sip. Fishy… spicy… tasty! "Mmm," I said, patting my stomach and rolling my eyes in appreciation. "Mmmm!" The galley staff beamed – the foreigner liked it. Â
"How was it?" Susan asked later.
"Delicious."
"You're joking." A silence. "Aren't you?"
By now, it was evening. Sky and river had turned opalescent and Boat 78 – nearly empty of passengers now – glided untroubled on the limpid waters toward its destination. Â
When it came, it was not the destination we had expected. We had thought to arrive at a town, maybe take a bus back to Guangzhou. Instead, fields rolled out in all directions, the only sign of life a laborer pedaling slowly homeward, silhouetted against the skyline.
"Looks like we've come to the back of beyond," Susan said. She didn't sound pleased.
Nodding at us by way of encouragement, the captain motioned that we should follow two crewmen off the boat. Reluctantly, we set off behind them along a dirt path reddened by the setting sun. The landscape lay cooling after the heat of the day, a scent of wood smoke in the air. A bird suddenly flapped skyward, disturbed by our passing. We had no idea where we were going, or what might happen when we got there.
"Nice evening for a stroll," I said, trying to sound cheery. Susan didn't reply.
A half-hour walk brought us to a straggle of tiny mud-brick houses. In the doorways, crumpled, black-garbed old women sat, fanning themselves and smoking. I noticed with a shock that their feet had been bound. At our approach, the women turned. A clay pipe smashed to the ground as a mouth opened in incredulity. Fans dropped from shocked fingers and lay concertina-ed where they fell. I glanced at the women and in their eyes I read fear.
As we walked, villagers streamed from their homes, forming a procession behind us, shuffling and whispering, keeping their distance. Dogs leaped from their rest to bark their disapproval. Children abandoned their games, darting like fireflies around us, yelling in excitement, daring each other to touch us, but none made so bold. Onward we went, like Pied Pipers, leaders of a throng 100-strong.
Night fell. The path became paved as we approached the heart of the village. The men stopped in front of a small concrete building and an excited murmuring rose from the crowd. We had arrived.
Entering, we found ourselves in a spartan room, lit by a naked bulb. Two chairs were rushed in and carefully dusted before we were invited to sit. Our followers shoehorned themselves in as best they could, squatting tightly together, devouring us with their eyes. Those left outside fought to see over the saloon-style doors, while underneath, the children piled up in layers on top of each other, like human draught excluders, eyes wide with wonder.
An athletic man in T-shirt and green trousers appeared and everyone started shouting at once. He snapped his fingers for silence, which was immediately forthcoming. Beckoning the crewmen forward, he listened as they spoke, nodding thoughtfully and looking over at us. Our faces ached from the strain of smiling so much.
Their account finished, the men shook our hands and pointed to the athletic man as though to imply, "He'll look after you now." A welcome snack of noodle soup and beer was brought in and afterward, a descent into boredom seemed on the cards until a stir among the crowd heralded a new arrival and a primly dressed young woman was propelled into the room. Seeing us, she froze, but recovering quickly, stepped forward, extending her hand and smiling as she introduced herself. Â
   Â
"I am the village teacher." Our relief at hearing English spoken was overwhelming.  Communication, we were learning, was everything in China. Â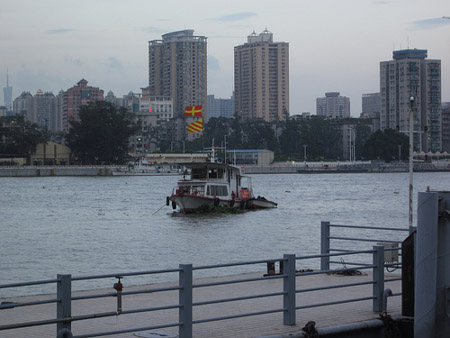 The teacher pulled up a chair. "When the children came to tell me that two White Devils had appeared, I did not believe them!" She tittered charmingly. "Please – you must excuse the excitement of the people. They have never seen foreigners before."
 I felt a surge of pride. Was this to be my 15 minutes of fame? Â
"Where are we?" Susan asked. It was the more sensible question.
"The police station."  The teacher lowered her eyes. "I am sorry, but the men on the boat did not know what else to do with you." Then, struck by a sudden thought, she looked searchingly at us. "But please – why are you here?" Â
We launched into our story, the teacher interpreting for the crowd. We watched the eyes and mouths form O's of astonishment and the looks that came our way were ones of unbridled admiration.  Â
"Come." The teacher had conferred with the policeman and this, whatever it was, was the outcome. We crossed the dimly lit street and followed her up a steep, narrow staircase, emerging unexpectedly into a large, bright dormitory, blue with smoke and noisy with chatter. Everywhere, half-dressed men lounged on cots. Our sudden appearance had an instant, sensational effect. Utter silence fell. The men froze in position, whether from shock or fear it was hard to tell. In the stillness, all that moved were wreaths of cigarette smoke, curling slowly toward the ceiling. Although fond of being looked at, I felt myself redden under the intense scrutiny of these 30 pairs of eyes. The teacher led us quickly among the beds to a small room at the back, closed off from the dormitory by a thin partition.
"Where are we?" Susan asked for the second time that evening.
"A hotel for working men," the teacher answered, pulling on the piece of pink string that served as the light switch, although it produced no effect. "You will sleep here." Â
We doubted it. Â
But sleep we did on the bare wood of the cots until the teacher woke us at six a.m. We paid for the room, which was the same price as the pink ticket, although there was no doubt which was the better value.
Waiting for us outside was the policeman, resplendent now in full uniform. I dragged my eyes from his handsome features to look at the teacher, who was talking. "The policeman does not wish you to walk in the street. It is embarrassing for you – people have come from everywhere to see you."
My face fell. I reveled in our celebrity status and was loath to give it up. Besides, a walkabout, in which we beamed benignly on our Chinese admirers, could have done much for East-West relations, yet we could hardly refuse the policeman's offer and so, while the excited crowds lined the street waiting for a glimpse of the two exotic creatures, we were spirited from the village aboard the police motorboat and our hearts ached for their disappointment.
It was painful to say goodbye to the teacher and policeman, for we owed much to their kindness, but our sadness was tempered by joy at being reunited with Boat 78, its captain and its mate. Soon we were reinstalled on our former seats, sipping tea and watching the straw-hatted Pearl River fishermen pole their dugouts on the misty, early morning river. Suddenly, I thought of something.
"Susan, did you get the name of the village?"
"No!  Did you?"
"No."
"Trust you," she said. "You went and bought us a pink ticket to nowhere."
But she had said it with a smile.
*****
Photo credits:
Pink Tickets: Randy Heinitz
Pearl River Cruise Dock: Daniel McDermott
Pearl River Guangzhou: Carlos Jimenez Ruiz
Village Children: Thomas Galvez
Pearl River Boat: Ken Marshall
Female Tourist in China: Skype Nomad