By Sarah Katin
We race through the throngs of Saturday afternoon shoppers to the thumping rhythm of K-pop and buzz of electric neon. This is no easy feat as there are a million people packed on this narrow side street, and they have little regard for personal space. In fact, they seem to shun it. If this requires levels of intimacy best reserved for the chintzy love motel down the street, so be it.
We pass a hoddeok stall. My mouth waters as my stomach grumbles. Balls of dough stuffed with cinnamon, crushed walnuts, and dark brown sugar bubble and pop as they're pressed onto a sizzling griddle of hot oil. The outside turns a crisp golden brown while the inside transforms into a gooey, sticky delight. It's almost enough to divert me from my current crisis. Almost.
Back on the main road, I'm met with a never-ending taxi queue of absolutely identical cabs, the only distinguishable feature being color.
"It was silver," I say.
"No. Black," responds Diana.
"I thought it was white," muses Aaron.
If there were another color or another friend, I'm sure they would have gone with a fourth option. I make a mental note to become a more observant person in the future, and then I begin ransacking cabs. I jump in line and cause general disorder and confusion when it's quickly ascertained that I don't actually want to go anywhere.
Why did I even bring my computer on this weekend jaunt to Jeonju? Oh, yeah. The writer in me felt I would get some solid work done on the three-hour bus ride. What I actually got done was a whole lot of window gazing as the bus rambled through the countryside. On the bright side at least I didn't lose all the work I didn't do.
People often ask, "Isn't it hard living in Korea?"
I like this question. It makes me feel intrepid and foolhardy like an international war correspondent or a modern day conquistador. Here's the truth: you're swaddled in a warm blanket of Korean hospitality and really good food. There's nothing hard about it; just grab a metal pair of chopsticks, snuggle in and enjoy! Apparently, Korea is the only country to use metal chopsticks. I've been told they enhance finger dexterity; as a result, Korea has top-notch brain surgeons. On the off chance there is a problem, just call the foreigner information help line.
"This is Sunshine Lee, the official tourism ambassador of the Jeollabuk Province! How may I assist you?" says an incredibly peppy voice.
I feel like I'm the coveted fifth caller, and I've just won an awesome radio prize. I explain that I've left my laptop in the backseat of a taxicab. Sunshine's not deterred by the fact that I have no clue which taxi company, and that I can only give this generic description of the driver: A man with dark hair. He might wear glasses.
"No problem! I make Internet alert and emergency radio broadcast." As if reading my mind, she adds, "Drivers always listen."
Sunshine tells me she'll meet me at police headquarters in twenty minutes. Her snappy enthusiasm is contagious. With high hopes, I grab Aaron and we're off! Diana has since abandoned the mission in favor of doing something more fun. I don't blame her. Besides, Diana has this sort of, one-with-the-universe energy about her, and she spoke knowingly when she told me, "Oh, my Goddess. It'll come back to you."
Twenty minutes later, Sunshine rushes up the concrete steps of the police station. She looks exactly how she sounds: a stylish little stick of dynamite. Young and pretty with a blanket of long glossy black hair. She's wearing a miniature version of a miniskirt, heels spiked so high she walks as if perched on stilts, a modest blouse buttoned to the neck, and baggy cardigan. Her bottom half is going clubbing later while her top half will stay in and read books to the elderly. She thrusts her hand out for me to shake.
"Hi. I'm Sunshine Lee, the official tourism ambassador of the Jeollabuk province. I'm sorry I'm late."
We seem to have varying interpretations of the concept of lateness.
"Police Chief Kim waiting for us," she says completely competent in her role as my hero.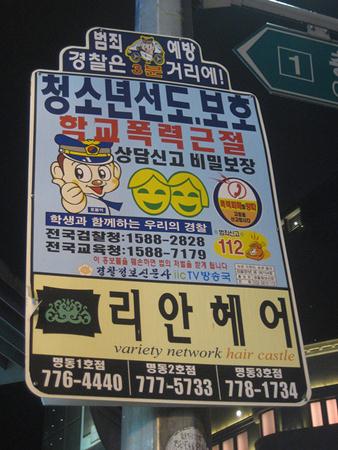 We're immediately ushered to the chief's office. Everyone already knows exactly who we are and why we're here. Sunshine clearly has an enviable communications network. The officers we pass along the way take a moment to give me sympathetic smiles. Their manner so melodramatic you'd think that I'd left my still-bleeding broken heart in the back of a cab, not my MacBook.
The police chief, with utmost sincerity, pats his heart and says, "Miss Katin. I feel your pain. We have all our men on it."
Okay, surely there are more pressing crimes to attend to. I don't want anyone getting burgled or shot because all the men on the force are hot on the trail of one foolish little foreign lady's laptop. With nothing more to do but wait, Sunshine takes it upon herself to escort us to Hanok Village, a scenic wonder of her fine city.
"Thank you, but we're okay. You've already done so much," I say.
She looks at me aghast. "I'm the official tourism ambassador of the Jeollabuk Province. It is my duty."
I'm pretty sure she's exceeded her official duties, especially considering she's currently off duty.
It's clear Sunshine's not going anywhere, or at least not until she safely delivers us to the cobblestone entrance of a traditional folk village lined with Buddhist-style temples. Thick red wooden beams support painted ceilings of colorful flowers and dragons and rainbows and… awe. I'm not feeling awe though. I'm feeling like a prize idiot for leaving my prize possession in a cab. I wish I were a classy pen and paper kind of writer. I'm not. My hand, accustomed to playfully tapping sleek keys, cramps up when forced to hold an actual writing utensil. Metal chopsticks don't seem to be doing much for me.
Sunshine implores us to enjoy our precious time in this great province; then she's off, clickety-clacking down the cobblestones in that lovable offbeat cadence of hers.
As we meander through the village, Aaron becomes enthralled with the bright sloping roofs of the old-style Asian houses. It's something I haven't thought about in years. It's a strange feeling, after you've lived somewhere for a while, when the unusual becomes the usual without you realizing. I'm often reminded of this when showing new expats around. To me there's nothing out of the ordinary about sweet cream cake garnished with tomatoes, or someone who wants to pet my "yellow" hair and then take my photo. At the grocery store I expect there will be a box of crayons or a dinosaur DVD taped to my cereal box as a bonus. On Chuseok–Korean Thanksgiving–I can't decide which is better: the Spam gift set with tuna tins or the one with olive oil. If a small child pokes their fingers up my bum and shouts, "dong chim," meaning poop house, it's no cause for alarm.
Aaron's new to Korea. I'd met him a few months earlier when we both did a short teaching stint in Abu Dhabi. I owed him dinner. Being a die-hard foodie, eating sounds like the best option at this point. In fact, I'm on a hunt. If anything will lift me from my dire funk, it'll be food. And not just any food, Korean food.
Now I'm no stranger to the savory world of international cuisine. I've been around the globe a few times packing an insatiable appetite and loose moral taste buds. I've sampled my fair share of the greats: Japan, Thailand, and, of course, Italy: the crème de la crème of culinary tourism. But nothing beats a Korean foodgasm. As they say, "once you go Korean…" Actually, nobody says that because barely anyone can locate Korea on a map much less name more than one Korean food. A part of me wants to keep this delicious little secret to myself, but I'm getting a little sick of constantly being asked, "So, did you eat Fido?" as if that's the only thing on the menu.
I stop dead in my tracks. Meat. I catch the wafting scent of sweet, simmering, unmistakable meat! The smell seduces me to the window of a packed galbijim restaurant. Big fat stew pots of bubbling juicy beef ribs at every table. Shot glasses of soju raised with convivial cries of, "gun bae!" Jars of red-hot kimchi entice me with a spicy wink. We sit on the floor of a crowded dining room. Jovial eaters gather around rows of long, polished wooden tables overflowing with food and drink. It's a loud slurping, laughing, clinking, clattering kind of affair. Eating is always a communal event in Korea, nobody gets their own plate, just a pair of chopsticks that you use like talons to pick and poke at whatever you fancy. I'm often concerned that when I return to the U.S., I'll automatically snatch food off fellow diners' plates like it's no biggie, and thus brand myself The Girl No Longer Welcome at Dinner Parties.
We order makgeolli, a sweet milky rice wine. Korea's known for having a huge drinking culture. The effects can often be seen the next morning as you carefully step over unconscious post-revelers on your way to work. This might be considered worrying; luckily, I have Korean friends who assuage my concerns. As they explain: Koreans can drink all night because they do it while eating and playing games. There seems to be holes in that theory, but I accept it much in the same way that ancient colored roofs no longer faze me. That's just the way things are.
I gently shake the bottle of makgeolli so the white cloudy portion swirls around in a whirlwind of fermented joy. It's served in little bowls that we lap up like two soused kittens. The initial taste is strong and tart, but finishes sweet. It's the sweetness that lingers on my tongue as the booze travels straight to my head. Because I'm conditioned to the rules of Korean drinking culture, I reach straight for the jar of kimchi.
Kimchi is The God–or as Diana would say, The Goddess–of the Korean table. I've heard many a legend surrounding this magical food: heals the sick, saves babies, anti-aging, increases mental acuity, etc. The kimchi tonight is made in the village and still in its original cabbage shape. I use tongs to lift the red, messy blob and cut it with scissors into bite size pieces. It doesn't look particularly appetizing, and if this is your first encounter, the smell is going to hit you fast and hard like a pungent punch to the nose. If that doesn't knock you down, the taste will.
Kimchi is a plethora of flavors vying obnoxiously for your attention: Spicy, salty, hot, cool, fishy, gingery, garlicky, soft, crisp, earthy, sour. It's a bit like if you threw a party and all these random weirdos showed up. How the hell are these people going to get along? However, give them some time, a chance to mingle, and the next thing you know everyone's downing tequila shots, dancing on tabletops, and your cousin is in the bathroom making out with a cowboy. Somehow it all works and equates to one epic night. That's the magic of kimchi – a party in your mouth with each epic bite.
The main course arrives: a platter of slow-cooked, fall-off-the-bone, suck-the marrow beef ribs swimming in a savory sweet soy sauce with baby potatoes, chestnuts and carrots. Sliced green onions and toasted sesame seeds sprinkled on top for just that extra bit of flair. I've actually never eaten galbijim, which is confounding considering what a food whore I am, because it's more of a special occasion food.
Tonight, in fact, is a special occasion. The autumn nights have embraced a crisp chill, and this meal is robust and comforting.
The meat melts in my mouth. It's a perfect combination of salty and sweet: maple brown sugar mixed with salty soy sauce and a generous coating of sesame oil to give it a nutty smooth finish. I follow the meat with a bit of kimchi. Even though the cabbage has been fermenting for months it still has a crisp freshness to it. The sharp, punchy taste of cabbage pickled with red peppers, anchovies and garlic make my mouth pucker in contrast to the mellowness of the meat. I finish it all with a healthy swig of rice wine. It puts me over the edge. I'm floating in a food euphoria otherwise known as: The Foodgasm.
Gabijim, kimchi and makgeolli: my kind of threesome. There are no worries, just utter tasty bliss. I'm not anxious about my laptop. Who cares if I've lost countless writing projects? I make a mental note to back up my files in the future. Then I make another mental note to really do it, instead of just saying I'll do it. So what if all my photos are gone? I'm not even all that concerned about the faint possibility that a rather risqué long lost video from when my ex and I were on vacation in Hawaii may surface on the Internet months from now. Another mental note: delete shit.
The next morning the call from Sunshine comes in while we're brunching on bibimbap–a rice and vegetable dish famous in Jeonju. I'm not immediately optimistic. Sunshine's been calling regularly to check up on us and make sure we're enjoying our visit.
"Sarah! Your computer is alive!"
I squeal with delight. Diana doesn't even look up from vigorously mixing her rice and veggies with gochuchang (red pepper paste) and raw egg. She already knew. Aaron's thrilled. I had lapsed back into melancholy not long after dinner. That's the thing about a foodgasm. They're fleeting.
"The cab driver say he is very sorry it took so long. He worked very late. So he could not deliver computer to police station until morning."
Wow. Again with the completely different ideas on what constitutes a long time.
"Thank you so much, Sunshine. How can I ever repay you?"
"I am the official tourism ambassador of the Jeollabuk Province. It is my job!" She responds adamantly as if I'd offended her by even suggesting a form of payment. Then she's right back to her genial self.
"Are you enjoying your time?"
"Yes, everything is absolutely wonderful. The food, the people…" The only thing I can do is shower her city with compliments, and so I do.
"I'm very happy. I hope you will visit Jeonju again. Please tell all your friends to come and enjoy the wonderful food and people of the Jeollabuk Province!"
Consider it done, Sunshine.
*****
Sarah Katin has been a television host in Korea, professor in Japan, treehouse dweller in Laos, house painter in New Orleans, sangria swiller in Spain, dragon hunter in Indonesia, and fishmonger in Australia. These days she can be found in her Southern California office (the cushy chair by the window at–insert café du jour) where she writes for film and television. Or in Costa Rica bathing baby sloths. You never can tell about these things. Find out by following @SaresKat on Twitter.Â
*****
Photo credits:
Korean Street Food Stall: Benjamin Shaw
Korean Girl: watchsmart
Korean Police Sign: Jason Tester Guerrilla Futures
Jeonju Hanok Village: Steve Walker
Makgeolli: Tonio Vega
Kimchi: Alpha
Galbijim: Selena N. B. H.