by Krista Good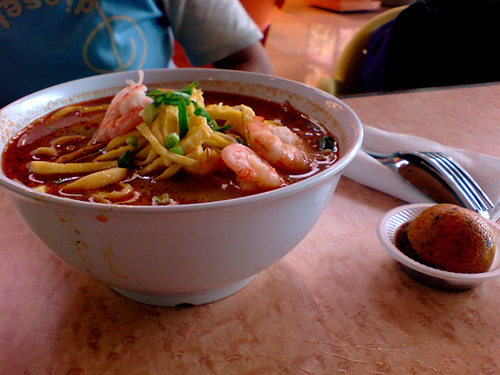 Here are 10 things you ought to try when you're in Kuching, Sarawak.
1. Taste Kuching's favorite noodle dish called "kolo mee". This simple noodle dish with slices of barbecued pork, a sprinkling of spring onions and a bowl of soup drives Kuchingites (that's what we call people from Kuching) abroad mad with desire. Available at most coffeeshops and cafes in Kuching. If you can find "kolo mee", you should also try the spicy Sarawak laksa, another specialty dish of Sarawak.
2. Try "umai." This is the Melanau's version of the Cantonese 'yee sang' (raw fish salad). Imagine a feisty salad of shallots, raw fish, lime juice and salt.Never leave without giving this dish a try!
3. Take a boat ride to the other side of the Kuching River for 30 sen (or USD 0.10) The non-motorised boat ride goes across the Kuching River in just under five minutes. It's a slow and beautiful boat ride across a lovely river. Where to go for this boat ride? Just get to the Kuching Waterfront, the pride of all Kuchingites.
4. Hang loose at the Waterfront. It's a hip and happening place to be when the sun sets even if you're only sipping "teh tarik" which is hot tea with milk. Watch the world go by or observe the boats ply the river.
5. Support the local pepper industry! Sarawak pepper is world famous so don't even think of leaving the place without grabbing all sorts of pepper paraphernalia – from pepper sweets to pepper perfume!
6. Bite into a crispy "tebaloi". This traditional biscuit of the native people of Sarawak is made from another famous Sarawakian export, sago.Sago flour imparts a distinctive taste to this biscuit. It even comes in chocolate flavour, besides the usual traditional recipe.
7. Buy yourself a "pua kumbu". A pua kumbu is a handwoven cloth used by Iban tribe,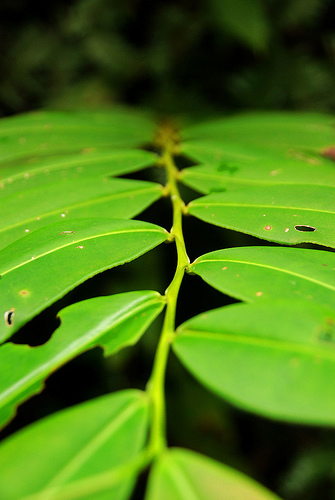 inspired by their dreams. The intricate colours and superb workmanship makes each piece a work of art. Get yourself one if you can afford it.
8. Explore the national parks! Sarawak is teeming with national parks so go on the adventure of your life. Experience wildlife like you've never seen before. Start with the famous Bako National Park. We assure you it won't be your last.
9. Take home some lovely pottery! From rustic jars to pots, from vases to pen holders, there's nothing like an authentic Sarawakian pottery to remind you of this laidback land, showcasing the best of native culture.
10. Enjoy the Sarawak Cultural Village. The Sarawak Cultural Village is hailed as Asia's best living museum, showcasing Sarawak's native peoples, their lifestyle, their homes and their culture. Just 45 minutes by car from the city of Kuching, this village of 14 acres will astound you with the wondrous diversity of people and their culture. If there's only one place to visit while you're here, make it the Sarawak Cultural Village.
*****
Krista Good is a partner and co-founder of Redbox Studio, a web design and web consultancy firm based in Penang, Malaysia. Find out more about her at her blog: Redbox Studio.
Photo credit:
Noodles: Denise Soong
Sarawak Leaf: amrufm