By Lucy Corne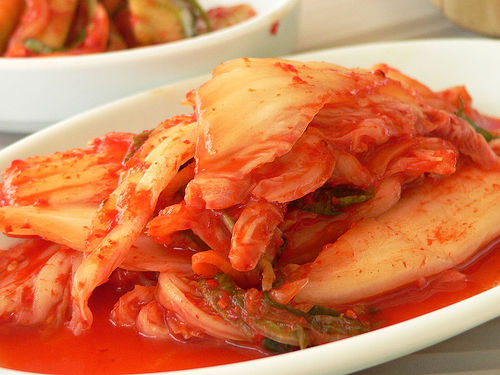 To Koreans it is more than just cuisine. It is a source of national pride, an identifying symbol, an all-healing health food and a vital accompaniment to any meal. To visitors it is a foul-smelling curiosity that must be sampled but is rarely enjoyed, at least at first. The polarizing food in question is, of course, kimchi.
I was a recent and somewhat reluctant kimchi convert myself and if you'd told me when I first sampled the stuff that just three months later I'd find myself being happily hand fed a wad of it, I'd have thought you were high on the fumes of fermented cabbage.
But being hand fed I was, the hand in question belonging to Mr. Yu, an expert in fermented veggies; the location — Gwangju's annual Kimchi Festival, 170 miles south of Seoul.
Kimchi comes in many guises, but all share certain themes — there must be raw vegetables, fermented for flavor and staying power; there must be a generous dollop of red pepper paste and there must be a plate of this spicy side dish served with quite literally every meal.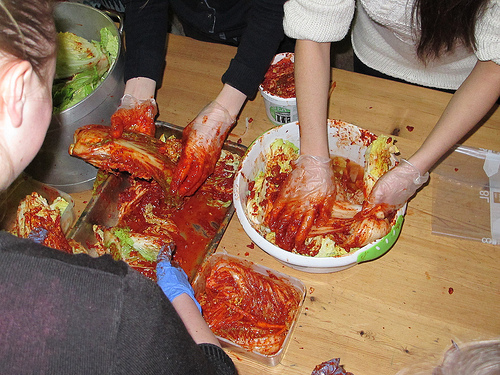 The most commonly found version is baechu kimchi, made with Chinese cabbage and found on dinner tables, in packed lunches and taking pride of place amongst a cornucopia of side dishes in almost every restaurant across the country. It was this most popular form that I found myself being fed on arrival at Gwangju's World Cup Stadium Park. Having perused the festival line up, I'd made a beeline for the teaching tent, where kimchi experts demonstrated their skills to visiting foreigners and presumably city-dwelling Koreans keen to get back to their rural roots. A detailed demonstration surprised me with its volume of ingredients and instantly awarded me a newfound respect for the dish.
I'd always presumed it to be a peasant food, created out of next to nothing and designed simply to keep the fridge-less families of yore going through the winter months — a simple dish featuring cabbage, chilies and little else. Instead the demo table was laden with an array of half-filled ceramic bowls worthy of any TV cookery show.
Trying to remember how much of what to throw in when, I watched Mr. Yu add chili and garlic, green onions, and most surprisingly of all, pulverized anchovies to make a thick, pungent paste. With the tricky task of remembering quantities done with, it was on to the relaxing part — bathing each individual leaf of cabbage with the potent gloop. Although this sauce-covered head of cabbage could not be called kimchi — not until it's been fermented for a few days — Mr. Yu insisted on hand feeding huge chunks to unsuspecting female foreigners too polite to refuse, all in the name of an amusing photo opportunity.
Now it was our turn to replicate the demo. Moving to a table with each ingredient mercifully measured out for us, we donned aprons and over-sized plastic gloves reaching past our elbows and looking very much like we might be preparing to perform a certain veterinarian procedure on an unsuspecting cow. Fortunately nothing quite that daunting was in the cards and now suitably protected from overpowering odors that could keep your hands honking for weeks, I delved into the ingredients like a child making mud pies.
Ensuring every leaf was coated and the finished product folded in the particular parcel-like way that experts insist on, I placed my kimchi — now named Kevin — into a container resembling a goldfish bowl with handles. Kevin accompanied us around the festival — to the kimchi fusion cooking contest and past tottering mountains of kimchi varietals too similar for my novice eye or palate to tell apart. We visited stalls representing Korea's different provinces and sampled a dozen kinds of kimchi, roast suckling pig and a few unrecognizable cuts of meat that our pidgin Korean failed to identify. Kevin joined us in the gallery featuring kimchi-inspired paintings portraying the way Koreans often see their national dish — as a healthy cure-all (it's full of vitamins, thought to aid digestion and has even been credited with preventing cancer) set to take over the world.
Finally we took Kevin to learn about his history and culture — from kimchi's BC beginnings to its place in modern Korean cooking.
Just as we were leaving to unearth what the rest of Gwangju had to offer, we spotted a game that seemed to offer a perfect end to the afternoon. Kimchi converts and connoisseurs alike lined up to spin the wheel of fortune, whose numbers determined which of ten kimchi fusion dishes we would get to sample. Muttering incantations to avoid the consolation prize — a kimchi-free fortune cookie — we spun and scored some samples of kimchi meatloaf and kimchi quesadillas topped with kimchi salsa. Both far exceeded our expectations and we were tempted to queue again with a view to tasting the kimchi-filled lasagna, bruschetta and canapés, each representing one of Gwangju's sister cities around the world.
But Gwangju was calling so we left the World Cup grounds and with Kevin in tow wandered the vibrant nighttime streets, chomping on galbi jjim (steamed pork ribs), sampling a local microbrew and accidentally leaving Kevin to finish his pint as we moved pubs. Luckily he was still propping up the bar when we ran back to rescue him and we kept a closer eye on him throughout the four-hour train journey back to Seoul.
It might have been the hectic day he'd had, it might have been his heavy night on the tiles or perhaps it was the fact that kimchi is a far more complicated dish than I would ever have imagined, but when we opened his box a few weeks later he lacked the crunch or the bite of his mass-produced counterparts. He never fulfilled his destiny as South Korea's favorite side order, but I think he had a hell of a time at the festival. And so did we.
*****
Photo credits:
Kimchi: Craig Nagy
Making Kimchi: Lisa Risager
Baechu-kimchi: Catherine Ling
Nine Kinds of Kimchi: Catherine Ling
Freshly Made Kimchi: Andreas