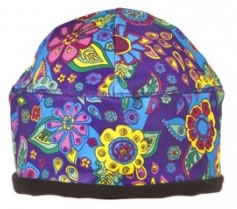 In general, I'm not a hat person. They only make my flat hair flatter and my hot head hotter :-).
Seriously, I warm up quickly and find that only under certain circumstances will I wear one (and fashion is not one of those reasons).
When I was at the Outdoor Retailer Show in Salt Lake City, I stopped by a booth that was filled with women and brightly colored… hats. I was drawn in. It was Wizbang (how can you not love that name?).
I chatted with Kim Scurry, the owner. She mentioned having purchased this Bozeman, MT company last year and it was obvious that she was just lovin' it. As she and the gals were rearranging their booth, they were all laughing. All wearing their hats. It was clear that they embodied the Wizbang name and company philosophy: Have. Fun.
Kim passed along a lightweight anti-microbial microfleece-lined hat and headband to me. As it turns out, I was able to test the hat out within hours of stopping by the booth. Remember, this was Salt Lake City. In January. It had been hovering around 10 degrees. After a networking event, I was waiting outside with a couple of travel blogging friends for a taxi back to our hotel. It was so incredibly cold. So I popped on my Wizbang hat.
The version I have isn't completely fleeced lined inside. And I like that. The fleece covers the inside bottom three inches, which is enough to keep my ears warm but not overheat the top of my head (which is why I don't normally wear hats in the first place.
The material has just enough stretch that it fits well on my smallish head (their website description says this will fit larger heads and, I'm assuming, those with thicker hair, just as well).
The hat's FUN. Honestly, I'm not sure it's something I would have purchased from the store. I'm sure I would have gone for a basic black. But I dig having this in my collection for those cold days when I gotta have a hat. And the times I do wear one? Super cold days when I'm walking or out running.
Incidentally, we HAVE had some cold weather in Seattle. And I like to walk. A lot. So it's been
a good winter for me to get some usage out of the hat already.
Kim had also passed along a Wizbang headband to me. It's also totally fun. And warm.
I generally only wear headbands when I run, however. And because I warm up pretty quickly, I find this to be just a tad too warm with it's fleece lining. I also gravitate toward my headband that has a bit more shape to it (i.e. the band is thinner except around the ears where there's extra material that covers my ears).
It could simply be my self consciousness, but it seems like this would be a better fit for someone with a slightly larger head or more hair. It's just a bit too much material for my head.
What I Love
The colors and styles (there are many to choose from and they all exude fun)
The fleece lining in the hat that only covers a portion of my head and ears. Smart. Breathable.
Some of the hats have a pony tail slit so you can pull your pony tail out of the back!
Stretchy material allows it to fit snug but not super tight
Anti-microbial fleece lining wicks away moisture – great for outdoor sports
Not So Much
Overall the headband could use a bit less material with an emphasis around the ears (this is my personal preference – this might work well for others)
I'm not sure that "fashion" will ever be a reason for me to wear a hat, but I certainly grab the Wizbang when I need one for the cold AND want to show off my fun side.
Wizbang hats are available on their website starting at $28 and headbands starting at $18.
Travel Well,
Beth