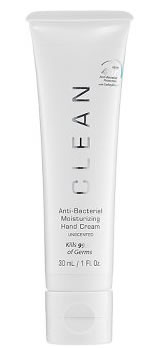 Here's an interesting hybrid that doesn't include a bunch of batteries and 4 wheels.
CLEAN has combined a moisturizing hand cream with an anti-bacterial hand sanitizer that kills 99.9% of germs – and works for 4 hours. You can now simultaneously keep out the germs and keep your hands feeling soft.
Most hand sanitizers contain alcohol and other ingredients that actually dry out your skin. Over time, some say, this can increase your susceptibility toward germs because when your hands are dried out, they'll develop tiny cracks where the germs can get lodged. CLEAN Anti-Bacterial Moisturizing Hand Cream does just the opposite.
On my group tours, hand sanitizer is always passed around the bus so that we can all minimize our exposure to germs from public bathrooms, restaurants and sights. In its one-fluid-ounce container, CLEAN makes a perfect item for travelers.
When I first rubbed in the hand cream, I thought I was in for a greasy experience. But, my hands absorbed the lotion quickly and it never left me with a greasy (or dried out) feeling. For those of you averse to strong smells in your hand lotion, you'll like this as it's unscented (personally, I like a little scent to my lotions but I'll forgive). CLEAN does not test on animals and this product contains no harsh chemicals, artificial colors or dyes.
Other hand sanitizers are definitely cheaper than CLEAN, but at what cost to your skin? Currently this is only available at Sephora and retails for $10. Well worth it in my opinion, but it's so good you probably won't want to share 🙂
Travel Well,
Beth
Related links:
Win a Travel Swag Bag!
Frommer's Travel Gear
Lilypond Meadowlark Rolling Duffel
MountainSmith Clear Creek 20
Join other Wanderlusters and stay updated on travel-related items by subscribing via email or RSS feed.