ExOfficio has been around for a long time. Since 1987 to be exact. You might know them best for their underwear (I know, that sounds weird) because they've been manufacturing the best travel underwear since 2000. That's I how I first learned of them. I wanted underwear that I could easily wash out and dry in my hotel room.
They've always focused on adventure gear that's easy to pack, pull out of a suitcase and immediately wear. Or, items  you can easily wash out in a hotel room sink and have the item dry fast.
No ironing needed.
And that's why I've been such a fan.
But now they've taken things one step further by focusing on creating clothes that are more tailored for women. Yay!
I popped into their recently renovated downtown Seattle store to check out their new line and picked out a few things that I am pretty stoked about. I'm now traveling with several pieces (in addition to underwear – ha ha) while I'm here in Japan.
One of my very favorite pieces is the Wanderlux Crossfront Long Sleeve top.
First and foremost, it's a great look. I love the crossover at the top and the bottom. It's a bit form fitting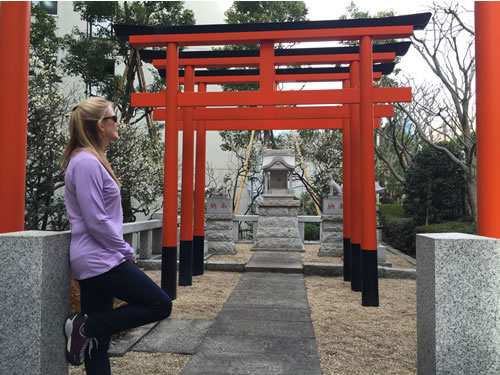 but at the same time is a little roomy so it doesn't feel tight. It's got some stretch to it (13% spandex) so I've discovered it's comfortable on long plane or train rides.
Second, what makes all of ExOfficio's clothes so special is that no ironing is needed. I literally pulled this out of a compression bag after a few days and was able to just put it on without having to be concerned with wrinkles.
And finally, the material is really soft so there's no itchy or rough feeling. At all. Again, particularly nice on a long flight, drive or ride.
While I do really love the crossfront style, the one thing I find a little annoying is that the material underneath the cross tends to bunch up a bit unless it's quite taut. That means I have to work with it a bit by pulling down on it so that it doesn't scrunch up on top of my bra.
Despite that little hiccup, I do really love this top (especially in my fave color, purple, well Lupine). I'm also really thrilled about the direction ExOfficio has taken over the past couple of years, really focusing on new styles for women. I can't wait to share other new items with you that they've recently come out with!
The Wanderlux Crossfront Long Sleeve Shirt is available now on sale for about $35 on the ExOfficio site. It comes in Black, Highlands (dark green), Lupine (shown here), Marina and Vellum.
Be Bold,
Beth
Want to stay up-to-date on all things Wanderlust? Follow me on Facebook, Instagram or RSS/email.
Disclosure: ExOfficio provided this top for me to review. Regardless, everything I have said in the post reflects my honest opinions.