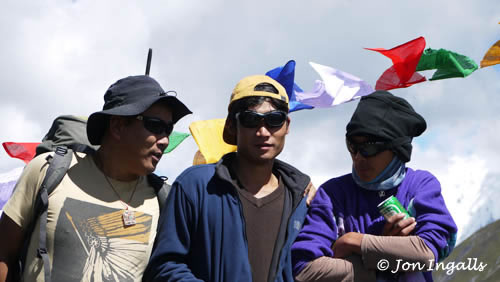 You've undoubtedly heard about the tragedy on the Annapurna Circuit in Nepal last week where 40+ people died when heavy snow and blizzard conditions unexpectedly hit during prime trekking season. While it's believed the bodies of all foreigners have been located, local porters and guides are reportedly still missing.
Having just returned from the 25-day Snowman Trek in neighboring Bhutan, I can't help but think this sort of tragedy would never happen there. Not because the weather is so perfect in Bhutan – snow often affects whether a group is successful or not in completing the trek – but because of the way the tourism and trekking industries are set up in the country.
Tourism is tightly controlled
Like Nepal, Bhutan derives a large percentage of their revenue from tourism (second only to hydro-electric power sold to India). They rely on "high-value, low-impact" tourism. In short, the cost to go to Bhutan is high but the impact on their culture and environment is relatively low. By keeping costs high, they'll never see the hordes of backpackers that visit neighboring Nepal and India.
It's true that one reason for this policy is that they just do not have the infrastructure to accommodate many more tourists than they already host each year (approximately 120,000 in 2013). There is one poorly maintained road that connects the country east to west and there are few hotels in any of the towns where travelers visit.
By keeping the number of visitors low, they're able to keep their culture and environment intact.
While tour companies, hotels and restaurants are independently owned, the government does control much of tourism by overseeing the costs and quality of most everything associated with the industry.
If there's an issue that involves a tourist, it's likely the King will hear about it directly.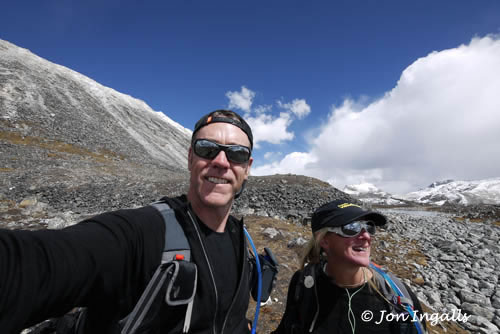 The Bhutanese are obsessed with their image
The Bhutanese are masters at publicity and have coined terms that get repeated in the international media such as "Gross National Happiness," "the hardest trek in the world," and their most recent campaign, "Happiness is a Place."
Additionally, as a small country that can live or die by tourism, they are very protective of their image.
While in no way is it a perfect society, the Bhutanese mostly keep their criticism to private conversations. You'll rarely see or hear in the local news harsh words about what's really happening below the surface including some of the more serious societal problems that are cropping up such as alcoholism and domestic abuse.
But what this also means is that there are consequences when something happens to tarnish their Happiness image, especially when it comes to tourism.
Again, if there's an issue that involves a tourist, it's likely the King will hear about it directly.
Buddhism permeates all
We completed the Snowman Trek on a Saturday, just a few days before the heavy snows caused avalanches and whiteout conditions in Nepal. When we got back to civilization after having been offline (and often out of cell phone range), we heard the news that Cyclone Hudhud was headed for the east coast of India. The first thing our guide, Tobgay, said was that he was concerned about the trekkers who were a week behind us on the trail. He knew that the weather from the cyclone would produce heavy snowfall in the Himalayas, potentially closing passes that we had just easily traversed.
What was remarkable to me about Tobgay's comment was that not only was he aware of the consequences of the weather thousands of miles away, he was also concerned about the safety of others with whom he had no obvious connection.
This concern was echoed a few days later by a hotel owner in Paro, the last town we visited before leaving Bhutan. He, too, was concerned about the rains now hitting the lowlands of Bhutan and thought this would cause problems for those hiking at higher elevations.
The natural concern these people expressed told me that if they could do something to help those trekking behind us, they would.
Guide Grapevine
On the trail and throughout the Snowman Trek, there was a constant passing of knowledge between guides, horsemen, yak herders and local travelers that included information about the conditions of the trail, the weather and, in the case of the guides, how their clients were doing and speculation about whether they (ahem, we) might complete the trek.
At the end of a trekking day, Tobgay would have some new bit of knowledge to share with us, whether it was about how long it took the Israelis and Canadians behind us to get to camp or how much mud would be on the trail the next day. I would always ask how he knew this information and he would say, "The horseman going to Thanza told me," or "The guide from the other group told the yak herders who then told me."
I came to call this the Guide Grapevine. And while it did include gossip (apparently this is a favorite pastime of the Bhutanese), it also seemed to be useful with regards to the health and well-being of tourists and locals alike.
The trekkers' responsibility
The Snowman Trek is a 220-mile, 25-day trek. Most days consist of hiking eight to 13 miles on a rough trail at altitude. While we had ponies that carried the majority of our gear, every day I carried my own pack with water, food and enough cold-weather gear that protected me in the case of rain, snow and wind (and yes, we had it all).
I was well-aware the weather could change without notice and always had more emergency gear in my bag than was ever necessary. I think it's safe to say that others on the Snowman Trek took this same approach – considering this a risky adventure that needed to be taken seriously.
Our guide(s) and in-country tour operator worked closely with us to make sure we were properly outfitted, that they were cooking foods we'd like and would eat and that we had the right mental attitude going into the trek.
*****


As for the tragedy in Nepal, there seems to be a lot of blame going around.
The Nepali government is blaming cheap tourists for not hiring properly trained guides. Porters, carrying the tourists' loads – sometimes upwards of 90 pounds – have little room for emergency equipment. Speculation is that properly trained or not, most of them seemed ill-prepared for this weather event – many wearing flip flops rather than hiking boots, for example. As for the trekkers, most carry little more than a daypack with some water, snacks and, if they're lucky, perhaps some cold-weather gear.
I don't blame any one entity for the deaths that occurred on the Annapurna Circuit – which is, by the way, nearly the same length and number of days as the Snowman. But it's obvious that a more holistic approach which involves the government, guides and trekkers to take on more responsibility is the only way such a tragedy will be avoided in the future.
One change reportedly in the works is a weather warning system implemented by the Nepali government so that extreme conditions won't catch travelers and guides off-guard in the future.
In Bhutan, guides are well-respected. They're trained, licensed, well-paid and considered important ambassadors to the outside world. The experience you have with your guide is going to affect what you say about the country when you return home and the Bhutanese are well-aware of that fact.
In Nepal, this just is not the case.
Here's what I'd like to see happen:
Guides should be required to hold a license in order to take foreigners on treks. A minimum age should be set (I read one report that 14-year-old guides were on the Annapurna Circuit) and the guides should be trained in emergency survival techniques.
A minimum daily amount should be paid to the guides. Currently, they seem to be poorly paid, which ultimately doesn't provide a lot of incentive to take good care of their clients.
Teahouses located in areas where there is no cell-phone connection should be outfitted with SAT phones so that emergency calls can be made when needed.
Trekkers should be required to purchase permits, at which time they are provided with detailed information about the trek including safety precautions and a packing list. They should also be required to hire a licensed guide with a maximum number of people assigned to each licensed guide.
Until everyone takes guiding in Nepal seriously, accidents such as this one (as well as the April, 2014 disaster on Mt. Everest) will, sadly, continue to occur.
Be Bold,
Beth