We were warned that Day 3 of the Merak & Sakten trek in Eastern Bhutan would be longer and harder than Day 2. You'd think that would have been enough to prepare us for the day. In reality, we (luckily!) had no idea what we were getting into. If we did have an inkling, it's likely most of us would have turned around and headed back to the relative comforts of our hotel in Trashigang.
We started off optimistically enough. Though the weather wasn't ideal (sunny and 70 would have been ideal), we all bundled up, grabbed our hiking poles and left our camp in Merak and headed off to the next village of Sakten.
We kept a steady pace, but didn't feel the sense of urgency that we should have. We stopped regularly to fuel up with hot tea and sweet biscuits which were liberally supplied to us. Our guide, Tshering, made sure that we were sugared up as he felt that was the best source of energy for trekking. A few of us kept stashes of Cadbury chocolate that we shared at appropriate moments.
We seemed to have reached a pass at just the right time (lunch). It was
cold and windy, however, and the meager fire that was started to burn "incense" to make the rain stop, didn't help to keep us warm (neither did it ward off the rain!). The cooks had arrived long before the group in order to have our meal ready for us. It was so cold at the pass that we only stayed about 20 minutes, enough time to have a quick meal, pee and rest for a few moments.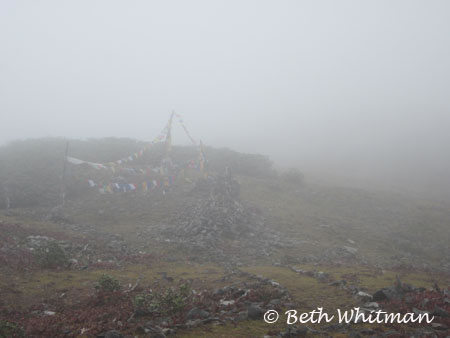 Our timing was indeed good because the clouds really started to move in just as we were leaving the pass.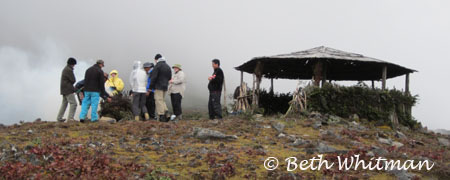 Lunch at the pass was cold and windy.
At our pace, which I had clocked on my multi-purpose watch/pedometer, I figured we were doing about 40-minute miles (not bad given the terrain). Based on calculations by a Bhutanese guide who had made this trip before, we had somewhere between 3-5 miles to go at a point where we started down a slippery set of rocks.
The problem with Bhutanese calculations is that those folks are FAST! And when it comes to trekking, they don't quite have a sense of either distance or time (especially when it comes to slow foreigners like us). By 4 pm, we had asked two Bhutanese coming from Sakten how much farther we had to go. One told us 3 hours. The other told us 1 hour. We knew from experience at this point that 1 hour was simply not possible. But 3 hours was troublesome. It meant that we'd be arriving in the dark.
"No problem, no problem," said our driver turned trekking guide, Joker. (Note to self, never trust a guide named Joker to be up front about trekking times.) Even arriving in the dark, he said, we'd be OK.
I thought otherwise.
At this point, we had been hiking for 8.5 hours. It was starting to rain and we were already traipsing through mud. We were tired, irritable and cold. We all just wanted to warm up by a fire and slip into our tents for the night. But we still had somewhere between 1 and 3 (or was it 5?) hours to go before we'd see camp.
We had been through mud up to our calves, gotten our hiking poles stuck in deep mud and nearly lost our hiking boots as they became stuck. Our nerves were starting to fray and, more than once, I simply looked at the amount of mud and lack of path in front of us and just said, "What the ?"
Dusk began to fall and Tshering found a local person willing to lead our group along an alternative path that was supposed to be less muddy than what we had already been experiencing. Only a couple of us had flashlights or headlamps making the walking that much more difficult. We were all being held up/supported by a guide (or a cook, or a local) and steadied along the path ("This way, this way. Over. Over.")
By 5:30 or 6, it was officially night. We were able to see somewhat by the full moon and somewhat by the light cast by a couple of the flashlights. But for the most part, we were feeling our way and trying as best as we could to step where the person in front of us had just left a footprint.
At 7, a "rescue" party came. They brought flashlights, tea and soup (we hadn't eaten since lunch). It was 9 pm before we reached our tents.
And during those next 2 hours, we continued through the mud, up a hill and then across several streams and a raging river. Most often, we had to make our way across by stepping on rocks (there was only 1 bridge). Poor Cheryl fell into the river (twice) but hubby Mike came to the rescue by drying her clothes over the fire while she snuggled in her sleeping bag once we made camp.
Dinner was served but most of us chose instead to get warm in our tents, pick the odd leech off of our clothes and/or body and face Sakten the next day.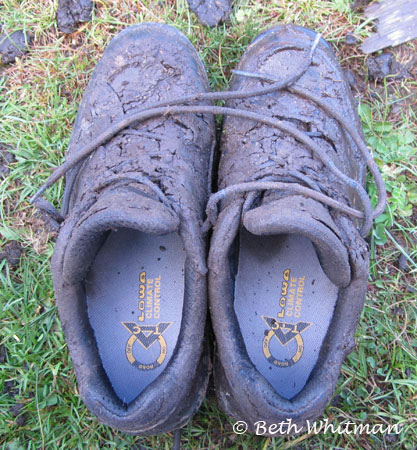 Amazingly, my Lowa boots kept my feet dry – though they were caked in mud (which has since easily come off).
Was the day worth it? Absolutely! Would I do it again? Absolutely (with a tweak or 2)!
I believe that our biggest issue was the weather. A typhoon had hit South Asia and all over the region, there was more rain than most of these people had seen in years. And definitely, what we experienced over the next few days, made it all worthwhile…
Travel Well!
Beth
Related Links
Eastern Bhutan Merak & Sakten Trek Day 2
Eastern Bhutan Merak & Sakten Trek Day 1
Bhutan Tours
Bhutan Photo Gallery