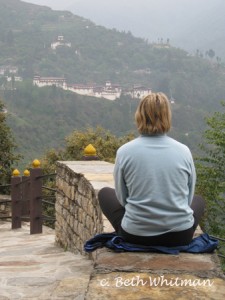 Spots are beginning to fill for the Women-only Sacred Sites Journey to Bhutan! This small-group tour will allow women to find peace and rejuvenation through exploration of the Himalayan Kingdom while partaking in gentle yoga, light hikes and a meditation session with a monk!
This tour, led by Susan Weis-Bohlen, owner of breath books in Baltimore, MD, has been specially crafted to explore the spiritual side of this pristine region. The group will enjoy light hikes in the Himalayas as well as occasional yoga classes (appropriate for yoginis of all levels) and Ayurvedic workshops. Participants will explore Bhutan's cultural highlights through its' temples, festivals and people while embarking on their own inner journey.
Don't miss the opportunity to join like-minded travelers for this once-in-a-lifetime journey.
Tour Details:
Dates – April 19 – 30, 2011
Cost – $4.950
Single supplement – $475 (please note that we pair travelers whenever possible but that the single supplement is given on first come basis. Please send deposit early for priority)
Please find registration form and full itinerary on this page for the Women-only Sacred Sites Journey to Bhutan!
Please note that the government is raising their daily tarrif in 2012 so all tour costs will increase beginning January, 2012. If you've been eager to get to Bhutan, don't miss this chance!
And if you're interested in a trekking tour through the Himalayas, please see the co-ed Bhutan Laya Trek itinerary for October, 2011.
Hope to see you in Bhutan soon!
Beth