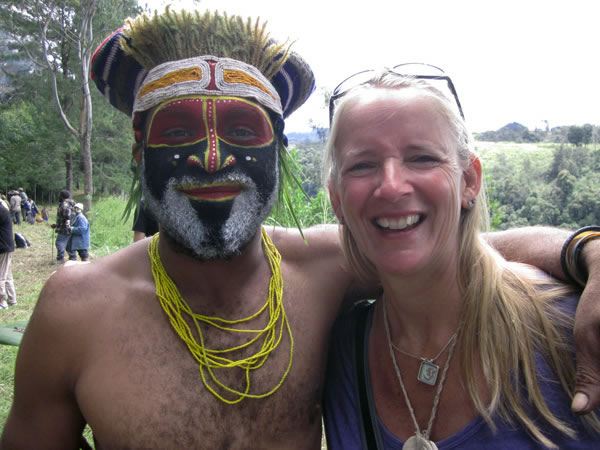 If you've spent time with me or been following this blog for awhile, you likely know how enamored I am with Papua New Guinea.
I don't remember an exact moment, but my love affair with PNG likely started with the cover of a National Geographic magazine. My parents were subscribers and I'm sure I was captured by images of men with pigs' tusks protruding from their noses and bird feathers adorning their heads.
The country loomed large in my imagination for years. And then I visited this island-nation in 2010. I was awestruck then and continue to be on every return trip. When I come home, it usually takes me a couple of days before I can talk about the experience because it is so overwhelming (in a good way!). I guess you could say I still have culture shock every time I go.
This also happens to be one of our most popular tours, selling out every year. Because of its popularity, we've announced the Papua New Guinea Mt. Hagen Festival Show tour for August, 2016 a bit earlier than usual.
One thing that sets our trips apart from others is that we visit the village of Tari, where the Huli Wigmen live. There's not much here in terms of facilities so you have to be prepared for basic accommodations and food. But to experience this region is likely nothing else on the planet.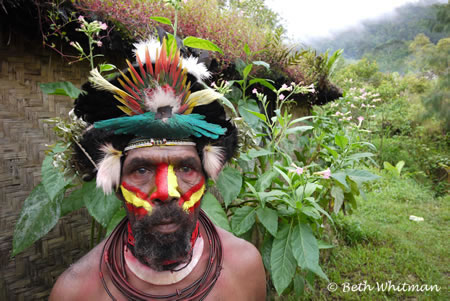 This is a Huli Wigman in the small village of Tari. When young, these wigmen spend about 18 months at "wig university" growing out their hair. After about six months, the hair is carefully shaved off and a wig is created that is then worn for special events and festivals.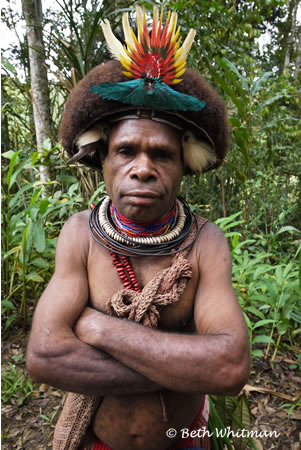 Ultimately, there are a variety of ways that the wigs are shaped.
This elder wigmen is wearing one of my favorite shaped wigs.
Really, how could you resist???
Because of limited accommodations, we can only take 10 – 12 people on these tours. The 2016 tour was just announced a few days ago and is already 1/3 full. Suffice it to say, if you're interested in joining us, you gotta be quick!
This is an expensive tour, I know. And while I don't believe in once-in-a-lifetime trips–after all, I now go to PNG yearly–this is an experience you'll never forget and worth every kina (the local currency).
A couple of side notes: PNG is not for everyone. Hotels and food are not up to the same standard we are used to in the West and, given the cost of this tour, that can be a bit shocking.
Also, there are special precautions we take to ensure everyone's safety. You have to know and accept in advance that you'll be limited in terms of activities and independence on this tour.
In short, Papua New Guinea is not the safest destination on the planet but it is so rich in rewards.
I'm always happy to answer questions people have about our tour and this destination so if you'd like to know more, please contact me.
Be Bold,
Beth
Want to stay up-to-date on all things Wanderlust? Follow me on Facebook, Twitter or RSS/email.