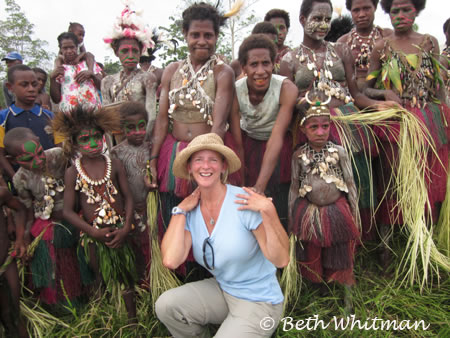 5:15. Monday morning. The alarm clock released music from the local classical station.
I just stared at the ceiling for a few minutes and let it sink in that I'm in Seattle. And then I let myself go back in time to less than 2 weeks ago when I was sleeping under a mosquito net in the Sepik River region of Papua New Guinea.
It was stifling hot. Lightning was cracking just a few miles away. And a mad dash to the pit toilet meant a butt full of mosquito bites.
I'm comfortable at home, true enough. The fridge, pantry and vegetable garden are filled with more food than I could eat in 2 months. My biggest concern is whether I'm going to try to kick the coffee habit again and make my way through the teas that I've accumulated from India, Vietnam and the local specialty store.
But despite all the comforts, this morning I let my mind drift back to the Sepik. I let the breeze from the ride in our motorized canoe cool me as I watched the herons, cockatoos and hawks glide along the water and into the treetops. I heard the pounding drums and rhythmic singing, saw the smiling faces and felt the welcoming handshakes of villagers as we arrived along the banks of their communities.
I tasted the unique sago and coconut "pancakes" that were prepared for our group of 11. And I
could taste the cups of (terrible) Nescafe that I indulged in every once in awhile.
Happy to be home? How could I say no. It's where I'm comfortable. But this morning, if only for a few moments, I wished I could be physically transported back to the Sepik. Back to a simple life devoid of Twitter, Facebook and blogging. Where village life centers around the spirit house (haus tambaran), crocodile hunting and initiation ceremonies. A place where there's no electricity to power a computer, let alone houselights. Yet, basic needs are met. Extended families take care of one another and sorcery and local laws help keep the peace.
I'll never feel at home in Papua New Guinea but I think it's the feeling of being so out of my element that has created the strongest link. Like a thick thread from a spider's web, I've got this invisible connection that I'm confident will keep me going back again and again.
So while I daydream and sort through photos, I'll sip my tea, appreciate the fact that I have 5 different grains in my pantry to choose from for dinner and try not to scratch the few mosquito bites that linger.
And then I'll start planning my return.
Travel Well!
Beth
Related links:
Return to Papua New Guinea
Papua New Guinea Tours