You all know NomadicMatt.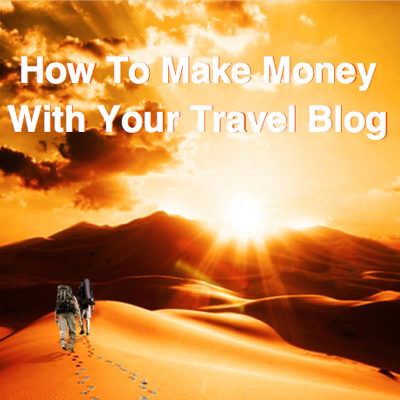 Matt has been traveling around the world on and off since 2005. And while he's traipsing around, he manages to keep up with his blog and website – both packed with information to help other travelers. But not only is he helping other travelers, but he's written an ebook to help other bloggers create an income stream from their blogs.
His ebook, How to Make Money with Your Travel Blog draws from his experience as an SEO pro and social networker who's managed to build an audience, create high Google rankings and turn that into dollars – a feat that only a small percentage of bloggers (of any genre) have been able to do.
Chapters include Setting up a Blog, Creating Your Blog, Increasing Traffic, Search Engine Optimization, Monetization Tips and Putting it All Together.
While in no way do I consider myself an expert on any of the subjects that Matt covers, I have been blogging for awhile and have picked up a thing or two along the way. I read blogging websites and learn tips from people who know what they are doing. As a result, many parts of the book were repetitive for me. But, for the newbie, a lot of this information will come in super handy.
Having said that, the section from which I learned the most was Finding Traffic where Matt goes into some detail about getting traffic from StumbleUpon, other blogs, Twitter, FaceBook and travel forums. He uses as an example one of his posts that received over 100,000 uniques from SU alone. While many argue that SU is not quality traffic, who wouldn't want 100,000 eyeballs for just one post?
Matt's ebook definitely focuses on the back end of getting traffic with ideas on how to build it through quality links in and driving that traffic through social networking and bookmarking sites. What I felt was missing was the focus on quality content and blogging about what you love. Perhaps some people think this would be obvious but I think it's worth some serious consideration for anyone interested in actually building an audience. OK, so not everyone is interested in building a huge audience, in which case, paying close attention to the quality of content may not be a huge focus. But if you are going to monetize… (quality) Content is King.
After reading How to Make Money with Your Travel Blog, I had a few questions for Matt:
Q) I see that you don't have  a ton of Stumble friends, so how did you get 100,000 page views from one post if not by blasting 1,000 people?
A) You don't need a thousand friends. You just need the right number of people who aren't your friends and have enough stumble power to stumble your post. What that number is, I don't know. It varies. My Sunset post only got a few thousand versus the post on scuba diving which got 1/2 the amount of traffic the Iceland post did. You can't predict what will go viral.
Q) I thought SU was notoriously bad for getting links in but you managed to do that on your Iceland post. Is it really about all those great images?
A) Yes. Images rule. People don't have to read. They look. Enough people will backlink from that.
Q) How do you get so many people commenting on your site when it's not a controversial topic – you can't possibly be commenting on all of their sites?
A) Well, I spent 3 hours today going through my RSS and I'm still not done. But after awhile, you get bigger and bigger and people just come to you because they like you. The internet is a giant snowball.
Q) You mention on your website that you make about $3,000/month from your site. How is this broken down?
A) I make money via affiliate sales, private banner sales, ebook sales, a small amount from some adsense sites I have, and link sales I have on 3 other sites I run.
Q) You start the book out by saying that getting a lot of traffic isn't the way to make money. But you end the book by saying that the only way to monetize the site is to get lots of traffic. So, is having a lot of traffic the only way to make money?
A) I say getting a lot of the right traffic is important.
Q) $27 is a steep price for an ebook, particularly when printed books don't often sell for that price.
A) As for the price of the book, I leave it at that price because I give two or three advertiser names with it so right away you make your money back.
*****
It's true that you could probably dig up most everything Matt has packed into his book on the internet. But he's already done the research and has a proven success record. It would be a lot easier to just buy the book, plus you'd be supporting his travel addiction.
Note: While this normally sells for $27, from now through Christmas, Matt is running a special on his ebook. You can now order a copy for just $17.
Travel Well!
Beth
Related links:
Rough Guide to Ultimate Adventures
On the Book Shelf: Rough Guides to India
Beth's Guide to Guidebooks
Join other Wanderlusters and help make this the most popular women's travel blog by subscribing via email or RSS feed.