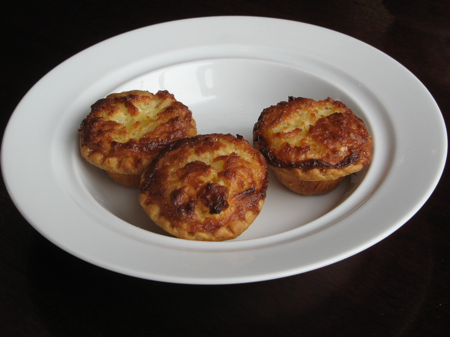 I've written previously about the delicious contemporary Hong Kong-style dim sum at the Hotel Grand Pacific, in Victoria, BC.
Executive chef Rick Choy shared his recipe for the sweet and chewy coconut tarts he serves at dim sum, and they're surprisingly easy to make at home. They'd make an excellent dessert for an Asian meal. They'd also pair well with fresh fruit or a fruit sorbet.
Hong Kong-Style Coconut Tarts Recipe
Adapted from Chef Rick Choy, The Hotel Grand Pacific
Don't use very fine coconut; you want the tarts to have a little texture. If you don't have small tart pans, I found that you can bake the tarts in mini muffin tins; just butter them well or use a vegetable oil spray to keep them from sticking.
Ingredients:
Tart Shells
1 cup flour
1 tbsp sugar
1/4 tsp salt
1/2 cup unsalted butter
4 tsp lemon juice
1 tbsp cold water
1 tsp vanilla extract
Filling
1/4 cup unsalted butter
1/2 cup sugar
1 egg
1/4 cup whipping cream
2 cups shredded unsweetened coconut
Method:
1. In a food processor, blend the flour, sugar, and salt. Add the butter and blend until the mixture resembles coarse sand. Add the lemon juice, water, and vanilla and blend briefly to form the dough.
2. Set the dough aside to rest for about 20 minutes. If the dough seems very sticky, let it rest in the refrigerator.
3. Roll out the dough and use to form pie shells using either individual molds or a baking pan with 4-inch insets, or 2-inch insets if making the smaller size. (Note: I used a glass to cut circles slightly larger than my two-inch-diameter mini muffin tins, then put the dough circles into the muffin tins, crimping the edges to form tart shells.)
4. Preheat the oven to 320°F (160°C).
5. Make the filling: In a large bowl, cream together the butter and sugar, then blend in the egg till well combined. Add in the cream, then mix in the coconut.
6. Scoop the filling into the individual tart shells. Bake at 320°F (160°C) for about 15 minutes or until filling is set and tops of tarts are golden brown.
Yield: Five 4-inch tarts or ten 2-inch tarts
If you try this recipe, please leave a comment and let us know what you think. Thanks!
And if you want to sample Chef Choy's coconut tarts at the restaurant, The Hotel Grand Pacific, 463 Belleville Street, Victoria, BC serves dim sum on Saturdays and Sundays from 11:30 am to 3 pm.
Tasty Travels!
Carolyn
Photo credits:
Coconut tart photo © Carolyn B. Heller