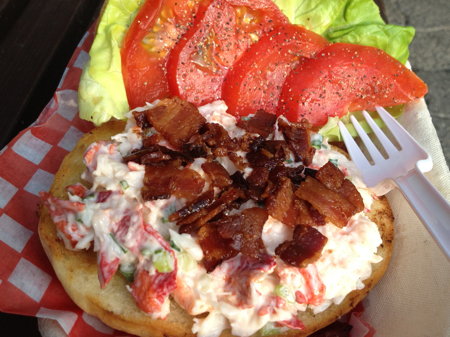 Thought the bacon-on-everything trend was waning? Think again.
In Vancouver, the Edible Canada Bistro — located opposite the Public Market on Granville Island — has opened their take-out window for the summer season, and every item, from the bacon and cinnamon sticky buns to the fish and bacon tacos to the bacon chocolate gelato, includes crispy, smoky bacon.
My husband Alan and I had tickets to see a play at the Arts Club's Granville Island Stage, which is located dangerously close to the Bacon Take-out Window. Which is how we found ourselves sampling the "BLLT" — the decadent bacon-topped lobster salad sandwich ($12, pictured above).
It's got a little too much mayo for an easterner used to Maine lobster rolls, but Edible Canada's kitchen doesn't skimp on the lobster, and the slightly sweet bacon is an excellent crunchy counterpart to the rich seafood.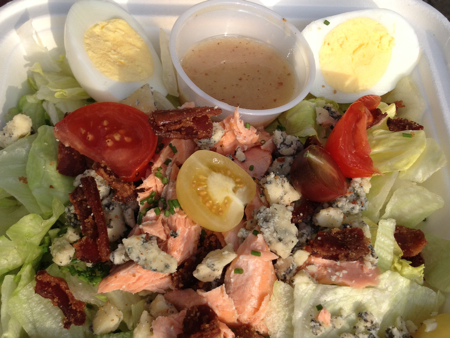 The West Coast cobb salad ($10), a bed of iceberg lettuce topped with salmon, tangy Quebec blue cheese, surprisingly juicy and flavorful cherry tomatoes, and of course, bacon, was quite good, too. A bit heavy on the iceberg, but still light and tasty.
We were tempted by the bacon chocolate gelato, particularly because the excellent Bella Gelateria makes it for Edible Canada, but alas, the curtain was rising and we had to run. Another day.
So why an all-bacon menu? Perhaps Edible Canada's sign says it all:
If you go…
Edible Canada Bistro's "Tribute to Canadian Bacon" Takeout Window is open daily from 11 am to 7 pm. They're located at 1596 Johnston Street, on Granville Island, in Vancouver, BC, 604-682-6681.
Tasty Travels!
Carolyn
Photo credits:
Photos © Alan Albert