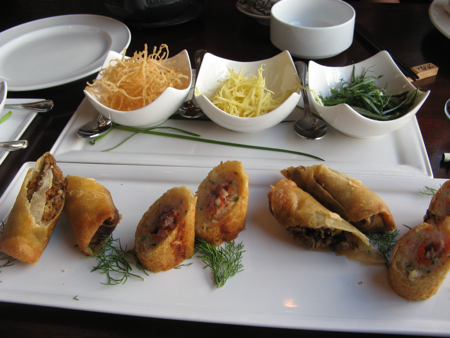 Want to combine the ambiance of a posh high tea with contemporary Hong Kong-style dim sum? Then check out the weekend dim sum brunch at the The Hotel Grand Pacific in Victoria, British Columbia's capital city.
I was surprised to learn that this fairly traditional hotel serves dim sum in its gracious Pacific Restaurant — at least until I found out that the hotel's executive chef, Rick Choy, hails from Hong Kong. He and his team cook West Coast fare the rest of the week, but on Saturdays and Sundays, Choy goes back to his Hong Kong roots.
Like any serious dim sum dining room, the Grand Pacific is serious about its tea.
You choose your brew from an extensive menu that was compiled in consultation with local tea experts, Silk Road Tea. I sampled a delicate white tea that had hints of orange.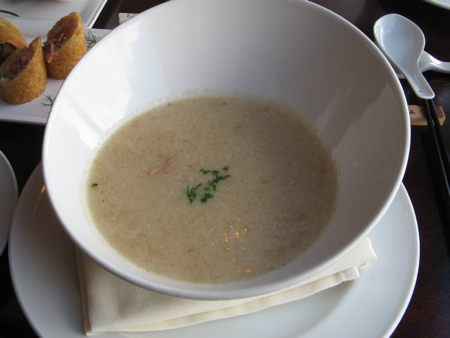 The dim sum menu is small, with dishes all made to order, using local ingredients like seafood from B.C. waters or duck from the nearby Cowichan Valley.
I love congee, and the Grand Pacific version, full of local salmon, was especially delicious.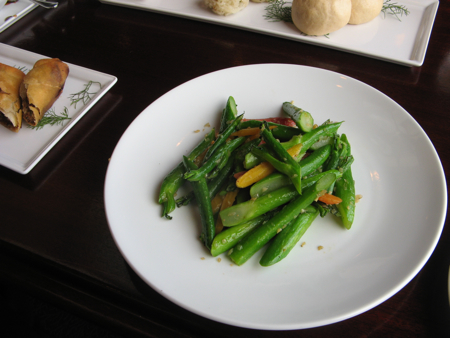 Another favorite was this fresh, crisp, and garlicky gai lan (Chinese broccoli).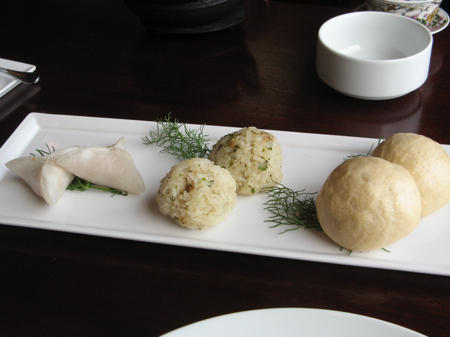 The dim sum offerings are artfully arranged, perhaps reflecting Chef Choy's background; he was an interior designer before he became a chef!
I also sampled these delicate scallop-filled dumplings, earthy and delicious sticky rice with mushrooms and pork (another one of my favorites), and puffy steamed chicken buns.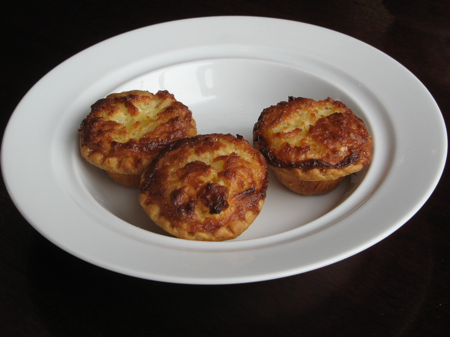 For a sweet finish to your dim sum experience, try these excellent Hong Kong-style coconut tarts, which are stuffed with a sugary, chewy coconut filling.
Chef Choy has graciously agreed to share his recipe for coconut tart recipe with WanderFood readers. Here's the recipe!
About WanderFood Wednesday
Want to share a recipe, photo, or food post of your own? Join the WanderFood Wednesday blog carnival. Here's how:
Post a food photo on your site.
Add a brief description about the photo — or a longer food-focused post — and include a link to WanderFood Wednesday.
Add your blog name and post title to the "Mr. Linky" form below, with a link directly to your post (not to your main blog). That's it!
[mrlinky owner=wanderfood postid=22May2012 meme=2888]
If you go…
The Hotel Grand Pacific, 463 Belleville Street, Victoria BC, serves dim sum on Saturdays and Sundays from 11:30 am to 3 pm in their Pacific Restaurant. Reservations are recommended; call 250-380-4458 or book online through Open Table. Most dishes are C$8 each.
Tasty Travels!
Carolyn
Photo credits:
Photos © Carolyn B. Heller