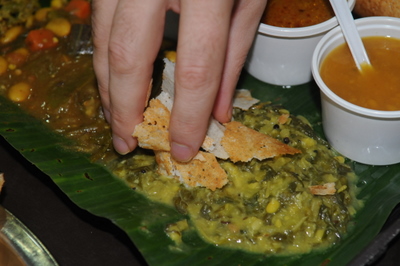 Earlier this week, Elisa and I decided to take Erik to Komala Vilas, the restaurant we had visited during her field trip to Little India. We wanted to
order a proper meal to see if we liked it as much the second time around.   Upon entering this bustling, two-story Southern Indian restaurant, a gentleman directed us upstairs for the prix fixe meals. Downstairs, he explained, was reserved for a la carte orders.
We walked past a showcase of neon-colored desserts, two the distinct – and familiar – color of Kraft macaroni and cheese and squeezed up the busy staircase.  A hostess greeted us with a pictorial menu to help with our selections. Erik and I chose the Dosa Meal, which was accompanied by a number of sides, including vegetables and a variety of dipping sauces (samber, chutney and kulamba) for S$6.55.  Erik also ordered a cup of his favorite masala chai, tea with aromatic Indian spices and herbs.
For Elisa, we inquired about child-friendly – less spicy – dishes and were advised to try Bhattura (garbanzos in a flavorful sauce), served with Chenna masala, onion, lemon, and chili – and of course bread – for S$4.20.
In Southern Indian cuisine, you don't use silverware.  Instead, the dosa, a large flat pancake, and various flat breads are used to scoop up sauces and other food.  Locals are able to do this quite skillfully using their right hand only.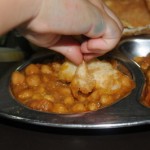 We observed locals spilling their various sauces on to their leaves and mixing them together. Erik immediately followed suit, but Elisa and I preferred to keep our flavors separate.    Either way, our family's review was unanimous – three thumb's up.  And we weren't alone in our opinion. By the time we left, a line of about 25 people had formed to get into this fine eatery.
According to the restaurant's web site, Mr. Rajoo, an immigrant from India, opened Komala Vilas in 1947 with his brothers.  They have now expanded and operate another restaurant at 82 Serangoon road, which specializes in sweets and savories.  They tell you that the food originates in Thanjavur, a district in Tamilnadu, but whether or not you find that reassuring matters not.  Komala Vilas provides a great meal for the whole family.
Komala Vilas:
No. 76-78, Serangoon Road
Tel: 6293 6980
www.komalavilas.com.sg
Read about food adventures at Wanderfood Wednesday.