Here are some books we like for helping children to understand more about Deepavali, also known as Divali.  A five-day celebration, it is one of the biggest festivals in the Hindu religion and begins tomorrow.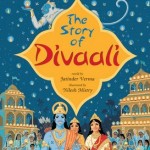 1. The Story of Divaali, By Jatinder Verma, A lovely little book that introduces Divali to children who may be unfamiliar with this important Hindu festival and its history.
2. Come to the Party! Celebrate Indian Hindu Festivals, By Suzanne Lauridsen and Sally Heinrich: I did not find this book on Amazon, but perhaps you can at the public library.  We like it because it gives a quick snapshot, in child-friendly terms, of all the major Hindu celebrations.
3. Divali by Bright Baby.  This board books offers a touch and feel experience to words associated with Diwali and is great for toddlers.
4. Divali by Dilip Kadodwala.  A great book with beautiful illustrations that give children a sense of what Diwali is all about.