Exploring Old Penang
For those interested in the colonial history of Singapore and Malaysia, a trip to Penang is a delight. The oldest British settlement in Southeast Asia, Penang was ceded to Francis Light on behalf of the British East India Company in 1786. In return for the island, Light agreed to provide military protection for the Sultanate of Kedah (a state in Malaysia) against neighboring Siam (Thailand).
Light had been attracted to Penang because he thought the small island would make an excellent center of commerce for the Company.  Indeed, Penang soon became the successful trading hub Light had envisioned.  People from all over the world arrived in search of opportunity, and the number of Chinese, in particular, exploded.  Today, Penang is the only Malaysian state with a majority Chinese population.
Stamford Raffles served in Penang and would later use the same model when he founded Singapore.  According to Jim Baker, author of Crossroads: A Popular History of Malaysia and Singapore, Raffles understood the potential of a similar port in a more strategic location. He writes, "It is probably true that without Light's vision for Penang and the example it set, there would have been no British Singapore."
If you are planning a trip to Penang, here are eleven things you can see in a single afternoon's walk:
1.  The Eastern and Oriental Hotel
Built by the famed Sarkies Brothers, this 127-year-old hotel recalls the days of the grand Asia tour, when there was one fashionable place to stay in each city.  A glass showcase shows photos of those lucky enough to visit what was affectionately called, "The E and O," including Hermann Hesse, Somerset Maugham, Noel Coward, and Sun Yat Sen. If you don't stay here, be sure to stop by the bar (open to children until 6 pm) and admire this lovely monument to Penang's past.
2.    Cheong Fatt Tze Mansion
Cheong Fatt Tze built his awe-inspiring blue mansion in the 1880's in traditional – albeit luxurious – Chinese courtyard style.  Arriving from China penniless, he became so wealthy and influential that many referred to him as the "Rockefeller of the East."  The movie, Indochine, was filmed in this masterpiece of architecture, which deservedly won a UNESCO award in 2000.  Tours are offered twice daily by an engaging guide who shares the mansion's colorful history and explains why it is an example of perfect feng shui.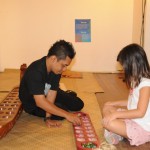 3.    The Penang Museum
This small museum presents Penang's colonial history and highlights in a well-organized, concise manner.  It provides a great overview of the cornucopia of ethnic groups that created the island's history as well as the spice trade that attracted them here.  Don't miss Captain Robert Smith's exquisite oil paintings depicting Penang in the early 19th century.  They even had someone on hand to teach those interested some traditional Malay games.
4.    Fort Cornwallis
Francis Light and his men erected a fort from palms in 1786 at the place where they first landed in Penang and named it after the governor-general of India.  Rebuilt in 1810 with a moat, this intact star shaped fort was used for administrative purposes.  The collection of cannons is impressive with the oldest dating from 1613.
5.    Victoria Memorial Clock Tower
Built on the occasion of Queen Victoria's Diamond Jubilee, this lovely tower stands next to Fort Cornwallis and is crowned by a Moorish gold dome.
6.    Town and City Halls
Opened in 1913, the Penang City Hall is constructed in the typical Victorian style popular at the time in Malaysia.  Municipal counselors still meet in the well-preserved, wood-paneled Council Chambers.  Next door you'll find the equally stunning Town Hall, which was the first municipal building in Penang.
7.    World War I Monument: This granite cenotaph was erected to commemorate the lives lost during World War I.  A large plaque, however, has broadened its scope to include those who perished in various conflicts that touched the area, including the Siam Burma Death Railway and Malayan Emergency, a term used for the guerilla war fought in the 1950's between the Commonwealth government and the military branch of the Malayan Communist Party.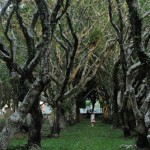 8.    Christian Cemetery
You'll first see the lovely magnolia trees when approaching this small cemetery in the colonial area of Georgetown.  At the entrance, a large sign announces that the first known burial took place here in 1789.  Francis Light was laid to rest in 1794 as well as several early governors.   The Cemetery was closed for further burials toward the end of the 19th century.
9. St. George's Church
Built in 1816 using convict labor, St. George's is the oldest Anglican Church in Southeast Asia.  It was named in honor of Britain's King George.  The church was looted during World War II and the only original items found there today are the font and bishop's chair.  The adjacent pavilion houses a memorial to Francis Light.
10. Chinatown:
Penang's lively Chinatown is reflection of this immigrant group's success here.  The streets overflow with cafes, bookstores and other shops, but while you are strolling, don't forget to admire the beautiful – if a bit tired – shophouses.  The Hainan Temple, which opened in the late 19th century, is dedicated to the deity of seafarers and worth a visit.
11. Logan Memorial:
This small monument was erected across the street from the Supreme Court in memory of James Richardson Logan, who died in 1869.  According to the nearby plaque, "Logan was a lawyer who stood up against the East India Company … to champion the rights of the local community."  Four virtues – Justice, Temperance, Wisdom, and Fortitude – can be found on each side.
If you have children, I recommend splitting your time between Georgetown, where you'll find the architectural monuments mentioned above, and the nearby coastal area, known as Batu Ferringhi.  While the beach is nothing special – and known for its inhospitable jellyfish – the resorts offer a variety of activities for children. The Golden Sands by Shangri La, where we stayed, offers a playroom, adventure zone – complete with large slides – and an array of swimming pools designed to entertain visitors of all ages.