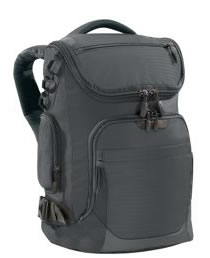 Yup, I do have a closet full of backpacks in all shapes, sizes and colors. But I had mentioned at one of my talks recently that I was on the lookout for a really great backpack. That's when someone showed me their Briggs & Riley Excursion Backpack. I was immediately interested in taking it for a spin and it arrived just before I departed for Spain.
First, you should know that Briggs & Riley is best known for their luggage (like the Exchange Duffel that I reviewed recently). Though I own several pieces of carry-on from their line of BRX adventure bags, it never occurred to me to check out their backpack (the Excursion is actually the only one they manufacture).
To me, the Excursion is a step or 2 up from what you might think of as a backpacker's backpack. It's rugged enough that it feels indestructible but it's also classy (not that there aren't classy backpackers!). Because it is so nice and the design so sleek, for me it falls somewhere between being a briefcase and a backpack. In other words, I wouldn't hesitate to walk into a business meeting with this. It's also been a lovely bag to carry around Spain given that these folks are a bit more fashion conscious than I am.
There's an interior padded pocket for your laptop and several pockets inside a zippered pouch that are roomy enough to carry business cards, a cell phone and even a small digital camera.
On the outside, there's one mesh pocket that can hold a small water bottle or sunscreen and another zippered pocket for your cell phone.
If you want to attach this to your wheeled carry-on, there's an external buckle that allows you to do so quite easily. There's also a sleeve that allows you to slip it over the handle of your wheeled luggage so you don't have to wear it while walking through the airport.
What I Love
The large zippered pocket on top allows me to load everything super easily but feel like everything is safe. No more mistakenly leaving my bag un-zippered only to have the contents fall out.
It's easy to cinch everything closed so that the bag feels quite compact. Many backpacks I have feel cumbersome and unwieldy with a bunch of straps hanging around. The Excursion doesn't feel like that at all.
Lots of zippered pockets where I can stash things and easily find them, like business cards.
The bottom lays flat so the bag actually stands up and doesn't keep falling over. THANK YOU Briggs & Riley for figuring this out!
Not So Much
There's no dedicated place for pens (I love those separate little pen pockets).
There's no key holder. Although there's an interior zippered pocket that I use for them, I do hate having to remember in which pocket I put my keys.
There are these little loops (3) on either side of the bag. I have no idea what these are for. They'll continue to bug me until someone tells me 🙂
All in all, the Briggs & Riley Excursion is one excellent bag. More professional and nicer than most bags but I wouldn't steer a backpacker away from it for that reason!
Given that there's a lifetime warranty on all Briggs & Riley products, this is a steal at $130 (available on Amazon). Especially when you compare it to other backpacks that are nowhere near as well made.
Travel Well,
Beth
Related links:
Briggs & Riley Exchange 20 Duffel
Briggs & Riley BRX 22″ Upright
Osprey Syncro 20 Hydration Pack