Photo Friday: Exploring the Camino de Santiago de Compostela (Spain)
Photos: 1) Sign post for the Camino; 2) Kim and Molly on the Camino; 3) A village church; 4) crosses; 5) fresh spring water; 6) wisteria and the Camino;  yellow arrow to identify Camino path; 7) Our arrival at the Cathedral de Santiago.  The day after, we had our photo retaken in the sun, but this is the real story.  We arrived after walking for seven hours in the driving rain!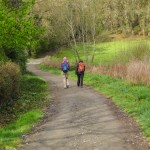 When my friend, Molly, invited me to walk the Camino de Compostela de Santiago with her, I have to admit I didn't even know what it was.  Fortunately, many around me did, and I was soon enlightened – and packing my bags.  I hadn't seen Molly in over 10 years – and Kim, who would also join us, in closer to twenty.  Miraculously, we converged in Madrid a couple of weeks ago, excited to walk a small piece of this historic trail.
The Camino de Santiago de Compostela, known in English as The Way of St. James, is a network of
walking paths that converge in the city of Santiago, located in Northwest Spain.  For more than a thousand years, pilgrims have arrived here from trails originating in various places around Europe, believing that St. James, the apostle, was buried on this site (though this has never been proven).
The height of the pilgrimage was in the middle ages, when thousands of people each day arrived in Santiago to obtain blessings and earn indulgences from the Catholic Church. Following the reformation, the number of pilgrims declined significantly.
The designation of Santiago de Compostela as a World Heritage Site in 1985 renewed interest in the Camino as well as the Romanesque, Gothic and Baroque architecture found in Santiago's Old Town.  People are once again eager to see what UNESCO describes as "one of the world's most beautiful urban areas."
Today people from all walks of life – religious or not – enjoy walking the Camino.  The most popular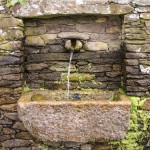 route is called the "Camino Frances," which originates in Saint-Jean-Pied-de-Port, France and travels 780 kilometers (about 485 miles) to its final destination in Santiago.  With limited time, we decided to walk the final 42 kilometers of this trail over two days.  I looked forward to exploring this historic path and reacquainting with two old friends.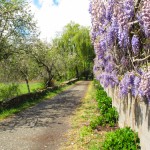 The final two days of the route are not particularly rigorous, though the path – which at different points is dirt, gravel, and pavement – climbs and descends the many hills of northern Spain. I was pleasantly surprised to find that very little of our walk was on or near roads.  Instead, we wove our way through farmland, forest, and shrubbery. Every few kilometers, a pub would magically appear, offering shelter from the rain and traditional Spanish tapas, coffee and tea (some fellow travelers preferred sampling the full array of alcoholic beverages also available).
Traveling by foot provides a unique perspective to the world.  For example, as we followed (or in some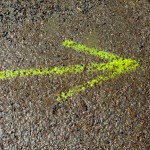 cases searched for) the Camino's yellow arrows, I was much more keenly aware of the ever-changing landscape than I would have been from traditional modes of transport.  The trail also treated us to lovely vignettes of Spanish life as we walked through people's backyards, passed their barns and admired their vegetable gardens.  Though our two days were filled with cold, windy, wet weather (and in my case, completely inadequate footwear), I finished this journey wanting more.
Will I return?  Absolutely.  I would very much like to complete the entire French Way, which – at 20 kilometers a day – takes about five weeks. Did the walk change the way I think about travelling?  Very much so.  I am intrigued by the idea of walking as a way to see the world and plan to explore other such historic trails on future adventures.
For more travel photos, visit Delcious Baby.
Related links:
5 comments