Membrillo and Cheese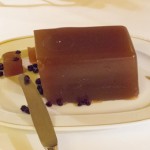 I love Spanish food, and one of my favorite desserts is membrillo and cheese.  Membrillo is a type of quince paste, resembling a golden brick of jelly.  It's served in slices and tastes best when coupled with the local sheep's milk cheese.
I discovered this wonderful combination of taste and texture years ago, when visiting my relatives in the Basque Country of Spain.  It's a treat that lingers in the memory, long after the meal has passed. Delicious – and highly recommended to all!
For more food adventures, visit Wanderfood Wednesday.
2 comments