Newsletter
Stay updated on all-things Wanderlust and Lipstick – including contests, product recommendations, travel tips, book sales and
new tour announcements.
(9,800+ subscribers couldn't be wrong!)
Sent the first Wednesday of the month, archived editions at bottom of page.
Read the most recent Wanderlust and Lipstick newsletter here!
November, 2014
Greetings, Wanderluster!
I made it, I made it! Yes, I completed the 25-day Snowman Trek in Bhutan. It was a spectacular trip that brought our little group over a number of high passes as well as near glaciers and turquoise-colored lakes (like this >>>). It was so amazing that I've decided to do it again! Want to join me in 2016? Here are details for our next Snowman Trek.
I'm now in Chiang Mai leading our Northern Thailand and Laos Hill Tribe tour. We're having such a good time eating our way through the country that I'm seriously considering a culinary tour here next. Yum!
By the way, if you've been eyeing our Southeast Asia trips, I'll be leading our Burma tour in February. We've Burma Pagoda got space available on this incredible trip that highlights the country's most beautiful pagodas. Also the Vietnam and Cambodia tour is nearly sold out so if you're interested in that tour, don't delay in registering.
If you're interested in staying updated on my whereabouts and experiences (including photos of both the trek and the Thailand and Laos tour), I'm most active on Facebook, so please friend me there.
__________________________________________________
***WanderTours***
__________________________________________________
***New WanderBlogger***
As the child of an international businessman, Jen caught the travel bug early, spending her formative years living in Europe and the Middle East. She never looked back. From the set of a Japanese game show to the summit of Mt. Kilimanjaro, Jen and her equally thrill-seeking husband have pursued adventure, adrenaline and not a little mayhem. As a traveler and a writer, she hopes to encourage other travelers to push their own limits, take risks, and lose themselves in unfamiliar lands. Follow her adventures in Unchartered Territory.
__________________________________________________
On the Bookshelf

The Best American Travel Writing
edited by Paul Theroux and Jason Wilson
This is the latest compilation of the best travel writing by Americans. You'll recognize at least a couple of the authors (Andrew McCarthy and David Sedaris) but most might be new to you (though they are still talented and well-published). It's excellent armchair travel but also a great treat to read while you're on a journey
In the iPod

Riverboat Records: Music From The Source
This is a 25-year celebration of the best recordings from Riverboat Records. It's a delightful grouping of songs that includes musicians from Greece, Martinique, Guinea, Serbia and much more. If you're looking for a roundup of international music, here's a great starting point. And, hey, it's a double CD to boot!

In the DVD

Tracks
by Robyn Davidson
I read this book probably 20 years ago. And it's now a movie! This follows the story of Robyn Davidson who walked from the center of Australia to Perth, on the west coast. Read the book then see the movie. It's sweet. And inspiring.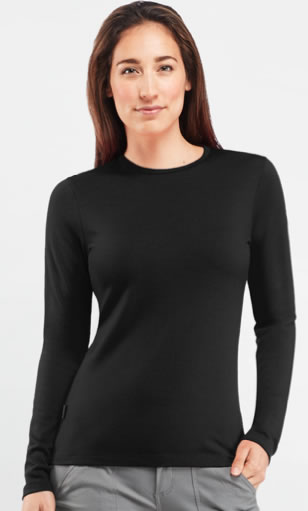 WanderGear Review
Icebreaker Tech Top Long Sleeve Crew
Lovin' my Icebreaker Tech Top Long Sleeve top that I practically lived in during the Snowman Trek. But beyond trekking, it's going to be a great top for cold weather all winter long. Read more here…
_________________________________________________
Parting Words
"I think you travel to search and you come back home to find yourself there." ~ Chimamanda Ngozi Adichie
Til next month…
Travel Well!
Beth
Archives
October 2014
September 2014
August 2014
July 2014
June 2014
May 2014
April 2014
March 2014
February 2014
January 2014
December 2013
November 2013