Newsletter
Stay updated on all-things Wanderlust and Lipstick – including contests, product recommendations, travel tips, book sales and
new tour announcements.
(9,800+ subscribers couldn't be wrong!)
Sent the first Wednesday of the month, archived editions at bottom of page.
Read the most recent Wanderlust and Lipstick newsletter here!
July, 2015
Happy Summer, Wanderluster!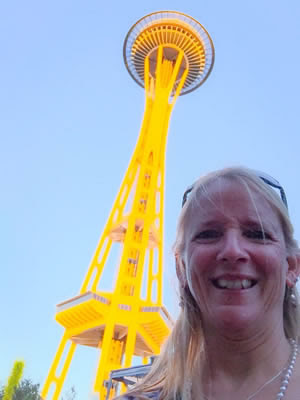 July 1st and it already feels like the thick of summer here in Seattle with temps consistently near 90. I just wrapped up our Seattle Culinary Tour with a fantastic group of ladies from around the country and am now pretty much settled in until August when I take off for Papua New Guinea. I do love my Seattle summers and am looking forward to a hot one
In June, I spent about 10 days in London working on stories for the Expedia Viewfinder blog. You'll see those posted on Expedia soon as well as on my blog. By the way, don't forget to subscribe to my blog or bookmark me so you stay updated on happenings around the Wanderlust and Lipstick world.
I've been getting emails for months about next year's culinary tours. We've got New Orleans and Santa Fe all set to go with Seattle coming up soon. Believe me when I say these will sell out quickly so don't delay if you're interested in joining us for these.
Don't forget to stay updated on my whereabouts and experiences by friending me on Facebook and Liking our WaL and WanderTours Facebook pages.
__________________________________________________
***WanderTours***
__________________________________________________
***New WanderBlogger***
Luxury Nomad
Jennifer Blair was born with the road beneath her feet and the wind in her hair. As an Air Force brat she lived in Turkey and Greece, drove with her family down the Alaska Highway, and explored the Egyptian Pyramids, all before the age of twelve. For the past twenty years she has worked in production for feature films. As a travel coordinator on movies she has explored cities across the United States and the world. Her blog, Luxury Nomad, will take you places you only imagined and show you how to get there.
_________________________________________________
***Wander Recommendations***
On the Bookshelf

The New York Times: 36 Hours USA & Canada
I can't tell you how many times I've read the 36 Hours in…stories in the New York Times. That's why I was thrilled to see that they've pulled together the "best of" in a series for the USA & Canada. (They cover other countries in other books). This book is great for planning a road trip weekend this summer!
In the iPod

Monoswezi Yanga by Monoswezi
I love the blended vocals and mix of rhythms in this CD from Monoswezi.The members come from Mozambique, Zimbabwe, Sweden and Norway and their sound is one that's heavily influenced by Africa but with a hint of Western musical styles (including jazz saxophone).
In the DVD

The Height of Happiness
This movie provides a great overview of Bhutan for those of you who don't know a lot about the country but want a visual journey of this beautiful Himalayan Kingdom. In addition to just being a lovely documentary, it also explores the importance of tourism and how this influences the region's growth.


WanderGear Review
Fjallraven Nikka Shorts
Though these are technically trekking shorts, I've been able to put them to use in Maui, New Orleans, Santa Fe and London. Can't wait to wear them in Seattle and on the trail this summer!… Read more here…

_________________________________________________
***Wanderlust in the News***
In case you missed this story:
Outside Magazine – pick up a copy of this month's issue to see a mention of our Snowman Trek to Bhutan!
_________________________________________________
***Parting Words***
"Traveling is like flirting with life. It's like saying, 'I would stay and love you, but I have to go; this is my station." ~ Lisa St. Aubin de Teran
Til next month…
Travel Well!
Beth
Archives
June 2015
May 2015
April 2015
March 2015
February 2015
January 2015
December 2014
November 2014
October 2014
September 2014
August 2014
July 2014