by Leslie To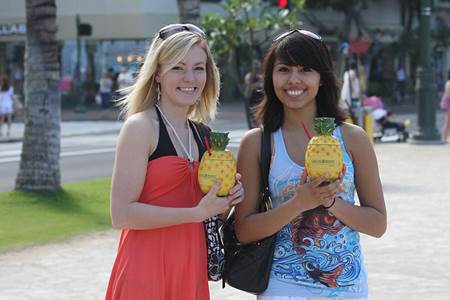 I consider myself an experiential traveler; I go places to do things, not just step into another time zone. Lately, this has translated into acting as much like I live in my chosen place of travel as possible. Of course, I allow myself the requisite tourist activities such as museum hopping and incessant picture snapping as well, but I like to mingle with residents and spend time getting into a miniature routine so that I can almost feel what it's like to live in a different place. How do I go about doing this? Thanks to the abundance of information online, it's easy!
Recently, I jetted over to Hawaii for a long weekend. Having been several times before, it was fairly simple to try out my recipe for living like a local. Except for checking in at the Maile Sky Court and scoping out a couple of other Honolulu hotels, I like to think I could have passed for a Hawaiian native during the rest of my vacation. I simply followed my new algorithm:
Read Local Coverage
No, you don't have to go to city hall meetings or anything like that (although that can be really interesting, if that's your thing!) but I like to do a quick search on what the local press entails. Most metro areas have a few mainstream papers —available online —as well as some alternative coverage. This gives you an idea of what's happening in an area, what people deem important in their city, and what kinds of fun entertainment events are going on. Don't overlook smaller publications in low population towns. Here, the press has even more of a presence, even if the stories aren't as hard hitting, and you can really get an idea of a community's personality.
Look at Message Boards
Craigslist, online forums, Facebook, Twitter, CouchSurfing.com: these are all hot spots for what's happening in a city. Here you can find awesome little gems like swap meets, garage sales, flash mobs or neighborhood events. People love to promote everything that they have going on now, and everyone is always looking for an audience. This is also a great way to meet people who want to mingle. I found an amazing estate sale out near the Maui uplands and took away one-of-a-kind art pieces, photographs and memorable conversation.
Go to Local Farmer's Markets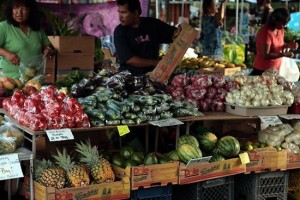 What are the locals really eating? There are incredible farmer's markets all over Hawaii offering the freshest and tastiest produce available. What's more, farmer's markets are run and attended by bonafide locals! Taste the fruits of their labor, dabble in some community art, and see all of the hard work that goes into creating something beautiful, health and fresh.
Volunteer
Working on a farm, dishing up food at a soup kitchen or taking part in a beach or park clean-up is a solid way to show your appreciation and leave a place better than before. Just think of how you'd want a visitor to treat your home city.
*****
Photo credits:
Hawaii Tourists: www.bluewaikiki.com
Hawaii Bulletin Board: chuck b.
Hawaii Farmers Market: Brock Roseberry