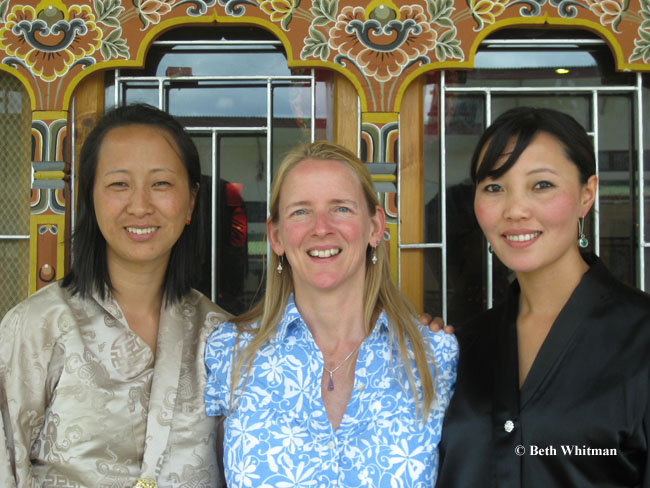 Some of the most rewarding experiences I've had during my travels have been the friendships I've made with the locals.
Most recently, I can count Chuki (pictured to my left) as one of my dear friends. Chuki co-led my group of 14 women through Bhutan. With her easy nature and quick sense of humor, we all loved Chuki immediately. She's pictured here with me and her niece, Chimey, whom I met through Facebook. Chimey and became FB friends after we both joined a Bhutan FB group and she saw pictures of her aunt on my site! Small world.
I have a wonderful friend, Kim (pictured below with her son), whom I met during my first trip to Vietnam in 1992. Kim ran (and still does run) a cafe in the Pham Ngu Lao area, appropriately called Kim Cafe. I visited her cafe nearly every day for a milkshake (and you should, too!).
I've also remained friends with Chau who was my guide when I traveled through the northern mountains of Vietnam in the mid-90s. Chau now lives in France with her husband and runs a pastry shop there.
It's not as hard as you might think for you to make similar connections. Though many friendships are serendipitous in nature, you can easily make it a goal to create such relationships by seeking them out. Your travels are sure to be more rewarding as a result and you'll have people whom you can visit over and over again on future trips.
Here are some tips on purposely finding those future friends.
1. Become a regular. If you're staying in one location for more than a few days, you can often make local friends if you frequent the same place for coffee or meals (or milkshakes!). It should go without saying but you'll have a better chance of being remembered if you are warm and friendly.
2. Be inquisitive. If you're traveling to a non—English-speaking country, don't despair. With the exception of the most remote areas, someone will usually speak English. And if you can't find a local who can understand you, take the opportunity to crack open your phrasebook and practice the local language. Start with your hotel clerk, waitress or taxi driver, all of whom may provide you with insight into their culture if you just start asking questions.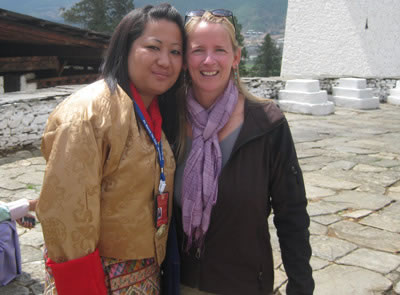 3. Volunteer. This can be a splendid way to meet other people and occupy your time if you'll be spending more than a few days in one location. Offer to help out in a hospital, orphanage or school once you arrive. If you have a special skill, such as in medicine, teaching or cooking, present your services to an appropriate facility. To save money and meet lots of people, you may even be able to "volunteer" at your hotel or guest house, or at the neighborhood café in exchange for room and board or free meals.
4. Learn some basic phrases. It never hurts to learn a bit of the local language to break the ice. Carry a phrasebook and crack it open. A few simple sentences can go a long way to making friends.
5. Hire a guide. By employing a local to show you around town or a region, you'll get to spend an extended period of time with someone who knows the area. The added benefit is that you'll have their attention all to yourself. Make a connection, find common ground and make this person your friend as well as guide.
Related links:
5 Tips for Solo Dining
5 Health Tips for Travelers
6 Tips for Staying Safe in Your Hotel
5 Reasons to Travel Solo
Dollars and Sense for Solo Women Travelers
Photo credits:
All photos: Beth Whitman