by Rissa Gatdula-Lumontad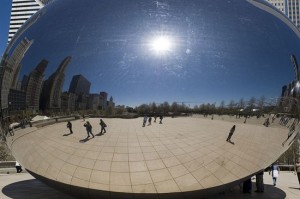 The "Windy City" beckons…what do you include in your itinerary?
Chicago offers a host of interesting places and fun things to do, probably more than enough to shore up its claim of being one of the great cities in the world. But if you're looking for things to do in Chicago, there's a lot to sort through. Here's a list to get you started.
More on Chicago: Chicago Photo Essay | Great Bars in Chicago
1. Step on The Ledge, a glass-enclosed balcony, and get a natural high at the Skydeck Chicago. The observation deck on the 103rd floor of the Willis Tower (formerly the Sears Tower) rises 1,353 feet above street level and provides breathtaking views of the city and its suburbs. From here, you can see many of Chicago's landmarks and decide on which to visit next.
2. Enjoy a day out at a state-of-the-art collection of architecture, landscape design and art in the heart of the city at Millennium Park. Capture your image on The Bean, the amazing sculpture that shows reflections of the city, the passers-by and even the sky and take a souvenir photo by the Crown Fountain while viewing random faces of Chicago residents on the large LED displays. Linger for free concerts and exhibitions that are frequently staged in the park.
3. Experience the culture of Chicago's pulsating neighborhoods up close on a walking tour. Check out the Chicago Office of Tourism and Culture's InstaGreeter program which offers one-hour walking tours in Chicago's Downtown, most appealing neighborhoods or attractions. The tours are free and guided by passionate volunteer locals who want to share the city's charm with visitors.
4. Learn about your planet and your co-inhabitants on a museum hopping tour at the Museum Campus. See some 1,500 species of marine life in more than 80 habitats at the Shedd Aquarium, be in awe at the sight of Sue, the world's largest and most preserved Tyrannosaurus rex at the Field Museum, and travel to another world at the Adler Planetarium.
5. Feel the vibe in the city that is the home of genuine blues music. Go to the South Side and have a relaxing night listening to blues bands play in the pubs with friendly and distinct character.
6. Walk The Magnificent Mile of Michigan Avenue, considered one of the great avenues of the world. This is a most worthy visit for tourists for its milieu of shopping and dining options amidst architectural marvels.
7. After all the walking, skip the diet for awhile and have a food adventure. Complete your Chicago experience with a Chicago hot dog and a deep-dish pizza!
It's easy to book your flights to Chicago from either the East or West Coast because of its central location in the U.S.
*****
Photo credit:
Millennium Park Bean: Kevin Stephenson