By Beth Whitman
If you're planning a trip to Cabo San Lucas, renting a car can actually help you save money on your vacation. Having your own vehicle means:
You don't have to pay for a taxi or shuttle to and from the airport
You can easily drive to a grocery store for food and bottled water (otherwise quite expensive at hotels)
You can take short day trips to secluded beaches or nearby towns that are a bit quieter than Cabo San Lucas
Here are some tips for renting a car in Cabo San Lucas:
Required insurance
The prices listed on car rental agency websites will likely be super low. But before you get too excited, you must realize the car insurance policy you have in your home country does not cover you in Mexico. Therefore, you must purchase a policy from the rental car agency in Cabo.
I rented a car from Alamo that was listed as $25 for the week. A Facebook friend reminded me that I needed to also purchase insurance at the rental counter. Although I had driven in Mexico before it had been awhile and I forgot about this little caveat.
When we got to the rental counter, there was another gringo also renting a car. He said he travels to Cabo at least twice a year. "Buy the most expensive policy. It's better to have all the protection you can get around here."
Totally got it. Foreign country. Foreign language. Uncertainty about what would happen if we were in an accident. We purchased the best coverage at about $200. Still, a week-long rental was a great deal given the usage we got out of the car.
And of course we didn't have any problems but I did feel better knowing we were fully covered.
The SF Gate site has some additional info on the specifics of insurance policies in Mexico.
Highway signs
Your car rental agency can provide you with a local map in English. There will be enough sites marked on that map that you'll have little problem figuring out where to go though most highway signs are only in Spanish.
Even then, you likely won't have a difficult time deciphering what those signs mean. Most direct you toward a destination (La Paz, San Jose del Cabo, Cabo San Lucas) while others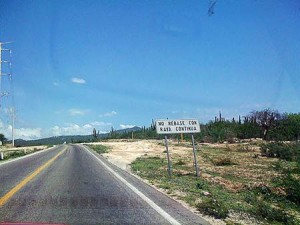 can be pretty easily figured out (Retorno, Prohibido).
At the very least, know your hotel name and in what town it's located–San Jose del Cabo and Cabo San Lucas are not the same and, in fact, are quite far apart. If you get lost, you can always ask for help at one of the many resorts found along the main highway between the airport and Cabo San Lucas.
Local Drivers
It can be confusing driving in a different city let alone in a different country with a car that isn't yours. Best advice? Take it easy. You're on vacation and hopefully not in a rush to get anywhere.
Yes, drivers in Mexico may drive a bit differently than drivers in your home country, but not so much that it should scare you away. You'll be safe navigating the roads, especially around such a touristy area as Cabo as long as you drive carefully.
Finding gas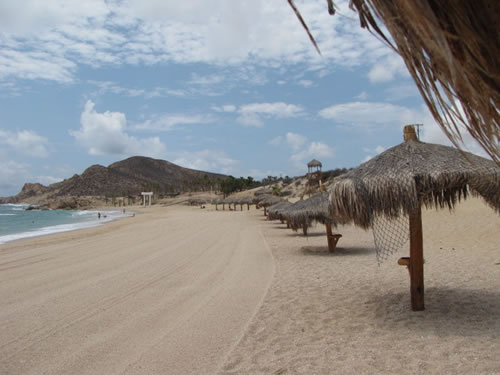 Anytime you rent a car, remember to look for a gas station as you leave the rental car parking lot or ask the agency for the nearest station so you know where to fill up before returning the car.
Gas stations in Mexico are not self-service (yay!) so let the attendant fill your tank. They'll take credit and debit cards but it might make the process go more smoothly if you can pay in pesos.
*****
Driving in Mexico isn't as difficult as you might think. Sure, there are a couple of minor obstacles that you'll want to be aware of but probably no more obstacles than driving in a big city in the United States.
Photo Credits:
Cabo San Lucas Road Sign – jait214
Playa Chilena – PriceTravel Pictures