By Kate Convissor
The Galapagos Islands are a destination superstar, a bucket-list prima donna. So a lot of people want to go there, but many come unprepared and uninformed. That's a shame because not only is the trip expensive, but the islands are a completely unique place on the planet. A bit of knowledge will make a visit to the Galapagos richer and more comfortable and rewarding.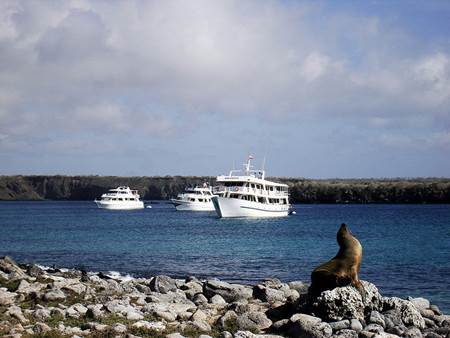 The Galapagos Islands belong to Ecuador and lie about 500 miles off its Pacific coast. They are a group of volcanic islands that straddle the equator and are spread over an area of 137 miles (220 km). They were created by volcanic activity beginning about 3.5 million years ago.
Many of those volcanoes are still actively growing the islands. An eruption 150 years ago increased the size of tiny Isla Bartolome by 25 percent. Fernandina, the baby island of the group, is only 30,000 years old. They are also an Ecuadorian national park and UNESCO World Heritage Site.
Most of the islands are uninhabited, although Santa Cruz has a sizable town and Isabela, Floreana and San Cristobal have villages. Most people who visit fly into airports either in Baltra, north of Santa Cruz, or to San Cristobal. Commercial flights come from either Quito or Guayaquil in Ecuador.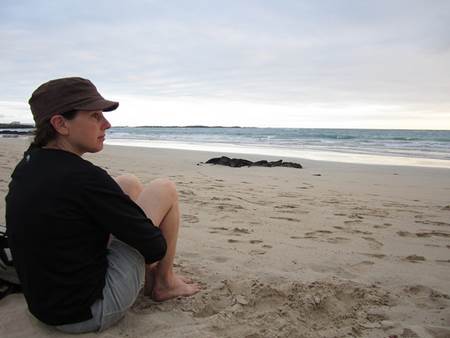 Galapagos Trip Planning
You can have a perfectly fine trip to the Galapagos without going on a cruise. You can set up a base at hotels on one or two of the inhabited islands (Isabela or Santa Cruz, for example) and take day trips from there. This may be a good option if your budget is limited or if you are prone to seasickness. You won't, however, get to the outlying islands, and you'll spend more time on boats just getting to your destinations each day.
That's why a cruise is usually the best option.
However, even with a cruise, you won't see all the islands. For one thing, there are strict limits as to where visitors can go and where boats can land. Unless you take a 15-day cruise, you still will only see about half the islands that can be visited.
Cruises usually run on 4- or 8-day schedules, although some companies are starting to do 6-day cruises. The 8-day cruises visit either the more northern and eastern islands or the more southern and western ones.
Which is why, in my opinion, the boat's itinerary is one of your first and more important decisions when choosing a cruise.
Do you want to see a lot of birds? Visit Genovesa. Do you want to see islands still being formed by volcanic action? Then you should look for an itinerary that includes Isabela, Fernandina and Bartolome.
Cruise Options
You can find everything from 100-passenger luxury cruise liners to 16-person backpacker boats. Most of the boats that ply the archipelago are small, which is more in keeping with the government-imposed limitations on the islands and the fragility of the ecosystem.
When I was looking for a boat, I repeatedly heard, "You get what you pay for." Trouble is, you can pay a lot, and you may not know exactly what you'll end up getting. Plus, one of the most important contributors to a good experience–the passengers in your group–is completely out of your control. Choose a cruise boat based on your needs.
Each cruise is led by an English-speaking guide. It's the luck of the draw whether you get an interested, energetic guide or someone less engaged and personable–and the guide really does make a difference. There is, however, no way of knowing who your guide will be. A guide may work freelance for many boats or for a company with a few boats, and his or her schedule may change from week to week.
It helps in planning to nail down your dates as far in advance as possible. High season in the Galapagos goes almost all year with a slight shoulder in May/June and an "off-season" in October/November. For holiday travel (Christmas, New Year's, Easter) you'll need to book at least one year in advance. At other times, a few months ahead is helpful.
If you have the flexibility or if you are already traveling in Ecuador, last-minute cruises are a great way to save money. A couple on my boat (the San Jose) booked their cruise literally a few hours before the boat left. If you wait even a couple of hours, the deal could be snatched up by someone else.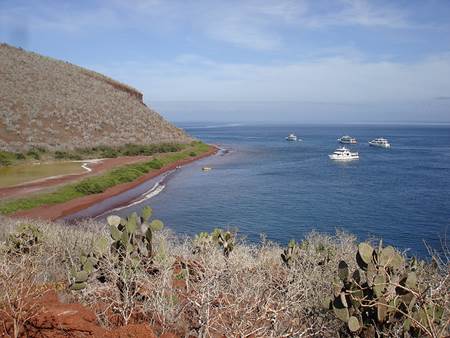 How I Did It
I knew I wanted a cruise experience; I knew I wanted a smaller (16-passenger) boat; and I knew I wanted an 8-day cruise. From there, the sheer number of choices was overwhelming. I quickly eliminated the sailboats because I figured they wouldn't sail much anyway–they mostly motor–and I thought that the overall space on a sailboat might be more cramped.
This still left dozens of boats to choose from.
I then focused on the itinerary. I decided that I wanted the trip to include the easterly, outer islands. Maybe I'd go to Isabela, the largest island, on my own, since the itineraries that interested me wouldn't include Isabela.
I spent hours comparing reviews, cost and itineraries.
With a firmer criteria, the options narrowed and soon a couple of boats rose to the surface. Still, with a few thousand dollars on the line, I second guessed and compared again. I tried to contact the boats directly, but ended up using the services of a travel agency. A good travel agency doesn't add significantly to the cost–if at all–and you have a dedicated person to guide your choices, answer questions and make arrangements.
Finally I settled on the San Jose. I would book my own flight to and from the Galapagos. I would spend a couple days on Isabela–the major island I wouldn't get to visit. The price was good. The itinerary was excellent. Reviews were also very solid.
I took a deep breath and booked the cruise through Happy Gringo.
How it worked out
Since I wanted a small boat and an active experience on the islands, I was extremely happy with my choice of the San Jose. The boat was clean, well-maintained and comfortable. The cabins have twin beds. Each cabin had a fairly large bathroom with a shower with hot water. Cabins and the lounge/eating area are air-conditioned, which is almost a necessity during an equatorial summer. There were plenty of common spaces to gather out of the sun. The food was plentiful and tasty–three squares each day plus a juice drink and/or a snack after activities. And with all the outdoor activity, I really worked up an appetite.
We had two guides during the trip (they changed halfway through the cruise). Both were well-informed and spoke excellent English. The second guide planned more activities, so our outdoor time on the islands ratcheted up a notch on his watch.
Each day included at least one hike and one snorkel, usually more. If you aren't comfortable in the water, get a mask and snorkel and practice ahead of time! You'll miss a lot if you don't do those outings. I hadn't snorkeled much before the trip, but I ended up truly enjoying the swim time. For most boats, snorkeling gear is included in the price of the cruise, but sometimes the equipment is worn. The San Jose had brand-new gear. I brought my own mask, however, because it has my glasses prescription.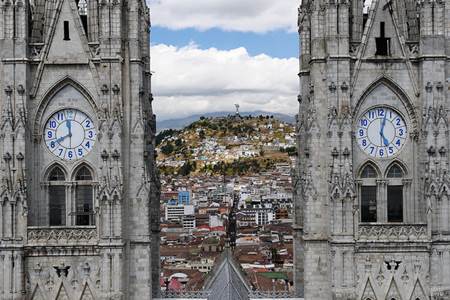 A few more tips
1. Plan to arrive in Ecuador the day before your flight to the islands in case of unexpected delays. Besides, as long as you've come this far, you might as well spend a couple days in Quito, where the historic center is another UNESCO World Heritage Site.
2. Be aware that Quito's new Mariscal Sucre International Airport is actually about 45 minutes to an hour north of town, depending on the traffic. There are a few hotels near the airport. Hotel Casa de Hacienda la Jimenita is close, comfortable and atmospheric–a 100-year-old hacienda run by the family that has owned it for generations.
3. Quito is fairly high altitude at almost 10,000 feet. It can also be cool and rainy. Prepare accordingly. An umbrella is good for both rain and sun protection.
4. The weather is intense on the equator. When I visited the Galapagos in March, the sun was brutal. SPF 50 sunblock was adequate for protection, but it had to be applied religiously. One lady on our boat used SPF 30–and learned that it wasn't enough. You'll also need a good hat and sunglasses. Maybe a swim shirt, too, to protect your back.
The ocean water was warm (no need for a wetsuit), and we had only one long rain that caused about half the passengers to become a little to a lot nauseated. Bring medication for seasickness.
During July and August, the ocean currents change and the weather becomes cool and misty with colder ocean temperatures. Our guide said that his favorite season is May/June.
5. Ecuadorian currency is the US dollar. Once you get to the airports on the islands, it will be difficult to get cash. Bring a stash of crisp $20 dollar bills. You'll need to pay the $20 transit control fee at the Quito airport, the $100 entry fee for the national park once you get to the islands and you'll need enough for tips at the end.
You'll receive some instruction on tipping at the end of your cruise (we got envelopes left on the bed). The guide and crew are tipped separately. A good rule of thumb is $10 per person per day–so each passenger would pay about $80 to 100 in tips.
6. You can't bring anything organic onto the islands because of the fear of invasive species taking root. Many invasive plants and animals have caused a lot of damage on the islands. You'll have your luggage checked, scanned and sealed before you leave the Quito airport.
7. When you pay your park fee, you'll be given the tear-off end of a form you've filled out. Don't lose this–you'll need to show it at the end of your fantastic, once-in-a-lifetime trip to the Galapagos.
*****
Photo credits:
Anchored Boats: Pete via Flickr
Woman on Isabela Island: Steven Bedard via Flickr
Galapagos Cruise: Pete via Flickr
Santa Cruz Galapagos: Pete via Flickr
Kayaking Around Isabela Island: Les Williams via Flickr
Quito: Roderick Elme via Flickr