Where many countries around the world dazzle travelers with historical sights, landmarks or art, Costa Rica prefers to go all natural–this is a country that aims to dazzle you with nature. And it does a pretty super job of it.
Costa Rica has set out to showcase and preserve its biodiversity through an incredible network of national parks, which protect almost a quarter of the nation's land area. Just think about the comparative area of protected nature in your home country for a moment to realize how impressive this really is.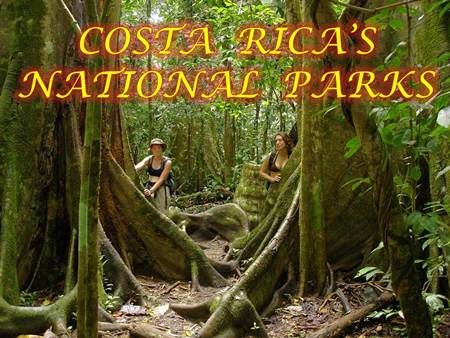 Within these national parks, prepare to find not only volcanos, mountains and beaches, but also some of the planet's most diverse animal and plant life–monkeys, frogs and more than 800 species of birds. (Yes, 800. Count on lots of birds!) Really, you likely won't be disappointed regardless of which national park you visit, but Costa Rica's most popular and well-known national parks are popular for a reason–they're amazing.
While some parks are only accessible by plane or boat, many are great day trip driving destinations. With a rental car, you can explore at your own pace and get to parts of the parks that tour groups may not take you.
Corcovado National Park
Located on the all-around stunning Osa Peninsula, Corcovado National Park is one of the most biologically diverse places anywhere on earth. It's the largest national park in Costa Rica and covers about a third of the peninsula overall. The highlight of Corcovado is wildlife as it's home to endangered species such as the Baird's tapir, all four monkey species that live in Costa Rica, poison dart frogs, Scarlet macaws, and even jaguars and other big and medium-sized cats. You do need a certified guide to visit this park (helps ensure that humans don't spoil the pristine nature and wildlife here), but you have the option to go for a day trip or stay overnight. Count on a healthy hike to make the most of seeing the park and wear good shoes!
Manuel Antonio National Park
Manuel Antonio National Park is small–Costa Rica's smallest national park–but mighty! What it lacks in size, it makes up for in sheer awesomeness. There are more than 100 mammal species and more than 180 bird species that live there. Visitors can even spot dolphins or whales offshore. Keeping up with its theme of biodiversity, the park is home to trails winding through tropical forests, places to hike, waterfalls and four beaches. The beaches are some of the best in Costa Rica, too. Playa Espadilla Sur and Manuel Antonio Beach are both great for snorkeling and scuba diving. For hikers, venture up to Cathedral Point for some great views.
Tortuguero National Park
Tortuguero National Park is fairly remote and extremely humid (hey, it's a rainforest!), and tucked far away from many tourist areas on the Caribbean coast near the quaint Tortuguero Village. To get there, you'll have to take a plane or boat, but the trip is worth it. Explore 20 miles of coastline or take a canal tour to get up close to the wildlife. The park is an excellent place for all kinds of Costa Rican wildlife, but the real highlight are the turtles that come to lay their eggs on its shoreline. You'll have to go with a guide (usually at night) to see the turtles up close as they lay their eggs between February and July, but the experience is nothing short of awe-inspiring.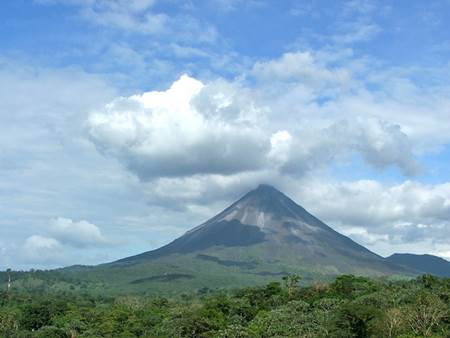 Arenal Volcano National Park
You might guess from the park name that this park is the location of a volcano, but it's actually home to two volcanoes–Arenal (still active) and Chato (collapsed and extinct and now the crater is a pretty lagoon). Hiking around Arenal Volcano and Lake Arenal at its base will likely get you glimpses of lava flows. The park is filled with wildlife, too (are you catching onto the pattern yet? Costa Rica is not short on its flora and fauna). You can also get into a number of recreational activities here–kayaking on Lake Arenal, ziplining and river rafting among them.
Chirripo National Park
Sure, you can go wildlife spotting or day hiking at Chirripo, but other parks are better options for that unless you're staying close to this one. Chirripo National Park is the perfect place for adventurers, climbers and anyone who's looking for more than the basic hike. Costa Rica's tallest mountain–Mt. Chirripo–is a non-technical but challenging climb at 30 miles round trip and about an 8,000-foot elevation gain. From the top, on a clear day, you can see both the Atlantic and Pacific. Do your research about paperwork and admission fees to get into the park ahead of time and your trip will be a lot smoother.
*****
Photo credits:
Corcovado National Park: Miguel Vieira via Flickr
Baird's Tapir: Miguel Vieira via Flickr
Manuel Antonio National Park: David Berkowitz via Flickr
Tortuguero National Park Turtles: ntn6 via Flickr
Arenal Volcano: Barbora Nemcova via Flickr
Chirripo Hanging Bridge: Vytautas—rys via Flickr