By Kristin Kendle
Maybe you felt a spark of intrigue watching Outlander at the sight of the mystical stone circle that transports Claire back in time. Maybe you've heard of Stonehenge all your life as well as the many (many!) possibilities as to what it might be. Maybe you just like your history served up with a heaping side of mystery.
But while these two stone circles get a lot of the glory, there are actually hundreds and hundreds of stone circles located all around the UK, from Scotland to Ireland to the south of England. Some are large, some are small. Some are well-preserved and some are heavily damaged. But all of them are amazing places to visit and encourage a different kind of travel–breaking away from cities and population centers and driving along country roads as most are outside of city centers. They often rise up out of the landscape as you approach and greet you with an undeniable sense of mystery.
Oh, and the stone circle in Outlander–called Craigh na Dun–is actually fictional! So cross that one off of your list, but fear not as the real stone circles are even better.
More to see in the UK: Castles in Scotland | Day Trips from London
Stonehenge
By a wide margin, Stonehenge is the most famous of all stone circles not only in the UK, but in all the world (yes, there are stone circles in other parts of the world, too! The mystery deepens…). It's so famous that many people either don't know there are others or don't care. However, that doesn't make Stonehenge any less amazing. This UNESCO World Heritage Site is somewhere between 5,000 and 6,000 years old and is surrounded by legends of Druids and mysticism. The truth is, it's not known for sure what this site was used for, but it does align with the sunset on the winter solstice and sunrise on the summer solstice. Theories include that it was a place of healing, a place of death or a celestial observatory. Stonehenge is easily accessible from London and a great day or half-day trip from the city.
Avebury
Avebury is just a little over half an hour from Stonehenge and is part of the same World Heritage Site, along with several other Neolithic sites in the area. While you can't get up close and personal with the stones at Stonehenge (at least not without paying a pretty penny for the privilege), you can wander among the many stones of Avebury, often with more space to yourself than at Stonehenge. And while Avebury doesn't get as much buzz as Stonehenge, it's a much larger site and has a village adjacent so there's enough here to keep you busy for a good portion of the day. There's even a pub within the circle!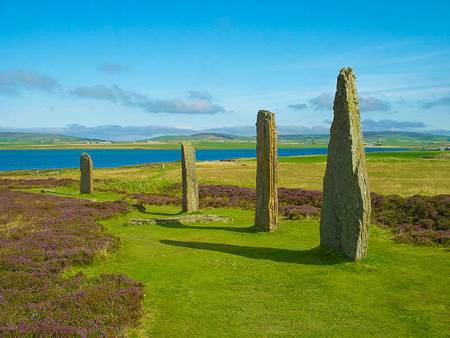 Ring of Brodgar
Located on the island of Orkney in Scotland, the Ring of Brodgar is set against a backdrop of rolling hills and the Loch of Harray (the only thing that makes ancient sites even more amazing in photos–a body of water in the distance). If you go later in the day, the tour bus flow slows down and you can spend time walking in relative peace among the stones. Like other stone circles in the UK, the Ring of Brodgar was built between 5,000 and 6,000 years ago and consists of a trench dug around the site as well as stones–this ring is one of the few full circles left intact.
Callanish
If you're in Scotland, the main Callanish site (cleverly called Callanish I) has stones set in a cross pattern with a circle at its center. On the north side of the circle is an 83-meter pathway lined by stones leading to the center circle. Special bonus of this Scottish stone circle–within a couple miles of Callanish I, you'll find Callanish II and III, smaller stone circles.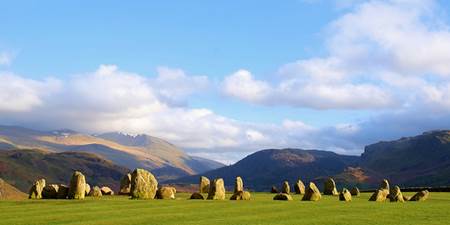 Castlerigg
Located in northwest England in Cumbria, Castlerigg is unique in how complete it is–nearly every stone making up the circle is still there. The stones aren't as tall as Stonehenge, but the circle's completeness and attractive location more than make up for that. Standing at the center of the circle, you'll have a sweeping view in all directions of surrounding hills. Bonus–another set of stones, Long Meg and Her Daughters, is not far away.
Rollright Stones
Not far from Stratford-upon-Avon (if you like a little bit of ancient history with your Shakespeare), the Rollright Stones are made up of a stone circle called the King's Men, a stone off by itself called the King's Stone and an ancient burial chamber called the Whispering Knights. The King's Men form a near perfect circle, but have lost much of what must have been grandeur long ago. The stones are limestone and so have eroded badly over the millennia, but they are still a sight to see.
*****
Photo credits:
Stonehenge: Qalinx via Flickr
Ring of Brodgar: Shadowgate via Flickr
Castlerigg: Philip Male via Flickr