by Susan Norton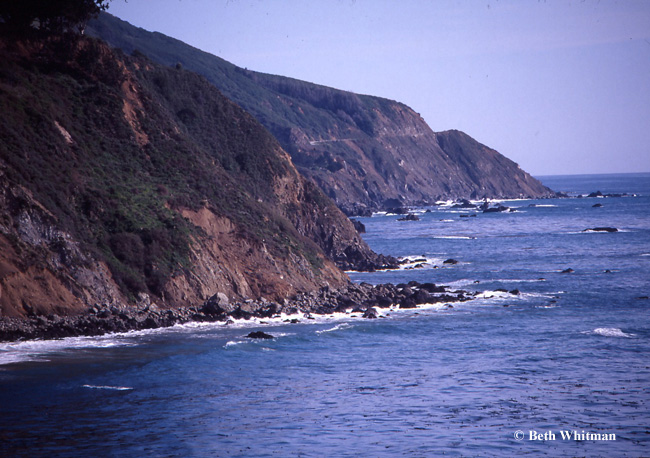 Somehow, I missed the 60's. Perhaps, I was just too busy pursuing other interests, such as bee hive hairdos, hot pants and the pursuit for a perfect husband to have the time or inclination to delve any deeper into my self awareness than a full length mirror would provide. "Getting In Touch" meant nothing more significant than feeling the fabric of my new cotillion dress to make sure there was zero percent of polyester!
However, now in the mid life of my crisis years, I found myself drawn to Esalen, the irrefutable Big Sur Mecca of personal evaluation, transition and growth. Esalen is a community, perched on a cliff overlooking the Pacific, known for its sulfur baths, massages and self-exploration workshops. I decided to take a five-day workshop entitled "The Medicine of Poetry" by John Fox, a highly respected poet/therapist from Northern California. I am a poet of dubious talent but probably in desperate need of therapy, so I figured I would qualify.
As I drove up Highway #1, I could feel the muscles in my neck and shoulders loosen and the desire to take in deep cleansing breaths of moist sea air. I seemed to want to shake my head to clear away the hassle and heat of L.A. and an over-programmed life with nothing but the single goal of perfection.
My accommodations were better than I expected, clean and functional. No tiny bottles of shampoo, conditioner and hand lotion could be found, just those lowly rectangular slivers of generic white soap like the ones that graced the motels of the 60's. I felt rather like I was at summer camp for baby boomers. The crowning feature though was the balcony, which overlooked an expansive flower garden and then the ocean. I stood out there early every morning just drinking in the scene and smells while doing my rotator cuff exercises.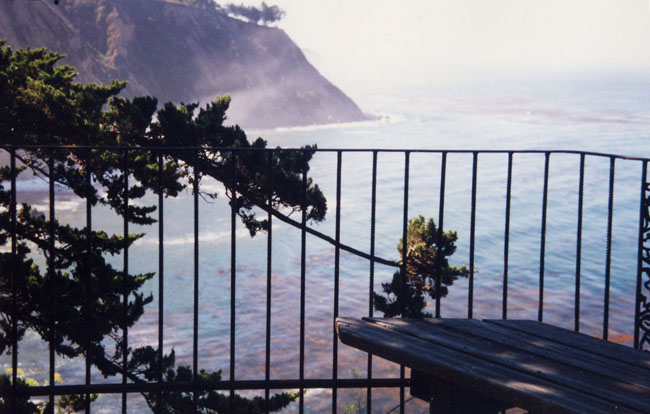 Taking It In
Since my workshop didn't begin until that evening, I spent the afternoon wandering around Esalen's extensive 27 acres. There is even a waterfall, art barn, rocky beach, swimming pool, several lotus ponds, a secluded meditation hut nestled by a quiet stream, and, of course, the famous Esalen Baths, fed by a natural hot spring.
Before I knew it, dinnertime was here, and I got in line for what turned out to be a wonderful buffet, as all their meals are. There was a salad bar along with two or three soups offered at both lunch and dinner. The fruits and vegetables, mostly grown right there on the property, are the freshest I've ever tasted, and I had never seen such gorgeous, red tomatoes. This evening, the entree was salmon cakes and were utterly delicious. There is even a small bar that serves beer and wine.
I chose to eat outside and shared a table with an overworked cardiologist from Hawaii, a crazed homemaker from the San Fernando Valley, an emotionally exhausted book editor from London and a burnt out stockbroker from San Diego, who had just quit her job and sold her house, her BMW and her three Armani suits, just to take the time to find out who she had become and who she really wanted to be. All of us had come here for different reasons but we were beginning to feel bonded in a special way if only because we were a little bit terrified at what was going to happen in the next few days. Self revelation sometimes "sucks" and sometimes "rocks." Esalen is highly touted for helping those in transition, whether it be emotional or physical. I qualified on both accounts, and under my intrepidation was the knowledge that this was my time and it was just for me.
After dinner, walking to my workshop, I glanced at the night sky and actually gasped out loud at the infinite number of stars that were visible. It was a glorious experience! I continued on confidently knowing that I was just where I was supposed to be.
I spent the next five days gratefully accepting all that Esalen had to offer, even the "clothing optional" baths. My grown children would be mortified but somehow, after reluctantly relinquishing my outerwear and entering the baths au natural, it seemed the only way to fully experience it. I even had a massage on an open top deck with the sun and trained hands relaxing my tense muscles, while being lulled by the calls of sea gulls and the gentle lapping of the waves just fifty feet below. Esalen is world renown for its bodywork massages and I became sold on them, too.
Reluctant to Leave
As the time to leave drew near, I simply wasn't ready, willing or able to do so. I put my name on the waiting list for another workshop. Miraculously, as I came to the desk to grudgingly hand in my room key, they informed me an opening had just come available. "Thank you God," I murmured to myself. This weekend workshop was on "Relationships" and was lead by Mary Goldenson, a Los Angeles psychologist. I figured that I qualified here, too, since I had gone on two blind dates in my life, and married and divorced them both. My sons had been begging me to let them pick my next husband.
It was just what I needed, especially when I learned that "the most important relationship you will ever have is with yourself." I read, I wrote, I hiked, I luxuriated in the baths and I learned a lot about myself – a perfect vacation. Perhaps, I had missed the 60's the first time around, but Esalen had saved the best of those times, and I felt they were just for me!
*****
Susan has been a travel writer for several years. Her motto is, "Have laptop. Will travel." Her articles have been published in newspapers, magazines and on Internet sites. Also, her poetry has appeared in magazines, anthologies, greeting cards, two art exhibits, a calendar, a cruise brochure and on fortune cookies and NPR Radio. With her writing partner, Susan Dawson, she has published a seven book series of children's books on healthy eating, and has received ten awards in writing.
Photo credits:
Night sky photo: Paul Kline
All other photos: Beth Whitman