By Elaine K. Miller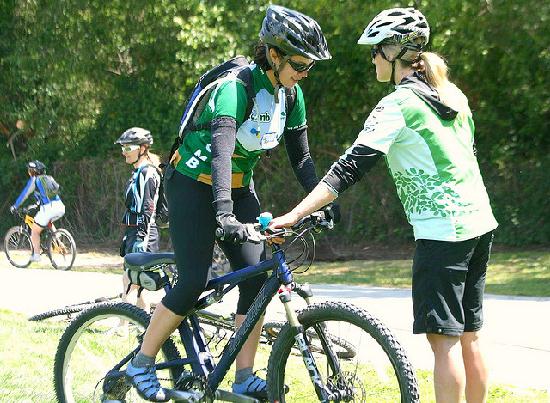 "… chief of all the dangers attending this new development of feminine freedom [bicycling] is the intoxication which comes with unfettered liberty." North American Review, 1895.
Yes, it's true! "Unfettered liberty" is intoxicating! I discover that when I jump onto my first bike.
I am nine years old and we live in Teaneck, New Jersey. It's the war years – Victory gardens, stamping tin cans, rationing, no nylon items, even no bubble gum. In the spirit of the times, my father has worked very hard on my birthday gift — the bike I have been longing for. It's a second-hand one that he has sanded down and polished up into a vision of sparkling chrome and shiny black paint.
It's the beginning of my romance with bikes, from a single-gear one with upright handle bars and brakes in the pedals, to a twenty-seven-speed one with brakes on the drop handle bars. Also, a granny gear.
I am about to join a cross-country bike ride for women over fifty, women who have decided to hop on a bike and ride it for seven weeks, 3,100 miles across the U.S. How do we dare to do this? With humor, in part: "forty women over fifty, filling public space in spandex," "meals on wheels," as vultures circle over us at the end of a 70- or 100-mile day. A bigger part is the pure exhilaration of adventure. We wear smiles for no apparent reason.
In an orientation meeting the day before our departure from San Diego, the women describe how they heard about the trip and why they decided to do it. Anna's story: "I'm reading the paper and I spot an announcement about tours for women. I say to my husband, "Listen to this, a cross-country bike tour for women over fifty. I qualify." And he says, "Oh sure, so now I suppose you want to get a bike."
What will I say when my turn comes? How do you explain a given? I say, "I just have to do it."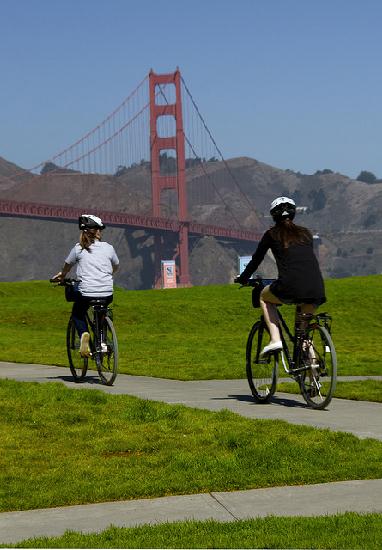 We're organized into two groups that travel two days apart. I am in the second group – sixteen riders and three staff – a cook/driver, a tour leader/bike mechanic/sweep rider and an assistant. There are a few unplanned changes among the staff, but we're all flexible. We tap hidden talents, and, with all good nature, we carry on. In fact, we are so flexible that when one of the women gets bitten by a stray dog, she carries the rabies vaccine with her in a cooler, and a nurse in the group gives her the shots for the rest of the trip.
We dip our rear tires in the Pacific Ocean at San Diego, California at 5:30 am on March 17th, and we ride over the sand into the Atlantic Ocean at St. Augustine, Florida at 1:00 pm on May 8th.
Our first day out, I suspect, is a test devised by the tour company. We climb steep hills through mountains, knowing that we will be pitching tents to camp out that night. If anyone decides to drop out, San Diego is still not too far back.
My biking companions' faces and their bikes are engraved in my mind. I think I could still identify each of them by their butts on the bike seats in front of me, from Marcia – the youngest, age fifty, to Sally – the oldest, age seventy-two. Their clothing is memorable, too: flashy, conservative, sassy, modest, old and broken in, bright and new. As for me, I have always been attentive to my older sister's advice: "Never let your outfit exceed your skill level."
We ride together, we ride alone. We ride in large groups, small groups, pairs, trios. We keep pace, stop out, catch up, fall behind, spread out over the day's route. But whatever the spread, and whatever the space of the accidental or intentional wandering, an invisible cocoon surrounds us, gathers us up and, by day's end, delivers us all to the same pinpoint spot on the map.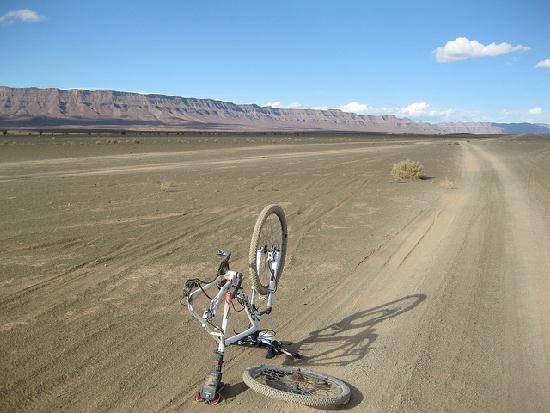 I reflect on my preparations for the trip. Despite instructions, I have never successfully fixed a flat tire. I hope to finesse the problem by staying ahead of three women that I know can do it. But the plan fails before the California border. I awaken to a flat tire, and the group of three leaves ahead of me. Carmelita, my roommate for that night, patiently talks me through the repair, intervening only if I'm about to make a big mistake. I do it right and I feel like a new person. I even look forward to the next flat. Which comes that very day. We've joked about "shoulders to cry on," the roadside scene of an upturned wheel-less bike, dangling chain, scattered contents of a rack pack, tools, tubes and greasy hands. But shoulders are now places to demonstrate my new skill.
People who ask about the trip want to hear the highlights, but also the daily routines. Often the curiosity is very basic. A woman approaches me after a talk to ask me, sotto voce, "A personal question: didn't the bike seats make you quite sore?" "Yes," I say. "That is how I learned about A & D Ointment."
On a typical day, we get up and, first of all, "listen to our tires" for that barely audible hiss that means a tiny leak will catch up to us at sooner or later. Breakfast, prepared in the cook shack at the front end of the trailer that carries our luggage, is a "sit-down" meal – on motel parking lot curbs. We review the instruction that if we turn right off the road coming in, we must turn right to resume the next morning. If we have camped the night before, we laugh and recount the conversations or monologues. Voices floating out from the tents registering aches and pains, and rhetorical questions like, "Just why are we doing this!"
We pedal off each morning with fresh energy. We've reviewed the route, guessed at likely spots to stop for snacks, restrooms, and sites to visit, loaded our rack packs with P B & J sandwiches, energy bars and bananas. Sometimes, the sandwiches surface days later from the depths of our packs, flat as pancakes. And on a broiling hot day in Texas, two cyclists who catch up with us tell us they knew they were getting closer because the banana peels along the roadside were getting fresher.
The sight of the van at the halfway mark is always as compelling a sight as a mirage — but one that's really there. Especially on days of searing heat, numbing cold, drenching rainstorms or high winds (which reach 70 miles per hour one day in Texas). Though entirely predictable, it seems somehow magical that we actually meet up in the vast space of the unfamiliar terrain we we're covering.
The van driver is happy to see us, though sometimes grouchy. But we understand. She has many functions and they have to be carefully orchestrated — she shops for food, prepares the meals, drives along and stops for anyone in serious need of assistance (she forms a judgment about "serious" as she drives slowly by). She waits for all to have lunch, and, because the van is carrying our luggage, she has to beat us to the night's stopping spot. We know there is no flagging down the van for frivolities. Not for unloading heavy clothing when it's hot, nor retrieving it when it's cold.
We cool off by wading fully clothed into shallow mountain streams and we warm up under restroom dryers. We consume vast servings of ice cream and root beer to boost energy. In the desert, if a rider needs a pit stop, we form a circle around her at the side of the road and point up, so drivers will follow our gaze and miss the pit stop.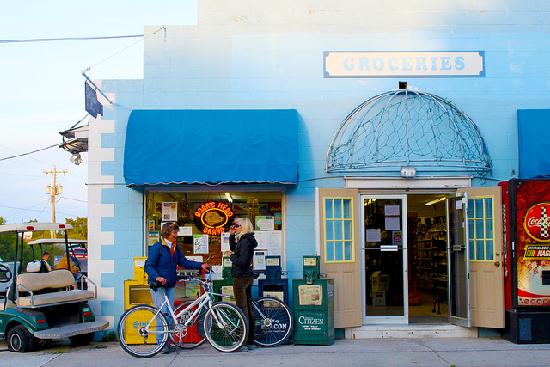 When we come across a rider off her bike staring at the map and she greets us with "You know what…?" it means we may be off route. We leave each other messages at obscure turning spots, once using the lipstick that our companion Mary Dawn always carries. And we laugh at the sheer basic-ness of it as we check where our shadows fall on the road – behind us in the morning, in front of us in the afternoon.
The group that I ride with does serious sightseeing. We are, unfailingly, the last in for the night. We are nicknamed "the lollygaggers." At the motel we retrieve our luggage from the van, check the posted list of roommates for the night, get luggage and bike to the room, take off just our shoes and walk into the shower. We feel anonymous — we're just passing through – so we hang wet clothing of all kinds, including biking shorts turned inside out, on balcony railings, bushes and shrubs, even ironing boards from the rooms, set out in the sun. Our friends back home have a complete list of the motel addresses for each night, so we check for mail at the front desk. I am the only one who receives a chocolate bunny for Easter.
Evenings bring a map session about the next day's route and then another "sit-down" meal — dinner on a parking lot curb. Humble as the parking lots are, some look out on spectacular panoramic views – Albuquerque and El Paso spread out below us. Our cook, wearing a sarong, sets up her outdoor kitchen and creates an enticing ambiance — candles, lanterns, mood music – so enticing that other motel guests approach and ask to buy dinner. We sit in the dusk and share stories from the day — disasters, delights, flats, falls, missed turns, and comic exchanges with people along the way. Occasionally, someone announces with certainty that she is too tired to ride the next day and will take the van, only to reappear on her bike in the morning. We marvel at the amazing capacity of the body to restore itself.
The wonder and delight at the changing physical scene makes us want to move through it on our own wheels, not those of the van. Our companion Nadean, whose "wheels" are a recumbent bike, captures it well in a letter written later:
"I hadn't realized there were so many different hues of green in the deserts, or grays, or blues in the sky. I didn't know the wildflowers jostled and crowded into one another in a strip hundreds of miles wide and a thousand miles long across Texas. I have an entire picture album in my head filled with blooming cacti in California, fences covered by wild grape and honeysuckle in Louisiana, and moss-covered trees in Florida. My pictures move along in full color, with birds singing it up on the soundstrip."
The scenery is one large part of the story; the exchanges with people along the way are another. Here are some of the most memorable, in the geographical order of our route across the Southern United States.
We are at a general store on a back road in the California foothills. The owner is curious, so we tell him about our trip.
"So did y'all just divorce your husbands," he says, a hint of uneasiness in his voice.
"Well, some of us did, but that was long ago," is the rejoinder from a disembodied voice in an adjacent aisle.
I feel an urge to challenge the man, albeit good-naturedly, about his attitude. But the pull of the road is stronger and I exit smiling.
A dusty pickup truck pulls up alongside us on a highway in New Mexico. The driver leans out the window.
"Hey, the guy I just passed back there has a flat."
"OK, thanks," we say. He must have mistakenly assumed "the guy back there" is with our group. Then Barb, our tour leader, catches up to us and says she had to fix a flat a ways back. Bike outfits, helmets and sunglasses do lend an androgynous appearance. Thinking in practical terms, we decide that there may be advantages, out on the open road, to being taken for guys. We ride on.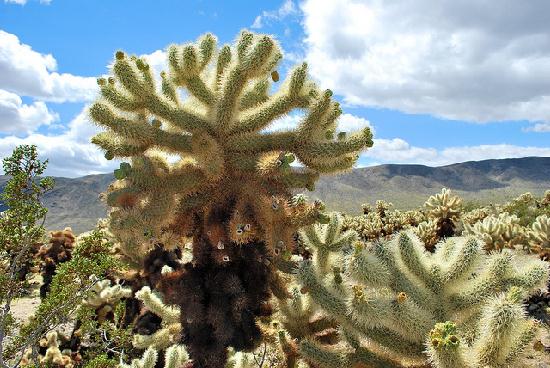 We're halfway through the trip, geographically, taking a rest day in the tiny Central Texas town of Alpine. A construction worker is seated alone at a table near us, in the breakfast room of the Alpine Hotel. We exchange greetings. He tells us he's a construction crew boss, directing the moving of a church to a location one block away to better incorporate it into the historic preservation area of the town. We respond that we're glad the town is doing that.
"Where y'all goin'?" he asks.
"Florida," we say.
He smiles indulgently, a signal that he's enjoying the playfulness. "No, really…" he smiles genuinely.
"Really," we say.
"Well, but where'd you start from?" he ventures cautiously.
"California," we say.
He gazes at us, silently, for several seconds. And then, he says,"Well, dang."
We laugh together.
"Well, dang," we say to each other throughout the trip.
We're at a roadside market in rural Louisiana. A clerk eyes us with curiosity as we head like a row of ants to the aisle with the Little Debbies, Fig Newtons, Milky Ways and Peanut Butter Cups. She says, "Where y'all ridin'to?"
"Florida," we say, never breaking pace on our way to the cookies. "We started in California."
"Well … don't y'all have jobs?" she says. She sounds annoyed.
On a road that takes us across the little square of Alabama that touches the Gulf Coast, we stop at a convenience store, to sit on the parking lot curb and relax. A woman passing by smiles at us and says, "Beautiful day for a little bike ride," as she glides on by.
We explain what we're doing. She stops dead in her tracks and turns back to us. "Aren't you afraid?"
"Do you mean scared of the traffic?" I ask.
"Well, that, but also all of the psycho types out there."
We laugh. But her question stays with me, and I realize for the first time, that no, I have not been scared.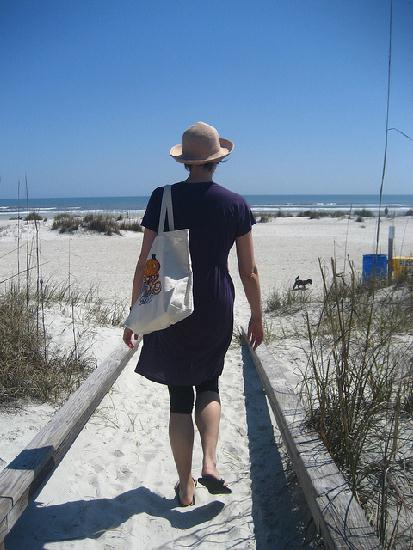 We're in the Florida panhandle, one day away from the end of the trip. We rest, elbows on the railing of a rickety bridge over a creek. I feel a chaotic mix of emotions – sadness, fulfillment, nostalgia, excitement. Sad that the trip is ending; excited to ride over the sand of the St. Augustine beach and into the Atlantic Ocean.
A game warden appears at one end of the bridge. He says hello and comes over to talk. We tell him about the trip.
"Mercy, mercy," he murmurs as he walks away.
We linger a moment in silence under the spell of his words.
"Yes," I say to myself.
"Mercy," we have surprised ourselves, and others as well.
"Mercy," we have arrived safely.
"Mercy, mercy," where will I go from here…
*****
Elaine Miller completed Master's and PhD degrees in Spanish Language and Literature at Indiana University and UCLA.  As faculty member at the State University of New York, she directed a Peace Corps/College Degree Program for volunteers to Latin American and Francophone Africa, and chaired the Foreign Languages and Women's Studies programs.
Through her company e k miller Productions, she writes, produces videos and does presentations and workshops on the subject of exploring world issues through editorial cartoons. Two of the videos, in distribution with First Run Icarus Films, are on political cartoon portrayals of Geraldine Ferraro and of Hillary Clinton.
She's a snare drummer with the New Horizons Band and does long-distance bicycling. Her most recent tour was along the 2,000-mile route of the Underground Railroad, Alabama to Canada.
*****
Photo credits:
Women Bikers Training: Richard Masoner / Cyclelicious
Women Biking in San Francisco: Brian Jelonek
Bike with Flat Tire: Teo Romera
Biker Ladies at Grocery Stop: Monik Markus
Downtown Albuquerque: sburke2478
Blooming Cacti in California: Jason Chang
Woman at St. Augustine Beach: Jeremy Keith