By Linda Dunlavy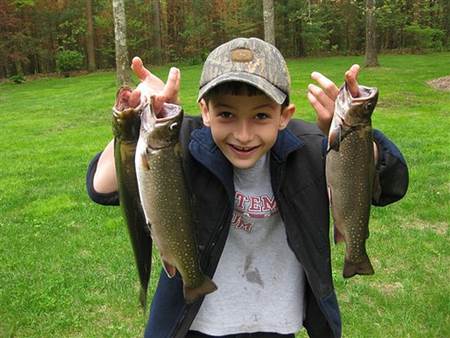 The first thing I noticed on the fishing boat was a single stalk of pink rhubarb, just there on a table by itself.
We were guests of Jamie and Brenda, my sister Leah's friends, who were taking us all out for a day of fishing on Lake Superior. Leah had told Jamie and Brenda all about her nephew (my son) who loves to fish, with the enthusiasm of an aunt who has no kids of her own.
I don't understand the appeal of fishing, but this was going to be a major day for my ten-year-old son Conor, who is usually thrilled to catch sunfish and baby bass with his constantly tangled kids' fishing pole. Vacations are about the only time my Chicago kid gets to fish. My husband Kevin and I are not much help. The stink, the slime, the worms, hurting an innocent fish — it was a struggle for us to share his enthusiasm.
The city of Duluth, Minnesota, disappeared completely as Brenda drove us on a fast and windy ride about seven miles out to one of their honey holes, which can be the size of a small town on Lake Superior. We watched, fascinated, and tried to stay out of the way as Jamie went about the ritual of putting out five lines. His fishing poles were like sports cars compared to ours, extending nine feet out with intricate mechanisms at the reel. Jamie mounted them in the rod holders on the boat – no holding these beauties until it's time for the business of reeling 'em in. Jamie moved around his boat efficiently in his Crocs, wiping his hands on his saggy plaid shorts like a chef in a busy kitchen.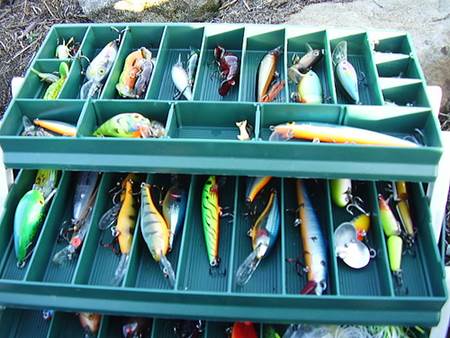 "Well, shall we wash?" he half asked and half announced.
"Oh yah, I suppose we should," Brenda said, smiling at our bewildered faces.
We all washed our hands with fisherman's soap and rinsed in the bucket. I typically associate fishermen with hands that stink, so I was intrigued.
"This is so we don't have any dirt or oil on our hands that can get on the lures and be picked up by the fish," Jamie said, scrubbing.
Well, OK then. I knew even less about fishing than I thought.
Jamie consulted his wife about which lures to use. "Well, the Harley Davidson did alright for us last time."
Every lure in their box was named, to avoid confusion trying to describe them. They chose a new Harley Davidson, because the paint was starting to chip off the old one. Either fish notice these things, or fishermen like to indulge their personal superstitions. Or both.
"Then we take the rhubarb and rub it on our lures. It's supposed to remove the smells from the metal," Jamie told us.
Jamie handed Conor a stub of rhubarb for this part of the ritual.
"I don't know if it works, but a buddy of mine does it," he said. "I'll try anything!" I imagined him asking Brenda to pick up some rhubarb at the grocery store, exclusively for this purpose.
Jamie shared his own story about how he came to love fishing. "When I was about Conor's age, I asked my dad to get me a fishing pole. He said 'I'm not interested in fishing, but I'll buy you one.' I used to ride my BMX bike to a creek to fish. The first time I caught one, I was hooked."
"Does your son like to fish?" I asked, knowing he had a son in college.
"No, he has no interest in it. He programs computers and makes video games. I don't understand where that comes from," he said in a quieter tone than he used to talk about fishing. More serious, or maybe sad.
"We got one on!" Jamie jumped up and ran to the pole off the back of the boat. "Come on, Conor – woohoo!"
"Leah, grab the net. Kevin, grab the handle and wedge it in your hip. Now, Conor, you start reeling. What number?"
"Eighty!" Conor yelled, telling Jamie how many feet the line was still out.
Then "forty" and soon we saw a whopper of a fish splashing in, attached to the rhubarb-treated Harley Davidson.
It was a five-pound lake trout, our first catch of the day. Conor hit it on the head with a plastic brush to knock it out, because that's what you do when you catch a five-pound lake trout.
Then Jamie showed him how to bleed it by cutting the gills and letting some blood out. "Makes it taste less fishy."
I watched with both pride and mild disgust as my son expertly bled the slick, silver fish, then stuck his fingers in the gill and picked it up for a picture.
"This one's Bob," he said, and gave it a kiss. He has been naming and kissing his fish since he was five.
As a native Minnesotan, I always thought proudly of Lake Superior as the most magnificent of the Great Lakes — the biggest, the cleanest, the coldest, and the most remote. Duluth, the fourth largest city in Minnesota, is the largest metropolitan area on the lake. It is mostly known for winters that start in October and last until April, record low temperatures, and blizzards.
Even on July 6, we all pulled on sweatshirts and pants over our t-shirts and shorts, bracing against the lake's cold winds. "Living near Lake Superior is like living near the ocean or a volcano. You gotta respect her," Brenda told us.
Lake Superior is deep, freezing, and powerful, and holds many shipwrecks and dead bodies, which never come to the surface because the water is so cold.
After we caught six lake trout, none as big as the first one, Jamie screwed a table onto the side of the boat to filet the fish. "The first thing you need to do, Conor, is make sure your beer is full," he said with a wink, grabbing his freshly popped can of Busch Light from the rhubarb table.
Heads, tails, and skins were tossed overboard as Jamie moved his knife through each fish, wiping away blood and guts with the head-banging brush as he went. Conor watched with the close attention I dream he will one day give to his homework.
"We'd love to have you guys over for dinner tonight," Brenda said hopefully.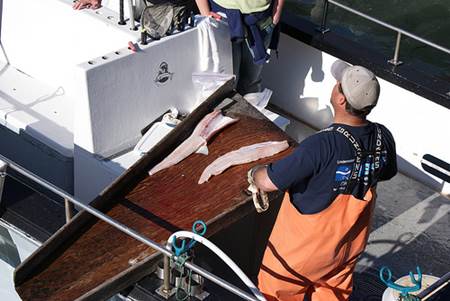 Hours later, in their kitchen, we experimented with different ways to prepare the fish. Conor sat glassy-eyed at the kitchen island, his cheek smushed up by his hand, and watched us cover one with French dressing, one with ranch dressing, and one with onions, lemon, and salt. I admired my sister's choice in friends as I mixed the salad and handed Brenda the bread to put in the oven. I loved that "Minnesota nice" was a real thing.
As we said goodbye in their driveway, Jamie held out his hand to Conor, who wrapped his arms around Jamie's waist and leaned his head on his stomach.
"You call me anytime, Conor, and we'll go fishin'." Jamie reached in his pocket and pulled out a neon-colored lure with the hook removed, and gave it to him. It would probably be years before we would see them again, maybe never, since we live about 500 miles from Duluth. But I know my kid was already thinking about impressing his friends with rhubarb in his tackle box.
*****
Linda Dunlavy is a Midwestern mom, traveler, and writer. She writes about family travel and outdoor adventures.
 *****
Photo credits:
Happy Boy with Trout: U.S. Fish and Wildlife
Tackle Box: Shannon
Rhubarb Stalks:Â echoforsberg
Filleting Fish on Boat: Nicholas Canup