By Karen Kern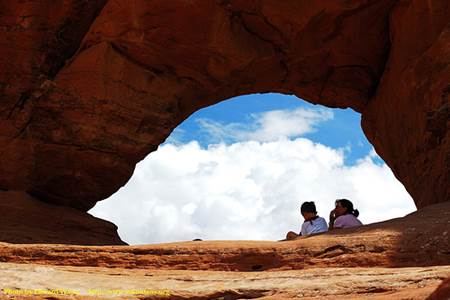 On a cold day in January 1998, I made my way through the snowy landscape of Nebraska on a journey to meet my first and only nephew on the day he was born. At ten days late and ten pounds in weight, he made quite an entrance to the world.
Living several hundred miles away from my brother and his small family, I had to make a special effort to create and maintain a relationship with his child. We grew close through visits and phone calls and postcards I sent from wherever my travels took me, with little notes describing the character and culture of each place. While he was still quite young, maybe three or four, I bought him a world map to hang on his bedroom wall, with push pins of different colors, one color to mark where he had been, another to mark where the postcards came from, and a third to mark where he someday wanted to go.
At five, I confided to him that when he was old enough, we would travel together, just he and I, to the places that I loved and wanted to share, and to new places to explore together. At eight, he reminded me of that promise, and at ten I made good on it.
We traveled to Florida and the magical kingdom of Disney. I introduced him to roller coasters–I am such a sucker for a good roller coaster–and hoped he would share my love. He did, and we began our roller coaster rating system which is still in use today. As someone who has no children of her own, I was, I have to admit, a bit intimidated at spending a week alone with him. I've never been a woman who craved having children of her own, in fact I've never been sure I even liked kids, and I am quite happy and comfortable with my childless life. But the week went well–who wouldn't have a good time with a ten-year-old in that environment–and we left with a lot of memories and a bond that had grown deeper.
In the years that followed, our travels included jaunts to the Buffalo River area of Northern Arkansas for canoeing, hiking and exploring caves, an Alaskan cruise, a trout fishing trip, and another roller coaster bonanza to the amusement parks of Texas. With each trip, I was moved by how much he had changed since our last time together.
This year it is time to share with him another of my passions. After living in Utah for the past twenty-some years, I have developed a deep love for the national parks of the southwest. The red rocks and blue skies possess an energy that I have found nowhere else in the world. The landscapes as well as the ancient cultures and peoples converge to bring a spirituality that I feel deep within my bones. I need to share that spirituality with him. At fifteen, he is old enough to accomplish the long and steep hikes that are required to really get into the heart of the place. But I feel a little of that intimidation creeping back. Now a true teenager, he certainly has his share of teenage anxieties, insecurities and moods. Nevertheless, he seems truly excited about the adventure when I tell him of it at Christmas.
We travel during his spring break from school; late March is the perfect time in this part of the world. The weather is just beginning to warm, the skies are clear and sunny, and the crowds are nonexistent.
He arrives late on a Friday night from where he now lives in Little Rock, and early Saturday morning we load up the car in Salt Lake City, say goodbye to my husband and head south. Road trips have been a favorite of mine since I was a child, when the two-week driving vacations we took as a family each summer landed us in places far from home and where I spent many hours daydreaming, while staring out the back window from the rear-facing seat in our station wagon, about the lives of the people who lived there.
Although we are spending a great deal of time hiking and exploring, the amount of road we need to cover between the parks as we make our grand circle requires plenty of hours in the car and I am worried that with the fast-paced, attention-deficit lives kids lead today he will become bored within the first hour.
To my delight, that never materializes. He packed some hand-held video games to pass the time, but remarkably for a kid who can't seem to live without these devices, he never removes them from his backpack. For eight full days, they remain in the off position. Instead, we talk, we laugh and we joke. We watch the world pass by outside the windows of the car, and we stop at any place that looks interesting just to see what is there.
Early in the trip he begins taking pictures from the car and at stops we make for food, bathroom or just to walk about. He decides he will document the whole driving part in a photographic journal. He spots a deer crossing sign and tries to get a picture of it as we're moving. It is not an easy feat to capture a shot of a sign, large enough to be seen and un-blurry, while traveling at 65 miles an hour, but after several attempts, he gets one spot-on. When he notices that not all deer crossing signs are the same, he attempts images of each. That begins a quest that lasts throughout the week; how many different crossing signs can he document? In the end he has amassed quite a collection, other than deer, we find mountain sheep, wild horse, mountain lion, bike, railroad, cow, elk, mule, people, ATV, fire truck, tractor, and even something that resembles an alien being while we are on our way to visit Newspaper Rock in southwest Utah.
We spend our first night in Bryce Canyon and even though we stop at several places along the way–Fremont Indian State Park, with its wonderful petroglyphs, Big Rock Candy Mountain and Red Rock Canyon–we still have plenty of afternoon left to take a nice hike to the bottom. He is as amazed as I had been the first time I encountered the hoodoos and spires of desert red highlighted by the sun and pasted against an azure sky with just a sprinkling of snow to add contrast. I am amazed by how much his hiking abilities have improved since our trip of three years before in the Buffalo River National Recreation Area. This time there is no whining during the steep trek, and in fact he wants to do more than our time allows. Along the way we talk about how the formations came to be, what forces of nature conspired to create them and how this all might look in another million years.
The next day we are in Zion with its massive rock mountains and deep slot canyons that swirl in every direction and give the illusion of a fantasy world. We start out with a short hike on the overlook trail to view the canyon from a perspective high above, to grasp the enormity of it all. We hike into Hidden and Echo Canyons, slots that at times are so narrow you can feel the sandstone's embrace. He feels the energy in the rock that I had spoken about so many times before. I can see it in his eyes that he too now understands. This is where spirituality lives, whether your belief is in a god or simply in the universe, this is where it lives and grows and nurtures the soul.
At the visitor center we buy a book on scat and tracks, and use it extensively on our rim trail hike at Grand Canyon National Park, a great tool to slow me down and appreciate that the goal is not always to get from point A to point B in the fastest time. We start early in the morning with a bus ride to Hermits Rest and take all day to traverse the eight miles back to our hotel on the South Rim, stopping to identify every animal footprint and pile of poop we encounter. Along the way, we meet a raven with a story to tell, so we listen for awhile. When I learn that he has never read Poe's poem, we spend the evening finding a copy and reading it aloud.
Traveling between Grand Canyon and Mesa Verde, we drive through many miles of reservation land and talk at length about the Indian heritage of our nation, our mistakes in how we treated them, and some of the obstacles they still face today. We observe their houses and their habits, and talk with them at stops along the way. At Mesa Verde, we encounter their past and their ability to adapt and grow. As he wants to be an engineer, he is astonished by their skill of building such amazing structures that have stood for hundreds of years, and by their use of space and location. He is impressed at how they used the outcroppings of overhanging rock to protect them from the elements and enemy, how they channeled water effectively away from structures and into areas where it could be used for their needs, and how they placed their dwellings to take advantage of the sun, both winter and summer. Knowledge we should still possess today, but often ignore in the name of style and progress.
We study how they moved from pit houses of single rooms to multi-room, above-ground structures and finally to the cliff dwellings many stories high, before they disappeared completely leaving only their ghosts to fill the valley and us to wonder what their lives were like. We talk of what a surprise it must have been when the first white man, looking for his lost herd, looked up from the valley floor and saw the sun glinting off the beautiful edifice perched high above.
We laugh at our "Griswald moment" when after traveling all day to get to Four Corners Monument, we find it closed and toy with the idea of breaking open the gates. In the end, we decide it might be best to detour back after leaving Mesa Verde so he can place one part of his body in each of the states.
We spend our final day in Arches National Park, and of course take the epic hike to Delicate Arch. There is nothing like rounding the corner of the slick-rock trail and discovering it for the first time, sitting in a bowl and towering majestically but precariously, while framing the La Sal Mountains behind. It is one of the most iconic structures of the desert southwest, and to view it up close is like seeing the statue of David in person for the first time, photographs only reveal the stone, not the spirit that lives within. We move on to discover Landscape Arch, the Windows and Keyhole Arch, and Double Arch.
I ask which was his favorite; he chooses Zion. Oh, be still my heart, the kid really knows how to get to me, something that has not changed since that January day in Nebraska.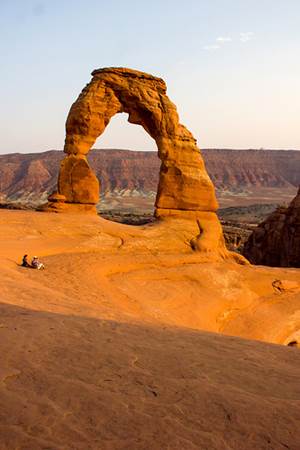 My goal in taking these trips with my nephew started out as a way to spend more time with him and to know him as a person in his own right, not simply who he is when he is with his parents. What I now hope I give him is not just the opportunity to be together, but also to experience the world, its history and cultures. I want him to learn about people who are different from him. I want to give him new perspectives, which as an only child, are fairly egocentric, and teach him that the only way we grow to care about others is to meet them and talk with them. I want him to learn that hate is only possible through ignorance. I want him to appreciate and respect the earth and all the people who live upon it. I want to give to him that lifetime lust to go places, see things, meet people. That passion was instilled in me by my grandfather, his great grandfather, who is no longer here to teach, but whose soul lives within me.
I travel differently than my grandfather, and I know that my nephew will travel differently than I. For now we travel together in body and teach each other, and make memories to hold on to hopefully well into his adulthood. Perhaps in the future he when he begins to travel on his own, he will carry a piece of my spirit with him, as I carry my grandfather's everywhere I go. And he in turn will pass on the passion to a new generation.
*****
Karen Kern is a midwestern transplant to Utah who enjoys traveling solo, with her husband, with girlfriends, or of course, with her nephew.  She writes about life and journeys at A Walking Life.
*****
Photo credits:
Woman and Boy on Mountain: Edward Wang
Disney World Rollercoaster: Edwin Torres
Deer Crossing Sign: Tom Maughan
Raven: John Morgan
Canyon Overlook Trail: Zion National Park
Delicate Arch-Grand Canyon: World Wide Gifts