by Kerri Kerber Dieffenwierth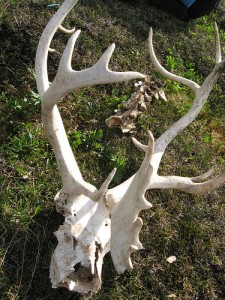 The beefy woman on the big black horse in front of me seemed to sway her hips extravagantly from side to side, as if on purpose. Her kind gelding dutifully lowered his head and continued to stride smoothly through tall summer grasses and crushed wildflowers.
There I was in thrift chic denim glory – surrounded by simple, rugged beauty, in the middle of a trip I spent years planning. And all I could focus on was the hip action, head bobbing and unpleasant traits of a stranger. Maybe the rhythmic movement of my own horse had put me in some kind of ancient Sangre de Cristo Mountains mean trance of shallowness. Or maybe I just needed to change my dashboard scenery.
Trotting past Beefy, I quickly caught up to Dave, our guide on this overnight trip to the backcountry of Colorado's San Luis Valley. We would climb to almost 9,000 feet and glimpse the Continental Divide from steep cliffs before dining on steak and bedding down near our horses. This was Dave's turf and he looked perfectly at home atop his palomino. Her golden hide matched his golden hair.
Tall and slim with James Bond blue eyes (note to Sherwin Williams — what a perfect paint color!) he flashed me a suntanned wrinkly cowboy smile.
"Having a good ride ma'am?" asked cowboy Dave. Ahh, such a gentleman.
"Yes, wonderful. I just want to ride up front with you for a while," I said softly, sheepishly.
I didn't happen to mention that I was distancing myself because of the way a human moved her hips, lest nice Dave abandon my judgmental self in this remote place until I emerged a better person.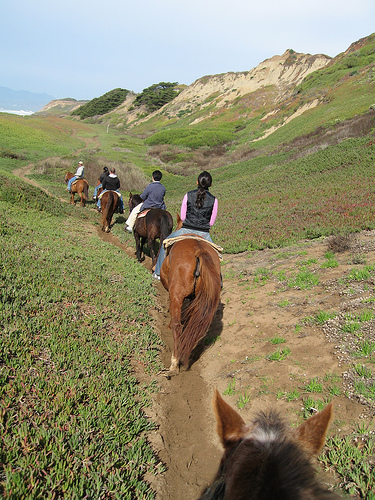 We rode along in silence, which seemed the proper etiquette for the scenery, mostly endless rolling green meadows scattered with stately stands of conifer and aspen, backed by mountains.
And then, from the back of the pack, Beefy yelled.
"Everybody stop! What's that over there?" Her chocolate brown head bobbed madly as she gestured toward a thatch of uneven grass the color of wet emeralds.
"Hold up," said Dave, as he quickly dismounted in one amazing step. His worn reddish chaps flapped against muscled Wrangler jean thighs when his boots touched the ground. Not that I noticed.
Somehow, I knew what Beefy had discovered when she first pointed at the grass. Even though I never saw any in real life.
Elk antlers. Tan, bony, fuzzy. Not bleached out, like those hanging over the doors of ski lodges.
"Got to come down and take a look at your treasure Sue," nodded Dave to Beefy.
As she lay ungracefully belly first across the saddle and lowered herself with a thump, I saw sunbeams glinting down through a nearby tree. Time slowed. Dust floated in the light as she strolled over, like it was meant to be. She held them up.
"Candlesticks are what I'm thinking," she squawked as she did a happy dance, plump hips gyrating.
I looked away, toward Dave, and watched his strong hands take the antlers and lash them to the back of his saddle. He used his cowboy lasso. The rope brought to mind the bullwhip in my tiny coat closet at home.
Seven years earlier, on a day trip to our county fair, I recalled walking with my two squirming children past queasy rides, greasy food and hokey games. Instead, I showed them the simple pleasures of hanging out with the kids and animals in the 4H barn. Frugal and strict, I hated spending money on what I deemed to be junk. Plus, I just knew if we rode something called Screaming Wheels, the grim details, photos and testimonies of our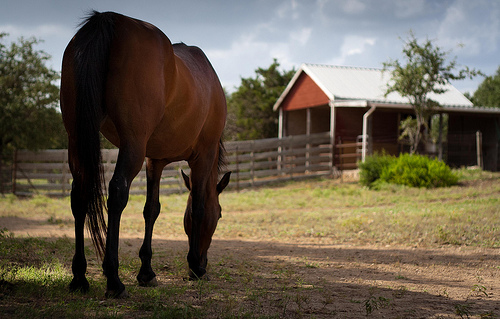 twisted end would land on nightly news networks. I always wanted to be the fun mom. Truth is, I wasn't.
On the way to our car, a few lanky teens cracked homemade bull whips next to a shaky card table decorated with poor handwriting: "Whips: $10."
Skinny hairy arms swirled ropes over their heads clockwise, then quickly stopped and snapped them in the other direction. One of the teens wiggled a whip at me and asked if I wanted a lesson.
I gently reached out and took the line. Kids backed up. It felt odd to hold something so alien to Mommy Land. I admired the dark green and gold braided nylon with its wispy tail. Even more strangely, it felt right in my hand. I put my purse down.
Three complete circles, halfway back. Crack! Switched it to my other hand and did the same thing. Teenage jaws dropped.
Years later, I still couldn't shake the urge to gallop a horse across wide-open spaces. Using a bullwhip was optional. I'd used it enough in our backyard.
Just to gumption up some hope, I opened my own savings account across town and dumped extra monies in it from birthdays and holidays. I made a point of not using the bank's drive-thru. I would enter and hand my deposit slip to the same teller. After awhile, she was aware of my plan and was just as excited.
More time passed, and I did my research. Brochures arrived for ranches in Montana, Wyoming and Colorado. Each got filed alphabetically in a brown folder with a stretchy black cord. I'd always keep a piece of mail aside for when I had a bad day at work. After the kids were asleep, I would run a hot bath, light vanilla candles, and settle into the tub with a new ranch packet, letting the steam open the envelope and savoring each word.
It took a lot of years and a lot of saving to finally make it to my ranch.
Beefy also arrived three days earlier, but in her husband's private plane. A repeat guest, she had practically burst through the historic double doors of the wooded lodge, loaded with fine wines and fancy threads.
If you think about it, there really is a hypnotic sashaying to riding a horse at a walk. It's similar to swimming laps — there's nothing to do but think. In air so light and pure it almost hurts when you breathe in deep, your head clears. Answers to your deepest issues surface. And your heart makes room.
"Hey Sue, nice rack," I said with a huge genuine smile.
* * * * *
Kerri Kerber Dieffenwierth is a wife, mother and writer who currrently resides in Venice, FL. A native Floridian, she is happy to continue to reside in the humidity just until she can plan her next trip. She thinks it's kind of interesting that she has ridden horses on race tracks, in the desert, over mountains, in salt and fresh water, over five foot jumps, and just recently, in the snow. Her website is kerridieffenwierth.com.
Photo credits:
Antlers: colchu
Horse trail: mariachily
Horse and barn: jonclegg
Kerri and horse: author