by Meg Peterson
The thirty-seven foot raft dived over the edge into the center of a churning, boiling cauldron of white foam.
Brad Newman, our boatman, muscles taut, tan arms straining as he gunned the motor and grasped the heavy tiller, bellowed, "Git down, stay down, two hands on line at all times! It's full tilt boogie, rock 'n roll rapid-running position, and everybody's gonna get wet!"
I screamed as a wall of ice-cold water covered my body and threw me backward.
It was the fourth day of an eight-day 277-mile expedition down the Colorado River through the center of the Grand Canyon. I had rafted before, but nothing had prepared me for the drama that lay within these massive walls.
Down we went, the raft becoming a violent bucking bronco, leaping, snorting. With eyes shut tight, I felt propelled in slow motion, imagining that I was at the center of the earth, being swallowed by uncontrollable forces that would rip my hands from the rope lines and thrust me upward, slamming me into the cold, muddy river.
The raft heaved up, its pontoons slicing the water, then plunged, again, into the spray. I opened my eyes just as we slithered by an immense rock and skillfully avoided the ten-foot hole waiting to drag us under. Instantly, the craft spun around and slid the rest of the way backwards, passing two more holes and ending up in the calm silt-laden waters of Granite Falls.
2 Millions Years and Counting
"Everybody forget your troubles," Brad had said when we entered Marble Canyon at Lee's Ferry, Arizona. "And welcome to reality. This canyon is only two million years old, but some of the rocks at the lowest end are two billion years old. Ah-hah, you say, what about those 980 million years of strata that are missing? If you keep your eyes open you can watch the mystery unfold. Every great geological era is written right on these canyon walls."
It was a humbling thought. Time measured in hundreds of millions of years.
Brad continued. "As we go down the river, the layers of red limestone, shale, and sandstone, which we see here at water level, will seem to move up, until the canyon walls are over 6,000 feet high. But, in fact, it's we who are moving down. Just imagine that this whole area was once a giant layer cake. As the cake was rising, the Colorado River was slicing down through the layers like a huge knife. But that's just a small part of it. So let's go. We have a canyon out there to explore."
There were twenty-seven of us, ranging in age from thirty to seventy-six, and hailing from as far away as Germany. We rode on two large motorized pontoon boats, each commanded by an experienced boatman and a swamper, the name given to his assistant. We carried individual sleeping bags, a few clothes, cameras, and personal effects, all stowed efficiently in waterproof containers that became protective padding for the boat during the day. Everything we needed was packed in the hold of the rafts, including fresh fruits, meats, vegetables, and a portable toilet, euphemistically known as the "yellow tent." Twenty thousand people enter and leave the canyon by the river every year. And yet it looked as unspoiled as it must have been in 1540, when the Spanish explorers first gazed into the chasm. There wasn't a piece of paper, a beer can, or a trace of human waste anywhere–a living example of the slogan: Carry in, carry out.
In the late morning we stopped just beyond Dubendorff Rapid at Stone Creek beach, mile 131, for lunch and a hike up the side canyon. Those who didn't want to hike stayed with Brad.
I inched my way along a cliff leading to a series of hidden pools and waterfalls. The height terrified me. From the narrow ledge I looked down into a swirl of cloven rock, which had been sliced in half over the millennia and spread like smooth butter up the canyon walls. What if I should lose my footing on the crushed shale underfoot? All it would take to send me flying into the chasm was one false move. My hands perspired. I felt sick. It had never occurred to me that I was in any danger–that I could be injured, or what would happen if I were.
Neither my traveling companion, Peter, nor I had given any thought to accident insurance…that is, until he let his left big toe get in the way of one of the raft's flex points while we were negotiating Hance Rapid. But a broken toe isn't serious, just inconvenient, and since Peter is a physician, he fashioned a serviceable splint from driftwood and continued to do everything but the most strenuous climbing, like today's expedition high above the canyon.
I stood, fully clothed, under a crystalline waterfall that flowed through a canopy of hanging vines. The spray pummeled me and cooled my sunburned body. Moments later, already dry in the scorching sun, I scrambled down past stolid barrel cactus and prickly pear into a desert landscape bursting with color and texture. Ahead of me loomed a solid wall of layered rocks rising from the river in perfect symmetry–limestone, sandstone, granite, Vishnu schist. Gray, red, black, shiny.
Minor Tragedy
When I arrived back at the beach I found Peter and Brad at the river's edge, hovering over a large burly young man, who was lying in a lounge chair, shielded by a beach umbrella.
"It's serious," whispered Peter so as not to alarm the man. "I saw the whole thing. His raft hit a deep hole in the rapid and folded in the middle. He had lashed his arm to the line and the impact nearly yanked it from its socket. It's broken in three places. We've got to get him to a hospital immediately. Barb, (Brad's swamper) is trying to make radio contact with a scenic flight. It's our only hope for getting help."
I started down the beach where two rows of kayakers had formed a bucket brigade and were wetting down the steaming sand with water. Like us, they had stopped for lunch on the sandy bank.
"What's going on?" I asked.
"We're making a landing strip!" one of the men shouted. "In case we reach the helicopter. Keeps the sand from blowing."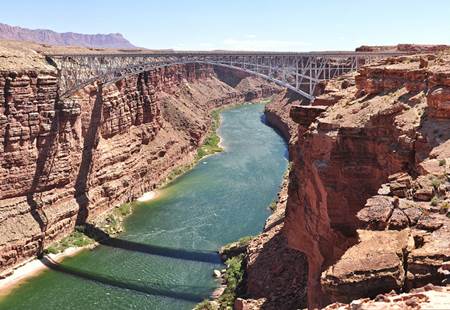 I joined the brigade as did other members of our hiking party, while Barb stood on the crest of the sandbar with a radio in her hand. Pointing to a speck in the sky–a 747 Continental airliner on its way east, 39,000 feet up–she shouted, "Can you believe it? He sees us. He's lowered his frequency and has us on the radio…right now!"
With plastic ponchos, the kayakers had fashioned a huge orange cross on the sand. To extend the cross they'd placed their kayaks at the four corners. One of the boatmen had flashed a small mirror at the plane. It was this and the cross that caught the pilot's eye. He'd immediately called the L.A. tower to report trouble in the canyon. The tower, in turn, had called the Park Service at the South Rim and given our approximate location. Ten minutes later the Rim picked up Barb on the short-wave radio and discussed details. Within half an hour a helicopter soared down the narrow canyon and landed on the now thoroughly drenched sand.
We all huddled in one corner of the beach in the weeds or behind the pontoons to shield us from the roaring, slicing rotors. Two men and one woman jumped from the 'copter. In five minutes the injured man had been hoisted onto a stretcher and placed safely in the helicopter.
With a deafening whir, the graceful machine lifted off the bank–a shimmering dragonfly in the middle of a swirling funnel of sand and dust.
"Until you have an accident you don't realize how isolated you are in this canyon," Barb commented soberly. "We're lucky that pilot saw us. I was in a dead zone and couldn't make radio contact with the South Rim at all, but, bless him, he was able to reach them."
A New Frame of Mind
That night we sat under the stars, singing and listening to Brad play the guitar. The thunder of the river had subsided and I could feel the stillness.
Barb turned to me. "I've been thinking about that mirror," she said. "In fifteen trips on this river I've never known such a rescue. It's as if that tiny piece of glass were magic. There was a different spirit this time. It's just like Brad says: 'Each one reach one–each one teach one.' Cooperation was everything today. I didn't hear a single complaint. And did you notice how those kayakers never stopped working until the helicopter arrived? Even Sal, at seventy-six years old, was hauling water. This place sure gets in your blood–it does things to people, good things."
When everyone was asleep I lay on my back watching a whole universe of constellations stare down at me. I could hear the squeak of the bats, circling and swooping as they went about freeing the campsite of insects. In the distance the moon, hidden from me, reflected off the far canyon wall like a misplaced Broadway lighting up a cavernous Times Square. I fell asleep, secure within the walls of folded, uplifted rocks that surrounded me.
It was the middle of the final day before we reached Lava Falls, the longest, most difficult navigable rapid in North America. We had already negotiated two hundred rapids, starting at Navajo Bridge, a point spanning the canyon rim some 470 feet above the river. And in a few hours we'd be at Pearce's Ferry, where the rim was 6,000 feet above the river. We had experienced a total drop of 1709 feet, sixty percent made while running rapids!
"Here's to luck," said Brad, as he leaned over and kissed the massive black rock at the head of the falls. Cameras clicked.
As we headed into the ominous foam, once again, I felt suspended in air. The raft plummeted down the rapid, weaving crazily in and out of the rocks, until it spun completely around and moved out of danger. "Lava Falls! Been there, done that," said Brad, the glow of a successful run lighting his face.
A feeling of melancholy crept over me. For eight days I had experienced oneness with the river, the sun, the sand, and a vast wilderness where the word sublime was the only one that comes near the mark. I had been thrilled, terrified, and soothed. And I had been able to shed the excess baggage of a busy city life and see my image reflected in a different mirror.
As the river widened and flowed toward Lake Mead, Brad picked up his guitar, leaned forward, and sang: "Oh, I went boating down the Colorado River, to see what I might find; while I was floating down the Colorado River, what I found was a new frame of mind…."
*****
Meg Peterson is an author, essayist, and playwright who has traveled extensively for the past twenty years. Her latest book, Madam, Have You Ever Really Been Happy? An Intimate Journey Through Africa and Asia tells about her life-changing ten-month solo backpacking trip around the world, unfettered by deadlines and armed only with an open ticket and a camera. She continues to travel around the world solo, with family and with friends. Visit her website and blog.
*****
Photo credits:
Colorado River Rafting: Grand Canyon National Park via Flickr
Granite Falls: Ed Ogle via Flickr
Colorado River Rapids: Grand Canyon National Park via Flickr
Navajo Bridge-Marble Canyon: Grand Canyon National Park via Flickr
Colorado River: Wolfgang Staudt via Flickr
Grand Canyon at Sunset: Paul Fundenburg via Flickr