by Maliha Masood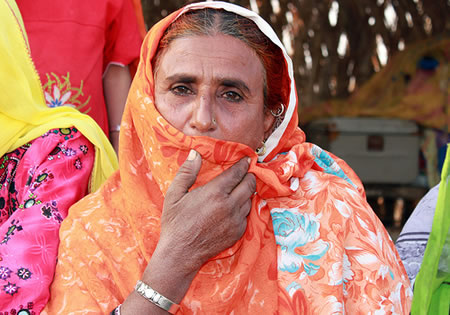 Every detail you observe, every person you meet, every fact you learn, makes it that much more difficult to generalize, to presume, to stereotype, to say anything at all. For the more you know, the more you own that knowledge and the more its contradictions confound you. So if I say that Peshawar is one of my favorite cities on the planet, I conjure its rough male-dominated bazaars with smirking blue-eyed Pathans in baggy shalwars with battered rifles slung across their shoulders. If I appreciate the rugged beauty of Pakistan's Northwest Frontier province, I think of the barren brown hills where tribal clans make their own laws and enslave their women. I follow news reports of the latest crackdowns between the Pakistani military and tribal militias in the unruly tribal beltway near the Afghan border where Osama bin Laden is allegedly hiding.
I had trespassed in terrorist country. I had flirted with danger. I was lucky to make it back in one piece. So I gather.
It's all too easy to be discouraged when it comes to traveling alone in Pakistan as a woman. Though the country has developed an extensive network of public transport to access virtually any town on the map, it remains a system reserved primarily for men. Female travelers require a male escort for "protection" and going without an appropriate chaperone is virtually unthinkable, an open invitation to highway robbery, gang rape, and other impending disasters. The fact that I am neither a complete foreigner, nor 100% native, translated in local parlance as a pukka desi, makes matters more complicated.
As soon as I utter the word Peshawar, grim assessments and warnings flood my ears, from well meaning advice givers.
"You won't come back alive!" asserts Rabia, my most glamorous roommate at the hostel where I'm staying with a handful of Pakistani college girls. Rabia has taken it upon herself to be my mentor in the dos and don'ts of Pakistani culture. I find it a bit odd that she confers the right to make sweeping judgments about a place and its people simply by reading back issues of Herald and watching BBC world news. She claims to know Pakistan inside out without actually taking the trouble to venture outside the cozy confines of Islamabad and her uncle's gated bungalow in G-8 where she once invited me watch an episode of Sex and the City on DVD. Apart from weekend jaunts to Karachi and Lahore and the occasional trek up to Murree, Rabia is hopelessly out of touch with the rest of the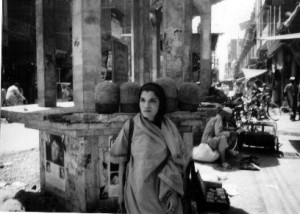 country, but a self-proclaimed expert when it comes to educating the tourist ignoramus so eager to take it all in with wide-eyed innocence and the latest in high tech travel gadgetry. Not that I have any fancy gear save for my beat up Rollei.
"You've never even been to Peshawar!" I chide Rabia. "What makes you such a know it all?"
She simply shrugs her shoulders and applies more lip gloss.
The consensus of my knowledgeable colleagues at the think tank in Islamabad does not bolster further confidence. It's just asking for trouble… You haven't exactly picked a good time… The MMA just passed the Shariat bill…Those hooligans are tearing up Bollywood posters… You'd better drape yourself in a tent. A pervading sense of fear and mistrust taints the North West Frontier province into an even wilder and lawless territory made even worse by the recent Islamist victory. Definitely no place for an uninitiated female traveler, certainly out of bounds if she has no official alibi, is totally illiterate in Pashto and newly arrived in the country as an American citizen.
There are mixed reactions among locals to my seemingly abnormal desire to travel the hinterlands of Pakistan. The prevailing attitude goes along the lines of Sorry, but this is not your cozy backyard. You cannot wander around alone here. It simply isn't done. Then there are those who regard me as an Eccentric, encouraging me to be one with the masses by relying on cheap public transportation and of course to ride on top of all the buses for the best views.
I decide to rise to the challenge. On a balmy Friday evening after work, I grab a small duffle bag from underneath my desk, close up the office, and flag a taxi to the Daiwoo bus station in Rawalpindi, just in time for the 6:15 service to Peshawar.
Anwar is waiting for me when I arrive. We have stayed in touch after the Khyber Pass trip and now he has invited me to be his house guest. We drive the outskirts of the city in his brand new Pajero. I meet Anwar's new born daughter and his wife Salma, a soft spoken lady from Multan who shares my interest in clothes and soon we are whipping through her closet admiring hanger after hanger of hand crafted embroidery on kurtas in palettes of turquoise, vermillion, mustard yellow and chutney green.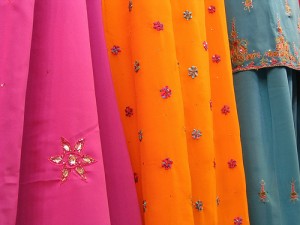 Salma has a cherubic moon like face with sculpted eyebrows and smoldering black eyes. She continues with the fashion show by showing me her collection of Kashmiri shawls and insists on lending me a chador for my wanderings about town. When I ask her to come along for a shopping spree in the bazaar, she laughs and tells me that she prefers more civilized ways. Her tailor still pays house calls with bolts of cloth and jewelry just like they used to in the old days. I get the feeling that what comprises adventure to me is to Salma as to countless other Pakistani women, nothing but one massive pain in the neck. Who would want to go around in the heat and dust, traipsing around in filthy streets, to be ogled by perverts and harassed by all the usual unsavory characters. Only mad foreigners and other foolhardy souls.
Much to my surprise, women in the streets of Peshawar are not covered from head to toe in burqas. They float around in lightweight pastel colored shawls or a large dupatta draped around their heads and upper bodies. I have definitely gone overboard donning a tight maroon headscarf and a heavy beige shawl on a sweltering day with the mercury hitting forty-five degrees Celsius. My thin cotton kameez is drenched in sweat and I wear my extra large shawl toga style to avoid tripping over its ends. Despite the cumbersome layers of clothing, the maddening heat and the complete foreignness of my surroundings, excitement courses through my veins as I start exploring the narrow alleys of the old story tellers bazaar known as Kisakahani. The name celebrates memories of traders and travelers who would cross over mountains from Kabul, Kashgar and Samarkand and converge in Peshawar to swap their tales.
On Sunday afternoon, most of the shops are closed and my presence elicits more curiosity. Young men chuckle at the sight of a solitary girl snapping pictures of ancient decaying buildings and rickety doors. A flock of children trails me from a distance. I spin around and go shutter mad. The attention I receive is not hostile and the most refreshing aspect of it is the way people handle their natural inquisitiveness about seeing a stranger in their midst. They simply come up to me and ask who I am and where I come from. Sometimes, they question me in Pashto and are surprised when I can't answer back. The camera is a dead giveaway of my outsider status. Instead of driving a wedge, it helps break the ice.
It is not long before I find a local guide. A bony little boy in dusty chappals and a snow-white topi or skull cap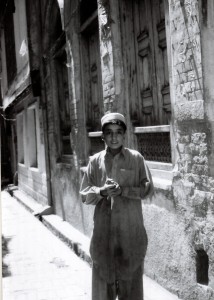 leads me by hand to show around the neighborhood. He instantly picks up on my fondness for rotting old houses and takes me to some real gems. Nowadays, they serve as tiny ateliers for tailors, bookbinders and weavers, often cramming a family of ten in one room. Clearly, the utility principle is more important then preserving the intricate wooden carvings, fading arabesque paintings and imagined opulence of a bygone era.
"Now I show you Dilip Kumar's house," announces my guide, referring to the famous Indian actor who at one time had lived in Peshawar's old havelis. I follow along, enjoying the simple friendliness so easily encountered just by virtue of being out and about. Every time we pass shopkeepers sitting inside half shuttered shops, eating lunch or sharing a cup of tea with friends, they turn their heads and look towards me with interest, slightly puzzled at my hard to place looks. Nowhere in sight is the harassment and the dangers that my knowledgeable well wishers had warned me about.
I appreciate the subtle acknowledgement I receive from the men, from a courteous nod to a warm salaam. Often, I detect a hint of admiration, even a gleam of adventure in the male eyes that scan my every move and gesture. This is quite unlike my experience in Islamabad where men either pretend that women don't exist or leer like hungry wolves every time they encounter the female species. Here in the old city of Peshawar, I feel like a person instead of an object, my dignity restored and respected by an ancient code of conduct that is much more civilized.
I stop for a drink at a small juice stall and order a salty lassi. A boy wearing a black Nike baseball hat nods a polite welcome. I meet the owner's son who speaks fluent English with a twangy American accent. He tells me has spent ten years in America, where he went on scholarship to the University of Nebraska. I blink back surprise and glance at his seventy something father dicing fresh oranges. He bombards me with a string of questions in patchy English that he has no doubt picked up from his dashing young son.
How much is salary for doctor in America? What about salary for teacher and car sales man? How much is car? How much is banana and coconut?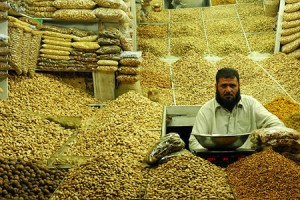 How much is juice bar? How much is juice?
The old man registers my responses with calculations on a chalkboard.
"I go Amrika! I make good life!"
His son laughs as if what he has just heard is really not that funny.
The father leans forward and motions me to come closer to the counter. His amber eyes graze my face slowly, deliberately. He nods and smiles, murmurs something in Pashto, then nods his head and smiles again. I tug at my headscarf, hike up the ends of my chador. The man stoops and pulls out a carved wooden box, rummages inside it and snaps the lid closed. His closed fist stretches out, fingers curl open to reveal a lapis lazuli pendant. I accept it as a gift. We say goodbye in the traditional way, right hands placed above the heart. The handsome son gives me a flirtatious wink.
I plunge back in the streets and head towards a music store. The smiling young attendant plays samples of Pashtun music in a Sony boom box. I listen and make comments on what I like and dislike. He opens a glass cabinet and picks out more choices. As soon as the music starts up, teenage boys filter into the store, gleefully gaping at the odd sight of a chador-clad girl drumming her fingers to the sound of the rabab. An appreciative male audience gathers around me and competes with another on their suggestions on what I should buy. Someone jokes about the Taliban. I ask if there is a ban on music in Peshawar as pointed out by my pals in Islamabad. Everyone hoots with laugher. Heads shake vigorously from side to side. I walk out with a dozen new cassettes for my walkman.
Photo credits:
Woman: DFID – UK Department for International Development
Pakistani Dress: Muhammad
Dried fruit seller: Umair Mohsin
All other photos: Author
*****
Maliha Masood was born in Karachi, Pakistan and grew up in Seattle, WA. She's the author of the travel memoir, Zaatar Days, Henna Nights: Adventures, Dreams and Destinations across the Middle East (Seal Press, 2007). Her website is www.maliha-masood.com.