by Colleen Finn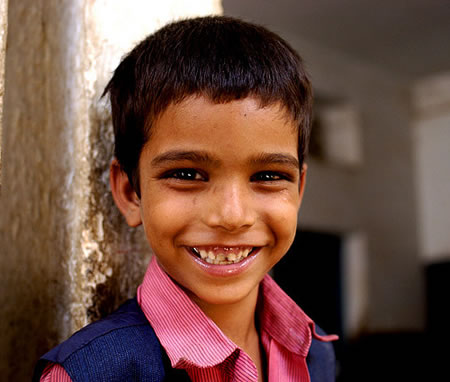 In late spring of 2009, I visited India for the first time, eager to explore a country that I had dreamed of visiting for years. When I arrived, it was with all the arrogance of a seasoned traveler. I had been traveling for years and sometimes even did volunteer work in the countries I visited. I thought of myself as culturally sophisticated and open–an explorer without borders, accepting of any person or experience, regardless of how foreign. In this particular case, I was excited to be traveling through glorious Rajasthan for a few weeks before embarking upon a week of volunteer work teaching English in a New Delhi orphanage.
When I arrived in New Delhi and reported to the volunteer organization, the program manager informed me that they were already well-staffed at the orphanage, so I had been reassigned to work at a center for street boys at the busy Nizamuddin Railway Station. Despite my eagerness to do volunteer work, I felt trepidation at this news. Street boys? Up until that point, I considered my encounters with street children to be pretty typical. In Jodhpur, I was sideswiped in the bazaar by a speeding auto-rickshaw when I attempted to back away from the outstretched hands of three street boys, looking for anything that I might give them–spare rupees, sweets or ballpoint pens. On another occasion, I made the classic error of handing out a few small treats to some street children in Jojawar. Soon after, I found myself surrounded by a large group of them all looking at me expectantly, hoping that I would relinquish just a few more. Some of the children aggressively picked at my bag and pockets, unwilling to believe that I had nothing else to give.
After these experiences and others, I had learned to keep what I considered a "respectful distance" from the street children in India. I acknowledged them, but waved them politely away so I could go about my business. It was an arrangement with which I felt comfortable. Yet now I was going to work with them directly in an effort to expose them to my language. For some unknown reason, the idea of teaching English in an orphanage just seemed tamer. I did my best to hide my disappointment and resolved to make the best of my new assignment.
On my first day of volunteer work, I met with the center's director who provided me with some background on the program and introduced me to the boys. They ranged in ages from 6 to 14, but most looked much younger than their years. Some suffered malnourishment, some had been abused, and all had either run away, been abandoned, or been encouraged to leave their
homes in hopes that they would find jobs or a better life in the big city. After the director addressed the boys in Hindi–which I hoped was a directive to "Behave yourselves!"–I was abandoned to handle the class on my own.
I stood there and looked at the ragtag bunch. While many of the boys were friendly and curious, several looked upon me with frank distrust. Ramesh, a young boy dressed in an oversized gray work shirt and slacks, scowled openly at me and retreated to hunch in the corner of the dingy room. Jitaen, an undernourished boy who had been severely abused prior to his arrival at the center, completely ignored me and turned on the television. Girraj looked at me with a blank expression on his face, and then proceeded to play with a board game on the floor. I made a quick decision to focus on the boys who were friendly and curious and proceeded to dig into my arsenal of learning games in an attempt to keep them engaged.
By my second day at the center, I was gratified to discover that most of the boys who had ignored me the day before were now enthusiastically participating in my lessons. They eagerly recited new vocabulary describing colors, animals, and parts of the body and enjoyed playing games to reinforce what they were learning. Ramesh, having apparently decided that I could be trusted, eagerly requested a game that I had demonstrated the day before during a time that I thought he was napping. Jitaen grabbed my hand and placed it around his scrawny, bare shoulders, eager for my attention and affection. Girraj, eyes wide open with excitement, joined in every game and lesson.
There was also a new face in the bunch–a tiny, 6-year old boy named Chonda. Chonda had bright pink scars on his face, which were a stark contrast to his brown skin. A center employee said he had received the scars while living on the street. It was a likely explanation for his behavior as well, for despite his age and size, he immediately began to pick fights with the older boys over any perceived wrong, however small it may have seemed. A few of the center's employees would struggle to restrain him in his fits of anger and tears, but I kept my distance from Chonda, intimidated by his wildness.
As the week progressed, the boys continued to participate and improve in their lessons, even while Chonda continued to interrupt the day by picking fights with them. Up until then, I had allowed the center employees or the boys to break up these outbursts in an attempt to disengage myself from any conflict. But finally one day, in a burst of inspiration mixed with frustration, I inserted myself in the middle of a heated struggle that Chonda instigated with Ramesh. Rather than restrain Chonda, however, I began to tickle him. For a long second, his face looked utterly shocked. Then, both Chonda's face and body melted in a fit of giggles. I tickled him on the floor until he'd forgotten what he'd been so angry about. After that, I was no longer intimidated by the wild little boy with the pink scars on his face. He still had
outbursts, but I handled them using the same method and he continued to allow his anger to melt away under a peal of laughter.
My last day at the center arrived. We played the boys' favorite games and reviewed the things they learned during my stay. As I prepared to say my goodbyes, I noticed Chonda outside the open door, balancing upon the bottom rung of the rusty metal stair rail. He turned to look at me with a huge grin on his face and began clapping his hands. He called to me in Hindi as he motioned for me to join him in a clapping game. One of the center's employees looked at me and said, "He's calling you 'good one.'" To Chonda, I was a "good one."
That was the moment when I realized that something inside me had changed. Although I fancied myself someone who was open to anyone of any culture, I realized that when I arrived at the center, I had regarded these boys–and all of the street children that I had encountered throughout my trip–as 'separate' from both myself and other children. I had safely tucked them away behind a wall that I didn't realize I had created until I discovered its pieces crumbled all around me. Those boys, the ones before me dressed in ill-fitting second-hand clothing, the ones who I waved away in the bazaar, the ones who followed me through Jojawar–weren't street children. They were children, like any other. Children who lived a life of tremendous struggle, yes–but still children who laughed, cried, loved and needed affection. Children with both amazing and terrifying stories. With every day that passed that week, the boys at the center had succeeded in quietly destroying my wall until there was nothing left to separate us.
I gazed down into Chonda's tiny brown face as he looked at me expectantly with his bright smile. It was a calm moment in the storm of his life, a moment when he was not a street child, not hungry, not begging, and not fighting for his right to exist. He was just a boy, enjoying the sun, balancing on a stair rail, and wanting to play a game with the woman who tickles him. I took his hands in mine for a brief moment. We began to clap.
* * * * *
Colleen Finn is an avid world traveler and enjoys blogging about her adventures. As a passionate advocate for voluntourism, she has cared for injured animals at a wildlife hospital in Greece, taught English in Peru, worked with street children in India, and will soon be volunteering at an orphanage in Vietnam.
When not traveling, Colleen works as a technical consultant in Portland, OR and applies her love of adventure and exploration to her local surroundings by enjoying the many outdoor activities that the Pacific Northwest has to offer.
Photo credits:
Smiling boy: Pratham Books
Two children: Pratham Books
Children in line: michaelwhays
Group photo: Author