by Vicki Flier Hudson
Local Culture Category Winner – Intrepid Travel Contest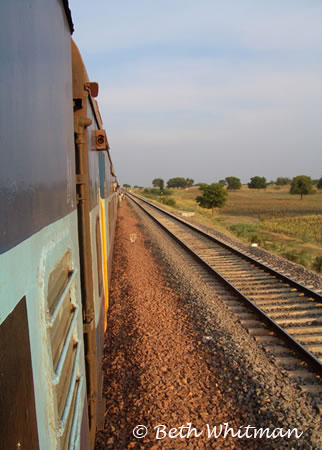 My life began in earnest the day I accidentally started a riot in a railway station in Calcutta, India. Sure the prior twenty-three years had their highlights, but I wouldn't have my own business, or the passion for India that I do had it not been for that little skirmish. So how did this riot happen?
It all started in 1998, when I traveled to India for the first time. I landed in Calcutta and within one day I was ready to get out of the crush. Traveling alone I had met a German woman named Anke in the same situation, looking for a room in the crowded backpacker district. We struck up a friendship which has lasted to this day and spent our first day in India exploring the chaos. We found that crossing the street in Indian cities required the skills of a stuntman and the courage of a skydiver. Several cars almost clipped off my posterior area and after ten years of traveling to India I still have not mastered this skill.
While walking with Anke to a nearby shop for something to drink, a woman approached us with a baby in her arms. She held her hand to her mouth, then out to me. Little did she know I had already made a pact with myself back home about what to do when people asked me for money in India. When I first thought of traveling there, I had told my friends and family that I wanted to go to India to "help people." Sure I wanted to see the sights and taste the glorious food, but I couldn't in good conscience go over there and just travel without being of service to the people. To friends at home this statement sounded nice and not at all arrogant. I had asked a few Indian colleagues in the U.S. what to do if I encountered beggars in the street. I knew myself and I didn't think I would be able to say no to their sad faces.
"Probably better not to give," they said. "You don't know the consequences behind the scenes."
Fine, I thought. I won't give money, but I have to do something, right? My solution (I don't know where I come up with these things) was to sign up with gusto for some classes at the American Red Cross where I learned first aid, CPR and other basic skills. I packed my bag full of medical supplies and decided that by God if someone needed help I would help them, not with money but with compassion. A tourist would give money; a traveler like me was way more creative about their self-importance.
Back in our hotel, Anke and I chatted that night about what to do next. I had written to the Root Institute in Bodh Gaya to ask about volunteering in their clinic, part of my "help people" plan. They had written back telling me just to show up and we'll see what happens. I didn't want to get in the way but I wanted to give my time. I decided I would take the train to Gaya, the nearest town, the next day. Anke, having no other immediate plans, decided to come with me and we would start out our time there with a meditation retreat. Bodh Gaya is the town where Buddha, Siddhartha Gautama, sat under a bodhi tree and became enlightened. Seemed like a mighty spiritual place to go and accumulate points for being an intrepid traveler. Little did I know I was about to get washed away by a traveler's tidal wave. I was about to cause a riot in India.
Anke and I headed toward the train station looking for a train ticket to Gaya. When we arrived, we looked around and our jaws fell open. The station embodied total chaos divided into two floors, one for ticket purchases and one for waiting. People filled them both, sitting, standing, eating, cleaning their ears, nursing children, sweeping, talking and just passing the time waiting for the trains. Vendors stood selling nuts, raisins, bananas, dried chickpeas, sweets and sodas. We had six hours to wait as the next train to Gaya didn't depart until 11pm and we had no reservation.
Leaning on our packs, we read books and talked about philosophy. We were deep in conversation when an old man dressed in rags and a turban approached us with an outstretched hand. Could I keep my resolve not to give money to beggars? I remembered the advice of my Indian friends — don't do it. The man looked desperate, dusty, wrinkled and way too thin. A torn yellow bandage hung around his foot; I could only imagine what was under it. I looked at the shredded gauze, then at my pack, and an idea crept into my head. I could patch him up.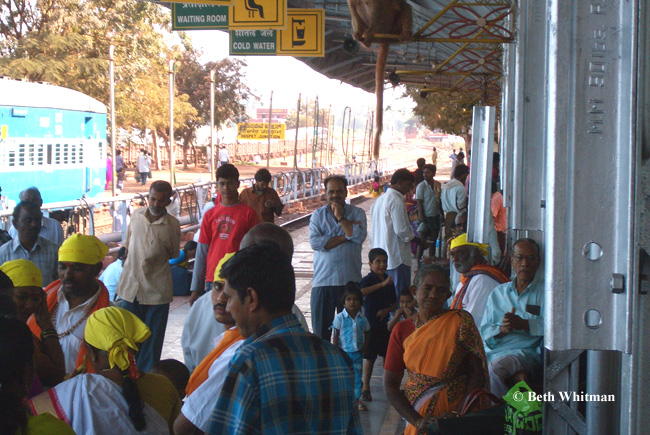 You know those moments in your life where if you had made one tiny choice instead of another, your whole life would be different? This was one of those moments.
I got out some gauze from my bag and held it up. The man's eyes lit up and I turned to Anke.
"I could at least bandage him up," I said to her. "Do you think it's a good idea?"
Had she said "no", I might not be writing this story or running my own business, but she didn't.
She said "Why not?"
I busied my hands inside the medical kit, proud to be taking action. I unwrapped the bandage and surveyed the damage – a dried-up, gaping hole in the underside of the heel. Well, I was no doctor, and I had never seen anything like this. In order not to give the impression that I did not know what the heck I was doing, I took out the materials to create a patch-up job: disinfectant, alcohol, antibiotic ointment, a fresh wrapping and tape. An Indian man who spoke English said it looked like leprosy.
I had no choice but to nod my head in empathy.
"We just have to do the best we can," I told him.
The patient seemed happy, so I removed the gloves to begin packing up and at last looked up from my little bubble. My eyes widened into ovals, and I am sure I turned pale. The entire population of the train station crowded around me, bent over, staring. Anke and I, shocked, shrank on our concrete stage. I joined the crowd in laughing a kind of nervous, choppy laugh. The patched-up "leper" looked contentedly at his new wrapping, but this reverie did not last. All of a sudden, a man came up behind my patient and began shouting at him in Hindi.
"What's he saying?" I cried. Another man stepped forward to translate for me.
"He's saying 'Why are you begging from these people? You are nothing! You are worthless!' He is very angry."
This was not good.
A woman who had been sitting quietly behind us jumped up and unabashedly began punching the shouting man in the chest, screaming Hindi obscenities between beatings. I gathered from this show of loyalty that my patient was her husband. Before my very eyes a fistfight broke out between the irate man and the tiny woman. My friend and I looked at each other in horror, and then turned back to the next scene in this terrible movie.
A hero came to the rescue, a tall Indian man. Attempting to stop the angry insulter from hitting the beggar's wife, he put his arms between them. The woman stepped aside and the two men began fighting. Determined to continue defending her husband, the woman tried to rejoin the debacle. Rousing from my state of shock, I jumped in to try to pacify her.
"It's all right," I said. "Sit down."
A group of bystanders came to haul the fighters outside to continue their brawl. Everyone was shoving and yelling; fists flew and shouts echoed off the walls. The more people that tried to jump in and help the more the fighting spread. As Anke and I whispered our distress, a towering, well-dressed man approached us. He spoke English fluently, but we cowered at his voice.
"You should not do these things," he said in a firm, concerned tone. That was the understatement of the year.
"If something goes wrong, it will come back to you," he went on. "Then what will you do? It will come back to you. You do not know my people. You do not know how things work here. If this man wanted help, there are free clinics he can go to. Do you understand?"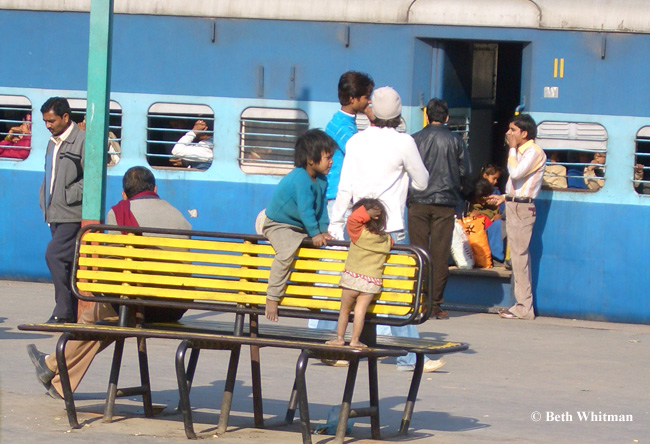 We looked up at him with drooping eyes and bobbed our heads up and down to convey that he had made himself perfectly clear. His voice softened after he looked down on our pathetic faces. He explained that he wanted nothing from us. We were his sisters and he just wanted to help. We thanked him, and he faded into the crowd.
Trudging like refugees, we searched for a corner where no one knew who we were, where no one could identify us with the idiots who tried to play doctor to the "poor Indian soul." Children harassed and picked at us, but relief washed over us that the fighting was over. We stared past them into space. Anke and I didn't say much, but when the train finally came to whisk us away, the land moved underneath the rails and exhaustion set in.
That day my illusions of being different from camera-toting tourists were shattered. I had presented a terrible picture that day in Calcutta's Howrah station, the Western hero saving the Indian man who could not care for himself. In front of hundreds of people, I interfered in the Indian system after having been in the country only two days. I was neither a tourist nor a traveler; I was an outsider. Something roused inside of me that night as a listened to the clicking of wheels on rails, a determination not to let this happen to other people. I considered myself an open-minded, sensitive person and yet I had forgotten that the road to you-know-where is paved with good intentions. With all of my desire to help I had forgotten that you also need complex knowledge to be successful in another culture.
As a result, I devoted the next ten years to learning more about the cultures of Asia. I traveled and lived in Nepal, India, Thailand and China, and studied their business environments. In 2004 I started my own business helping organizations prepare people to live, work, negotiate and build teams across cultures, particularly India and China. I tell the Calcutta story that sparked it all to my clients and we have a good laugh. I haven't started a riot since the original, but no one knows what the future holds. Let's just hope I've learned a little something since then from India, my grandest teacher.
*****
Vicki Flier Hudson has lived and/or worked in Belgium, China, Germany, India, Nepal and Thailand. She has survived a fifty-five hour train ride across India and ridden a rickshaw, a camel, a cement truck and buses all over the globe. She is currently President of Highroad Global Services, helping global organizations turn cultural challenges into productive teamwork.
Photo credits:
All photos: Beth Whitman