by Beth Whitman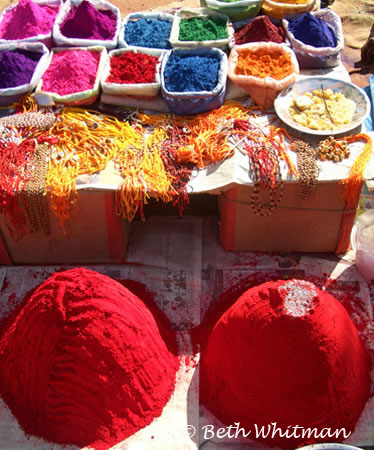 I hear the incessant pounding of a drum as we walk around the corner towards our guesthouse. A man steps in front of me, his face is elaborately painted with colored powders. His mouth is wide open. A knife pierces his cheek with the handle pressed against his tongue and the knife's point is now staring at me. His hand is outstretched for baksheesh. My jaw drops open in awe and I internally muse that it must be easy to cut and chew his dinner at the same time as the knife is indeed genuine.
We arrive early in the morning at Hospet, the closest railway station to Hampi, after an overnight ride from Bangalore. Few tourists, or Indians for that matter, have heard of Hampi
but those that have, enthusiastically endorse it as a must-see destination in India.
Known as the City of Ruins, Hampi is a village located in India's state of Karnataka, situated about halfway between Bangalore and Bombay. If you folded a map of India lengthwise, Hampi would fall somewhere near the crease in the south.
Traveling with my partner, Jon, we are fortunate to have had an air conditioned sleeper car all to ourselves for the journey and arrive only slightly disheveled. The privacy has saved us from having to listen to the usual hawking, spitting and farting Indian men that
occupied the cars on our other overnight trips.
Now that we are here, we sit crammed in the back of an auto-rickshaw taxi as we sputter our way to Hampi along dusty, bumpy roads, through tiny villages, past pooping cows and trucks spewing black smoke.
It's Party Time
Once we travel the 30 bone-rattling minutes to Hampi, we are completely overwhelmed by the unexpected throngs of people walking the dirt streets of a town that is hardly a tick on an Indian map. There must be thousands of them.
The gods are on our side as the first guest house where our rickshaw stops has an available room for about $10/night. Expensive for what we're getting (a cement cell-like room with cold water, double-sized cot with mosquito net and a ceiling fan) but we realize quickly that it's this or nothing.
I'm inspired to explore the half dozen or so streets that make up this requisite destination and immediately I'm out of the hotel room.
I ask a local vegetable vendor, whose cart sits dead center on a small side street, if Hampi is always this happenin'. "This is Sankranthi." Since my knowledge of Hindi is non-existent, he jots down the name of this Hindu harvest festival that honors the sun for her bountiful gifts. It is a time for families to gather and to share their crops.
We've arrived on the second day of this three-day event. We've missed day one in which worshippers create bonfires and burn wood, dried cow dung and other items to symbolize the departure of poverty and the welcoming of wealth. Today, the town will succumb to its collective sweet tooth as sugary delicacies are prepared and consumed. On day three, cows are decorated, painted and then marched around the village to give thanks to this holiest of animals that provides milk and labor in their fields.
In the streets, costumed beggars, like our knife-cheeked friend, accost all passersby for donations. The contributions collected will help get them back home, which, for some, is hundreds of miles away. If they're lucky, they'll have some rupees left over for their family.
Jon and I stroll the streets and marvel at the intricate designs that lay in front of each home's doorway. Lovingly created in the early morning hours, they are made from vibrant colored rice powders. By late morning, they will have disappeared under the feet of flip-flop wearing tourists and barefoot pilgrims. Vendors sell bangles, sweets and stunning shawls from their carts that line the sides of unpaved roads.
Ruins via Rickshaw

Hampi Bazaar, an oasis by the river with its plethora
of backpacker hotels, cafes and shops, is mystically surrounded by these architectural remains that date back to the 15th Century. As interesting as the people who have descended upon Hampi for Sankranthi, are the ruins that cover the region.
The former capital of the Vijayanagara Empire, this area was established in 1336 and chosen because of its strategic location. However, having the river on one side and presumably defensible hills on the other three sides could not save it from a military defeat in 1565 by Moslem emperors.
Architecturally, the granite monuments were constructed by drawing upon various styles and faiths, producing what were considered innovative creations that today stand in disrepair.
Adding to the mystique of the temple dotted hillsides are boulders the size of SUV's. While the formerly-majestic buildings appear strategically placed, these monolithic rocks are precariously perched atop hills overlooking the dry, red landscape, as if placed by the hand of Shiva himself.
While Jon and I love walking, the ruins are spread over 26 square kilometers and the area is too large to experience on foot. We also expect the 90 degree heat to bear down on us by mid-morning. So, we do the sensible thing. We hire Mr. Paul, the brother of our hotel's proprietor, as our tour guide and driver. He and his rickshaw have been loitering around the hotel waiting for a fare and we finally give in and offer him $8 U.S. for the day.
Mr. Paul stops at each set of ruins, parks his rickshaw in the shade and makes small talk with his brotherhood of rickshaw driving friends. Meanwhile, Jon and I enthusiastically clamber over the gently rolling hills and make our way through archways that lead to once-occupied residences and temples. The centuries-old buildings stand cracked, leaning and barren. It's otherworldly, really. Particularly because there are so few visitors given the number of people in town.
Those that are here seem to be looking for material goods or spiritual gods. Children, who should be in school, are dressed as the monkey-god Hanuman, and request rupees for their costumed efforts. Monks and other worshippers wear colored robes of various hues and pose in front of sacred sites, snapping pictures of each other. One robed group stops in front of Shiva Linga, the large phallic symbol of Hinduism. They chant and sing, perhaps to increase their virility.
Luckily, there is no entrance fee into most of the ruins. I don't mind shelling out my rupees to enter a site, but I do get irked when the tourist fee (called the white skin tax amongst us travelers) is literally ten times what the locals pay. Our savvy guide concurs and directs us to the side entrance of Lotus Mahal, one of the few Hampi sites that charges. "Continue down this side," he points. "And, if no guards are there, quickly walk in the back way." A man after my own budget-conscious heart.
We're unable to sneak by the attentive guards, but it is early afternoon and we're getting hot and tired anyway. We're ready for lunch.
We cool ourselves at the Mango Tree Restaurant in Hampi Bazaar, arguably the best eatery in town with an unmatched view. It sits on prime real estate on the riverbank and, in addition to Western fare, serves thali and iced lemon soda.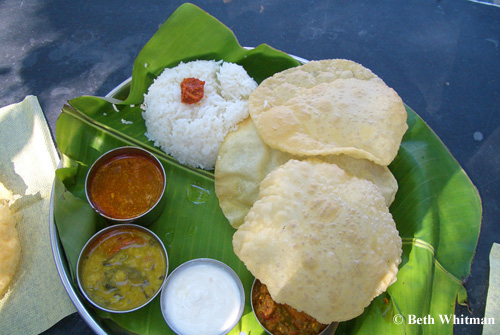 The Savvy Soul
After three days in Hampi Bazaar, we've managed to stuff ourselves on five-star Indian food and sublime pastries from the local bakeries specializing in cookies and croissants.
Sankranthi is over and the Indian pilgrims have left, but there are plenty of Western hippies still soaking up the vibes. Israeli backpackers huddle together to determine their game plan, each carrying two backpacks (one large one on their back and one small one in front). American girls frolic in bare feet, jingling ankle bracelets and dreadlocks. The locals must be more in awe of these costumes than we are of theirs.
We could probably spend another week here immersed in chai tea and baked goods but we
have friends waiting for us in Pune, near Mumbai. It's time for another overnight train ride and we ask Mr. Paul for a ride back to Hospet.
As we pull into the railway station, Mr. Paul's cell phone rings. An entrepreneur to the core, he is no doubt scheduling his next customer. With the phone pressed to his cheek, I internally muse that, like the pilgrim who relies on his knife, Mr. Paul has his own gadget that he keeps close to his cheek. In both cases, these are their lifelines to their making money.
We slip him a nice tip and bid him farewell.
*****
Beth Whitman is the author and publisher of the Wanderlust and Lipstick guides for women travelers and publisher of the webiste, Wanderlust and Lipstick.
Photo credits:
All photos: Author