by Drake Lucas
"You happy?" my driver Satheesh asked with his usual energetic smile.
I had met my driver at the Bangalore Airport in India and this had been, and would continue to be, our typical daily conversation. He asked it when we met in the morning, when he picked me up from a palace or just if I was too quiet for too long. Satheesh was my only constant companion for a 6-day tour of Southern India that would include a safari with two wildlife photographers, drinking luxurious coffee grown on the plantation where I was staying and learning about Hinduism by studying intricately carved temples from the 12th century.
The trip had been planned spur of the moment when I had to pick dates for an unused plane ticket. It had become an escape from the cold of New York, the loneliness after a break-up and a way to pursue one of my favorite loves — traveling.
But Satheesh and I shared just a few common words, so I could only assure him I was happy as we left the standstill traffic of Bangalore and went farther into the countryside. The jumbled city stretched out until it just became pieces, hints of towns we drove through. I watched as India, like a film, flashed past the window — women carrying water in jugs on their heads from the well to their homes, families bathing in the river and ox-driven carts piled high with hay.
In the fields men and women worked by hand with the sun on their backs. I took in the scenes in silence, watching and learning about India, but thinking about my own life. These silences were checked only by Satheesh's friendly concern.
"Your happy, my happy," he would remind me.
We arrived at Nagarhole National Park mid-afternoon. An attentive crew of workers welcomed me at the resort, a collection of small cottages by an eating hut.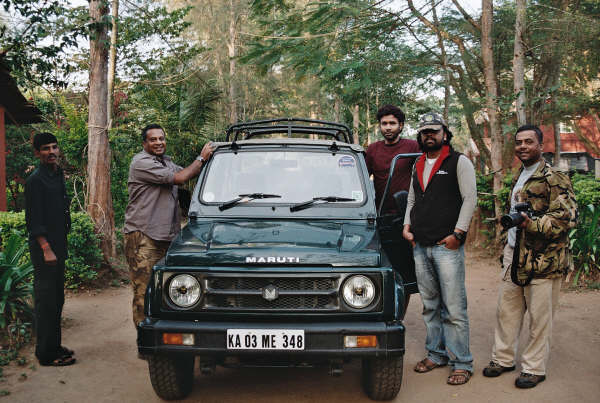 The only other guests happened to be two wildlife photographers working on a book about the park. We piled into their jeep for a safari, stopping to pick up their ranger friend who brought his gun and led us off the road and into the trails of the forest. I thought, I am either incredibly lucky to find these guys or now the authorities will never find my body. I was pretty sure no travel advice for women traveling alone included heading off into the woods with strange men who had a gun.
I had nothing to worry about except missing glimpses of wildlife. My two companions could recognize any sound or slight movement. They would cut the engine and roll the jeep back.
One time it was a wild boar picking his way through the mud of a water hole. Another time it was an elephant standing just inside the trees by the side of the road, completely still. We sat holding our breath, then watched as the enormous animal stepped lightly out of the trees and crossed the road in front of us.
"Look! Look!" they pointed to me as a sloth bear ran just out of sight.
"Next time, you will see a tiger," they assured me as we returned. "Come with us in the morning and we will show you a tiger."
But I had a 7 a.m. appointment with Satheesh for the long drive to the Halebid and Belur temples. They were impressive places, carved over decades to show scenes and lessons from the Hindu religion.
The temple at Belur was the first site at which I would become one of the sites.
I had gotten used to schoolchildren calling out "hi!" to me. I always answered back to a fit of giggles.
At the temple at Belur, a group of teenage boys ran up to me.
"Hi!" they said.
"Hi!" I answered.
Then they pointed at their camera. I nodded — I would be happy to take their picture. They shook their heads. They wanted a picture with me.
They gathered around and all smiled for the camera, then took off. I thought it was funny, maybe a prank, but it was repeated many times at many sites. One group started shaking my hand after a group photo. They decided that would also make a good picture, so they all took turns shaking my hand in front of the camera as if we were diplomats at a summit meeting. I realized that strangers had more pictures of me on this trip than I did, and always of me laughing.
I felt fortunate to be traveling alone. It made me accessible. People felt comfortable approaching me. They seemed interested that I was visiting the temples, waterfalls and national parks in the state of Karnataka since most of these sites were frequented by local people, not international tourists.
One day in the Hassan market, I took out my camera and began taking pictures of them. I captured the men selling jasmine, the ladies with stalls of herbs and the children in their school uniforms. They all stood up a little straighter and their smile took on a special pride as their fellow shopkeepers looked at them in approval.
Satheesh dropped me off at the Brindavan Gardens outside of Mysore on the fifth day of my tour after an especially long drive. The sun beat down on me. I was exhausted from the constant traveling and stares. Suddenly people seemed very unfriendly. Old women glared at me. Groups of men said things to me I couldn't understand and laughed.
Children demanded money even though I hadn't brought in my purse. I was tired and hot and returned to the car discouraged.
"You happy?" asked Satheesh.
I had always answered this question with a big smile and nod, whether I was returning to the car from a grand palace or a mysterious site that involved a hill with steps that I climbed only to find a good view and no explanation. This time I shrugged.
"People were not nice," I said. Satheesh nodded.
I stared out the window feeling my loneliness stretch over me. I was tired of always being the foreigner. I missed being able to walk into a room unnoticed. I missed being able to really talk
to people. I missed knowing what food I was ordering and how to eat it.
The loneliness grew from the 10 days I had spent in India to the six months I had spent in New York, a city I moved to on a whim where I hardly knew anyone and no one knew me.
Satheesh let me sit in silence for awhile, then said:
"You have two days balance."
Which I translated to mean I had two days left on my trip. I nodded.
"You have two days balance. Be happy, only happy," he said.
"Your happy, my happy," he reminded me.
That made me smile. And he was right. I was wasting one of the few days I would ever have in India by sulking. I would only attract openness and friendliness in others if I could project those qualities myself.
Satheesh bought us each a coconut at the next temple and we stood drinking from them with a straw and watching the sacred cows lounging in the parking lot.
Some people find their life lessons in India through meditation or a trek in the Himalayas. Mine came from a driver just over five feet tall who taught me that a smile can spread as easily as loneliness.
Back in New York with the snow falling, far away from the warm Indian sun and smiling locals, it is easy to slip into winter's sadness.
But whenever I find myself glaring at life, I see Satheesh's smile and his kind caution:
"You have only so many days balance. Be happy, only happy."
* * * * *
Drake Lucas is a former newspaper reporter who is now a freelance writer based in Brooklyn. She has traveled to over 20 countries and has learned that missing an airplane can be the luckiest of mistakes.
Photo credits:
Taxi: James Cridland
All other photos: Author