by Jan Burak Schwert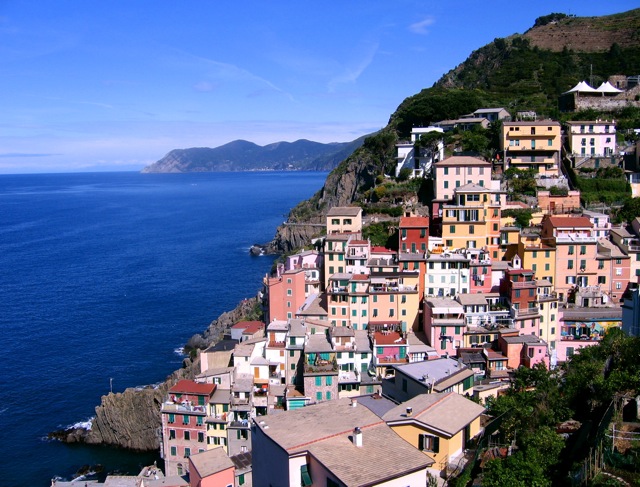 English was rarely spoken in Cinque Terre, but when I needed help, a handsome traveler spoke my language.
In the summer of 1992, my husband, teenage son and I spent a week in Cinque Terre. Located on the northwest coast of Italy, the region is made up of five ancient towns perched on the tips of five peninsulas that reach into the Mediterranean like an outstretched hand. We were staying in Riomaggiore, the southernmost village.
Cinque Terre towns are filled with crumbling pastel buildings that tumble down toward the azure sea. Hundreds of years ago, Italians hauled materials across rugged terrain and built their houses against the rocky hillsides. The pluck needed for such a feat can still be seen in the people who live there. Ninety-year-old women move quickly up and down the steep streets, pulling their great grandchildren behind them. Pickers are raised and lowered in buckets, a dozen hours a day, to harvest grapes on the narrowly terraced hillsides. Fishermen work on their boats from dawn to dusk, trying to make a living from the sea.
The five villages are connected by a two-car, hundred-year-old train and by rugged paths that lead from one town to another. Hikers on the trails can scramble down to refresh themselves in the clear, azure water.
On a hot, sunny afternoon, my family and I walked a few miles north of Riomaggiore to the village of Manarola. Just beyond the town lay a narrow boat ramp surrounded by large flat-topped rocks, perfect for sunbathing.
As we spread our towels, a couple emerged from the sea, and I couldn't help but stare. The man, just over thirty, was movie star-gorgeous, about six feet tall and slim with a tanned, muscular body. His shiny dark hair fell across his face when he leaned over to talk with his young girlfriend, another stunning brunette. They lay down on the other side of the ramp, talking softly in Italian as the girl removed her blouse. But even 16-year-old Dan had grown blase about topless women; he and my husband Ron rolled over and went to sleep.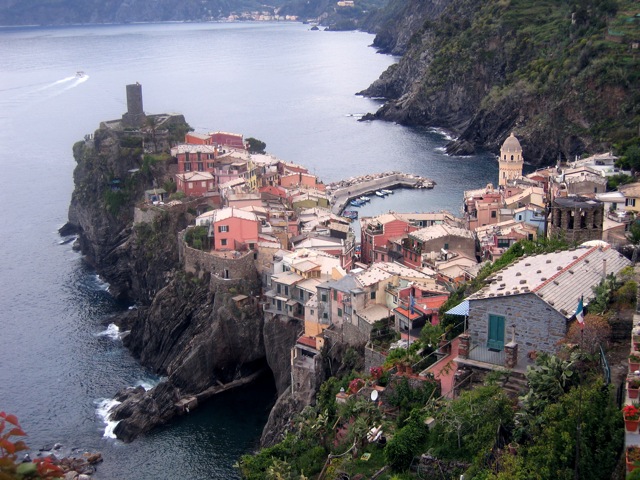 After a short nap, I woke up feeling hot. Stripping down to my bra and shorts, I slid down the rocks into the cool, soothing water. I paddled out and floated with my eyes closed, feeling the warmth of the sun. After drifting far from shore, I turned around and swam back. I made it to the boat ramp, but every time I tried to get out, small, insistent waves knocked me off balance. Finally I lunged forward and grabbed the edge of the ramp with my left hand. To my surprise, someone grasped my right one and pulled me up.
"This ain't Venice Beach," he said, without a trace of an Italian accent. It was the handsome 30-year-old, who had seen that I was in trouble. "My name's Tom," he said. "Hi."
My voice came out shakier than usual. "Oh… ah, hi… thanks.  I'm, uh, Jan." He flashed me a dazzling smile, which faded when he looked at my left hand. I gasped to see blood flowing heavily from a deep cut in my palm.
Tom dragged me up the ramp, wrapped my hand in a towel and helped me clamber up the rocks, muttering about sharp coral. "She needs help," he yelled to Ron and Dan, waking them up. They grabbed our stuff and followed, barely keeping up as we raced toward Manarola. Tom's girlfriend brought up the rear, her top half buttoned.
"Where are you staying?" asked Tom, as Ron helped me put on my blouse.
"Riomaggiore," I replied, catching my breath. "At the Argentina Hotel."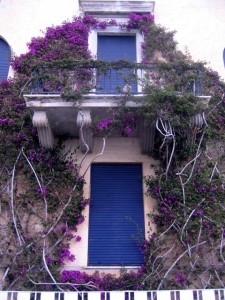 We all rushed into a newspaper shop, and after a few words from Tom, the storekeeper produced a phone book. Tom called a physician in Riomaggiore. He spoke rapid Italian, listened carefully, then hung up the phone and turned to me.
"You need to take the train to Rio'," he instructed, pointing to the tracks. "Keep the towel pressed on her hand," he told Ron. "The doctor will be at your hotel when you get there." He waved away our thanks. "Just glad I was there."
I started down the street, then looked over my shoulder. "Where are you from?" I asked. "Atlanta," he replied with another bright smile.
The train came quickly and reached our town in a few long minutes. Ron and Dan helped me climb the steep hill to our hotel.
Il medico arrived right after we did. A distinguished, grey-haired man of about 70, he wore a crisp white linen suit and carried a black leather doctor's bag like you see in old movies. He seemed reserved, yet I felt comfortable with him, even when he said "quattro suturare" and I knew what he had in mind. He spoke to the hotel owner, who turned to me and said, "You go to clinica, five o'clock.  Above farmacia."
The physician wrapped my hand, then left on other business. Ron, Dan and I walked down the hill to find something to eat. In a quiet cafe, they both had spaghetti, but all I could manage was soup. The fragrant minestrone gave me comfort but couldn't dispel my sense of dread as the appointment drew near.
We walked to the center of the village, where I saw the sign: Farmacia. Looking up, all I saw was a woman hanging laundry. I smiled and spoke:Â  "Scusi, dove la clinica?"
She waved us up, pointing to a stairway on the side of the ancient building. The way was dark, and the steep stone stairs were crumbling. I felt as if I were on the set of "Cinema Paradiso."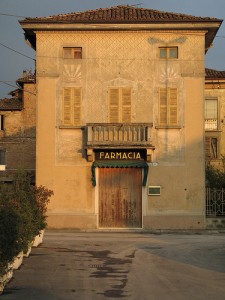 A single door was open at the top of the stairs, and the three of us walked in.  A half dozen people, mostly elderly, were lined up on benches in the stark, white room. "Scusi," I said, taking a seat; Ron and Dan remained standing. The doctor beckoned his patients, one at a time or in pairs. Several came out of his office quickly, clutching pills, while others took longer.
After about 40 minutes, the physician motioned us in. Ron and I entered the tiny office, which held a bed, two metal folding chairs, a table spread with instruments and shelves filled with liquids, powders and pills.
When the physician looked down at my hand, I was surprised to hear an English word. "Oh, Meekey," he said, seeing the bloodstains on my Mickey Mouse watch. He applied disinfectant to the palm of my hand and threaded what looked like a sewing needle with thick black thread. I glanced nervously at Ron when I saw no sign of an anesthetic.
When the needle plunged into my hand, I grimaced but didn't make a peep, calling up advice from my mother to be brave in the doctor's office. I remember the man humming as he worked, and I told myself that someday this would make a good story. The doctor knotted and snipped the thread, then bent down and swept cotton and thread into a dustpan. Ron looked pale but relieved.
Suddenly I thought of something. Looking at the physician, with my face formed into a question, I moved my arms as if swimming. He shook his head firmly. "No."  I promptly held the injured hand up in the air and stroked with the other. The doctor turned one wrist back and forth: "Maybe."  Satisfied, I gave him a smile, then said, "Il costo?" as if I were buying a souvenir. He grabbed a piece of paper and wrote, "50,000 lira."  "Only $50," Ron said, taking out his wallet. "Imagine that."
The physician wrote something more, then pointed to my hand and made a snipping motion with his fingers. Later I looked up what he had written: Stitches come out in two weeks.
"Grazie," I said. "Arrivederci." As we picked up Dan in the waiting room and went downstairs, my knees felt weak. We made it to the nearest cafe and ordered a shot of grappa to calm my nerves.
Now the scar has faded and I barely recall the trauma, but I'll always remember being rescued by a handsome stranger.
* * * * *
Jan Burak Schwert is a freelance writer living in Seattle.  Her work has appeared in The Seattle Times, Philadelphia Inquirer, Dallas Morning News, San Antonio Express-News, Animal Wellness, Silver Boomers Anthology, and Travelers' Tales.com, where between 2007 and 2009, she received four Solas Awards for Best Travel Stories.
Photo credits:
Farmacia: Roby Ferrari
All other photos: Author