by Joel Carillet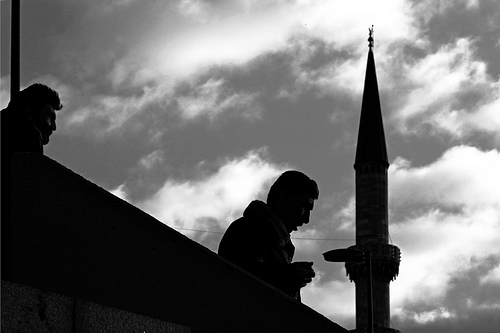 He was about 6'4" and said he was from Kuwait, though later an official at the U.S. consulate would tell me he was likely from North Africa.  Wherever he was from, it's funny how life surprises you sometimes, leaving you to wonder how easily things would have been different had you turned left instead of right, or if you had gotten up from the curb at, say, 12:24 p.m. instead of 12:34 p.m.
I had planned to spend the afternoon alone.  I had wanted to spend the afternoon alone, actually, because for the past three weeks I had been co-leading twenty-one American university students on a study-tour through the Middle East, which concluded here in Turkey's largest city, Istanbul.  Only this morning had I dropped them off at the airport for their flight home.  I would miss them, but I knew I could use some time alone.  Who could have guessed that by the time their plane would touch down in the States, I would be unconscious, my body dumped in the bushes of a city park?
Christmas was only a week away, yet mild weather graced the city–perfect for outdoor exploration.  Delighted to have no responsibilities, I mapped out a ten-mile walk through the city.  My route made, I put the few things I didn't feel comfortable leaving in the hotel into my backpack and then slung the thing over my shoulder.  I trotted down the stairs, swung open the door, and stepped into the bustling city of ten million people.
Five miles into my walk, about noon, I came upon a small mosque.  Friday prayers were ending and from a curb across the street I watched the congregants spill out of the building, slip into their shoes, and vanish one by one down the maze of adjacent alleys.  Once the mosque was empty, I got up to leave myself, anxious to continue on my way.  But that's when the stranger approached and, after saying hello, asked where I was from.
Abdel and I talked for several minutes.  Finally I said, "I'm sorry, but since my time is limited I need to continue walking."  This wasn't really true, but I wished to be alone and thought my white lie would be a polite way to end the conversation.
But Abdel outmaneuvered me.  "Can I walk with you?" he asked.
For forty-five minutes Abdel and I meandered our way through several neighborhoods.  The people of the Middle East and Turkey are known for their friendliness, but never had I met someone as "chummy" as Abdel.  He probed me with the oddest questions.  I can see now that I should've been suspicious when he asked if I had my passport with me.  Abdel, of course, knew something I would only learn tomorrow:  that an American passport could fetch up to $4,000 on the black market.
We stopped to get a Coke–"Please, let me buy," he insisted–and then, as we continued our walk, he pulled out a packet of Oreos from his coat pocket.  When he offered one I felt compelled to accept his generosity, but the cookie tasted awful, which is why I tossed the remaining half into the gutter when Abdel wasn't looking.
Immediately after taking the bite, a wave of sleepiness slammed into me, hard.  I tried furiously to shake it off.
"Are you tired?" Abdel asked, his appearance now taking on a more sinister look.
"No," I lied.
I tried to grasp what was happening to me, and in the few seconds of consciousness I had left, I should have screamed.  But all I did was try to ignore my predicament, thinking I could will it away even as the people around me began to blur.  It was only 1:00 p.m., but my Friday was over.
Eighteen hours later, through the fog of a powerful drug, I awoke to what at first I honestly thought was hell.  I saw blood on my bed sheets and blue jeans.  Even worse, I saw the dozen other folks with me in the dingy room.  They were indigent drug addicts, and each looked trapped somewhere between life and death.  I reached for my wallet.  It was gone.  So was everything else except for a cracked watch.
Stunned to look at my watch and discover it was Saturday morning, I stumbled out of bed trailing an IV and found a nurse.  In slurred English I pleaded for a phone but was told in Turkish to return to bed.  Since I refused to leave her desk, she sent for a male staff member to carry me back to bed.
But not only was I taken back to bed:  my wrists were tied to the posts so that I wouldn't get up again.  Increasingly desperate, I wiggled free of the knots when no one was looking and then, believing I absolutely had to escape, I unhooked the IV and ran.  If you can only reach the exit door, I told myself, you will be free!  But I had a problem:  my body was still coursing with Abdel's Oreo, so even as my mind commanded my body to move, my limbs revolted, performing a series of wide s-curves all through the corridor.  Unable to run a straight line, I was easy prey for the orderlies striding my way.  This time, they carted their prize back to bed and strapped all four limbs to the bed posts.
I fell back asleep, but the arrival of a representative from the American consulate woke me.  Released into his care, my stumbling steps were guided to a car, which in turn took me to the consulate where I called home, canceled credit cards, and requested money from mom and dad to pay for both the $22-dollar hospital bill and a new passport.  Then the official took me to a photography store, where I stared blurry-eyed into a lens that would capture one of the worst passport pictures of all time.
Around mid-afternoon, the official dropped me off at my hotel where I promptly fell asleep.  Twelve hours later I sat up to a
mind and body that finally felt normal.  Without the disorienting affect of the drug, however, all my faculties could clearly focus on what I had lost and on how I had been taken advantage of.  I regretted walking with Abdel.  I regretted not yelling after swallowing the foul-tasting cookie.  I regretted no longer possessing my dearest travel companions, the passport and journal.
I would've stayed mired in this wretched state had it not been for the note I found at the front desk.  An American employed at the consulate had heard about my mugging, and she knew I would be stuck in Istanbul for at least two days while I waited on the new passport.  He must be miserable, she thought, especially with Christmas only days away.  She tracked down the name of my hotel and called.  When the receptionist told her I was asleep, she left a message.
The note meant the world to me:  I was not just an anonymous traveler whose unconscious body the police had retrieved from a park on Friday night; I was one being sought after and cared for, even by a complete stranger who surely could've done other things with her time.  I dialed the number and after a few rings the woman–her name was Susan–picked up.
"Hello," she said.  (This alone was a pleasant sound.)
"I'm Joel.  You left a message while I was asleep."
After sharing a few encouraging words, Susan invited me to a party she was hosting for several of her Turkish friends.  "I can't imagine how bad you must be feeling, especially being alone," she said.  "I'd love for you to join us."
I thanked her for the invitation and told her I would be there.  And then I found myself smiling for the first time all weekend, thankful for what I already knew:  that not all strangers were like Abdel.
Susan's heart was huge, and her apartment, built on a hillside overlooking the Bosphorus Straits, wasn't bad either.  Her balcony commanded one of the best views in the city, and I used it to peer down on ships bound for ports around the world.
When I wasn't ship-gazing, I was taking in the cathartic company of Susan and her friends.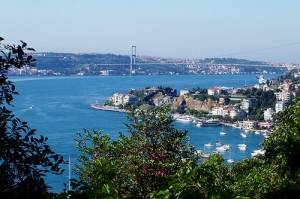 When it came time to leave, Susan asked how I planned to return to the hotel.  I told her I would go back the same way I had come: by walking the ninety minutes between our two places.  Susan, however, disapproved.  "It's too dark now," she said.  "I'd feel more comfortable if you took a bus."  Her opinion was seconded by the only other people who hadn't yet left the party–a woman from Japan and another from Turkey.  "We're walking in the direction of the bus stop," one of the ladies said.  "We'll show you where it is."
I can't remember now if it was the Turk or the Japanese, but the detail is unimportant.  What is important is that on the way to the bus stop, as we neared a dark corner where several thug-like characters and prostitutes were loitering, one of the women reached for my hand.  Taking it into hers, she smiled and said, "This way no one will bother you.  They will think you are with me."  I didn't mind at all.  Several minutes later at the bus stop, as we prepared to say goodbye, the women reached out to me again, this time in the form of a kiss which they placed gingerly on each cheek.  My face was too bruised to feel their kisses well, but it wasn't too bruised to smile in response.
This experience, I believe, illustrates that there is a gift only a stranger can give.  I'm speaking of the realization that, at our best, we are all brothers and sister and friends, even if we have never met before.  To live with this in mind is to have joy, to expect joy, to create joy.  It is to believe that, even though some of our encounters with strangers will be painful, most will illuminate an aspect of the human spirit that will make us smile–and will hopefully make others smile, too.
At least this is what I thought as my bus pulled away from the stop and picked up speed.  Still smiling, I looked through the window at a city–no, at an entire world–that was beautiful.
Istanbul Silhouette photo: Pensiero
Passport photo: clappstar
Bosphorus View photo: Lindsay N. Kelly
* * * * *
Joel Carillet, a freelance writer and photographer, is the author of 30 Reasons to Travel: Photographs and Reflections from Southeast Asia.  His work has appeared in numerous publications, including several Travelers' Tales anthologies, the Christian Science Monitor, and WorldHum. Visit Joel Carillet's website to learn more about his writing and photography, or to check out his weekly photoblog.