by Jennifer Blair
"Can I buy you a drink?" the man asks me, nodding towards the crowded Budapest Airport Food Court.
It's not what you think. He is in his late seventies, short and stout, his skin puffy, hands calloused from a life of hard work. He shuffles over to the line. "I hate to drink alone," he says, and even though it's nine in the morning, he slides a cold bottle of beer off the mountain of ice in the cooler. He speaks English but his accent is hard to place and even harder to understand. But I am happy for the company and even happier for the drink.
I first saw him a few hours earlier on the airport shuttle. He had kissed and tightly hugged a petite white-haired woman, standing in her flowered housedress on the cobblestones of the Pest side of the city. She fought back tears and grasped her hands in sorrow as he climbed stiffly aboard the van. At the airport he had struggled with his small piece of luggage and I had helped him lift it to the scale at the check-in kiosk. No words were exchanged, just smiles.
Sitting on the uncomfortable molded plastic chairs in the airport, I was thirsty but out of the Hungarian currency. I was debating using my credit card at one of the gift shops when the old man caught my eye from across the aisle. Moments later, his beer cracked open, he begins to tell me his story; his glory as a resistance fighter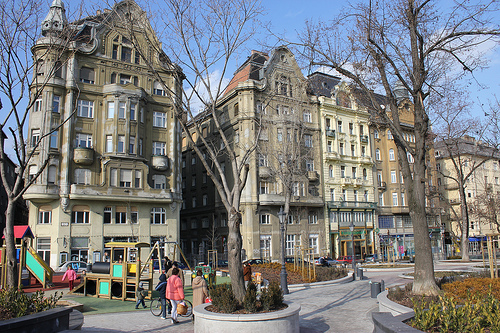 against the Soviets and his narrow escape after the failed 1956 revolt.
After donning a fake mustache, he snuck across the border into Austria and after months of hiding, finally made his way to a safe haven in Spain. Many years and moves later, he landed in a small northern English town near the Scottish border, he fell in love, married and had a family. He admitted that none of his children spoke Hungarian or knew their heritage and that deeply saddened him. For over twenty years he lost touch with his family. His parents had passed on, his sister married, his friends jailed, all behind the silent Iron Curtain.
Now, every summer, he comes back to bask in the resurrection of his birthplace and visit his sister. They are still making up for lost time but feel the march of life. Every visit may be their last.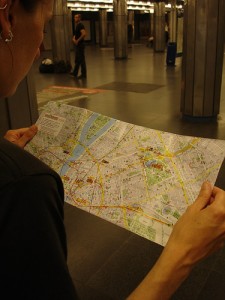 My eight-day trip to Budapest had been full of such surprises. An unprecedented heat wave had not deterred me from exploring the delicacies from famous Gerbeaud's coffeehouse and falling in love with the oldest subway line on the continent, the M1.
Constructed in 1894, the Millennium Line, was built for Hungary's Magyar Conquest millennial celebration in 1896, and leads directly down Andrassy Street to Hero's Square. The late 1800's were a prosperous time for the Hungarians, having just come out of 150 years of occupation by the Turks and the Hofburgs of Austria. Little did they know they were living on borrowed time. That in less than twenty-five years they would be involved in a World War and lose two thirds of their country. And twenty-five years after that they would be taken over by Communism after a second World War.
Now celebrating a resurgence of independence, Hungary is a contradiction of the times. The crumbling buildings, the fiddle playing gypsies in the underpasses, sweet women ready to embrace you for attempting their complicated language and the crowded cafes of Liszt Ferenic Square are a bittersweet mixture of old and new trying to define their way together.
And just when I thought my trip was over, that I had run out of time, I met one more single-serving friend: A person who reminded me that the world is a bigger than just my experience in it and much more compelling.
Single-serving friends are one of the greatest gifts of travel, especially solo travel.  The thread of bonding sometimes too thin to see, you strike up conversations or even quiet companionship with a fellow traveler for the most meager of reasons. A common destination, language or event is enough of a reason to bond. Differences that normally seem insurmountable are ignored in favor of camaraderie. Ten minutes, ten hours or ten days, a single-serving friendship is solid, in a temporary sort of way. Serving you both until… well, it doesn't anymore.
Having a drink in the Budapest Airport with my new friend allowed me to glimpse deeper into the heart of this country, to feel its pain and the joy of its rebirth, as seen through the eyes of a seventy year old man. A man who had sacrificed for his country, had fought for its identity and lost all that was precious to him. A man whose name I will never know.
My single-serving friend.
*****
An inspirational writer, Jennifer Blair, uses the experiences of travel and everyday life to engage creativity in others.   Her publication credits include West Ways Magazine,  www.bravenewtraveler.com and soon will be featured in the creative and travel sections of www.weblogtheworld.com.   Having recently moved from Los Angeles to Nashville, Jennifer is learning to appreciate country music and cowboy boots.  Check out her website: www.find-your-joy.com.
Photo credits:
Hungarian beer: scaredy_kat
Budapest street: HeyRocker
Navigating the Budapest subway: CxOxS
Statue in Budapest: nwhitford